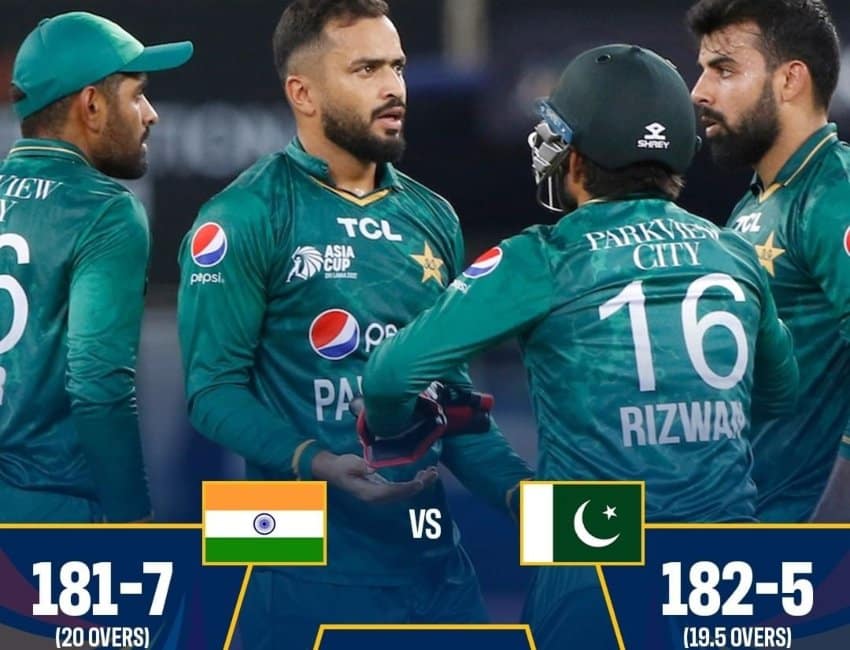 Pakistan's glorious win against India in Asia Cup had Twitterverse on edge
posted by:

Zainab Naseem

No Comments
Cheers to team Pakistan
There is always a lot of tension and anticipation during a match between Pakistan and India, and this one was no exception. The play-by-play was broadcast on Twitter while internet users were transfixed to their screens, with each catch, drop, and run evoking a spectrum of emotions in each of us. We were particularly glued to our seats at the conclusion, but the Green Shirts prevailed, so it was all worthwhile. Team Pakistan made us proud on the field!
The exciting run-chase
In their Super Four encounter of the Asia Cup 2022 at the Dubai International Cricket Stadium, Pakistan pursued a 182-run target set by India. When the Green Shirts won the toss and decided to bowl first, it seemed promising, India started out strong, with Kohli looking close to his peak, but they kept losing wickets and only managed to score 88 runs in their final 10 overs. Pakistani players were hurt or underperformed, leaving fans in a state of constant suspense over the second innings.
Also Read: Pak vs Ind: Pakistan loses to India by five wickets in T20 Asia Cup
Twitter turned edgy but on an edge!
There is no denying, though, how exciting and tense the scenario becomes during a match between Pakistan and India. However, a meme thread on Twitter makes it much better!
Another came in,
A lot happened,
As both the matches were so friendly a user from the neighboring country doubted,
Here is our favourite moment from yesternight!
Congratulations to team Pakistan for the tremendous win! Let's pray for less injuries and more sixes in the next match.
Have something to add to the story? Comment down below!