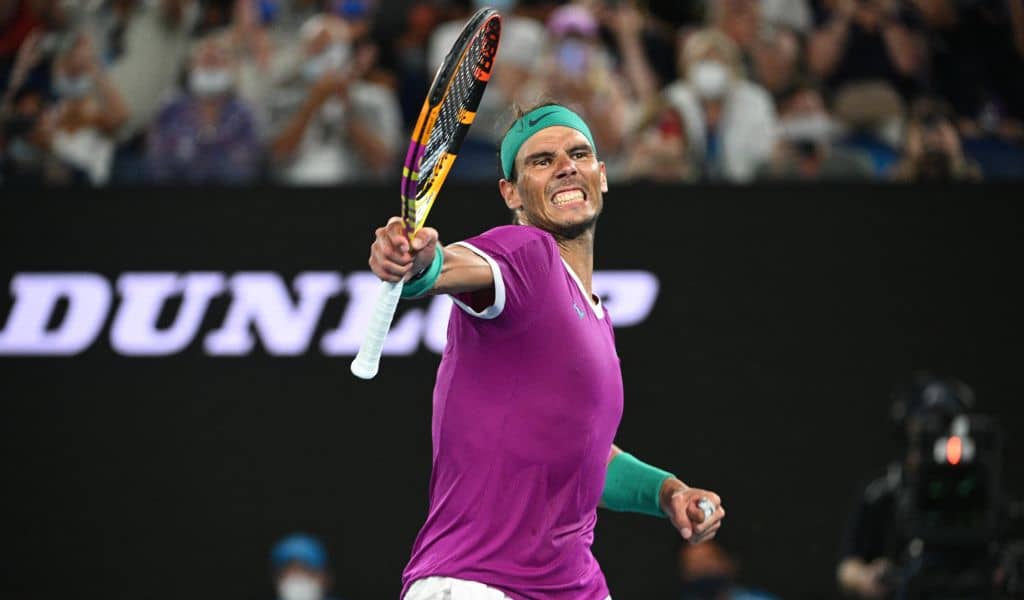 Rafael Nadal rallied to win the Australian Open and set a new record
posted by:

Zainab Naseem

No Comments
Rafael Nadal claims the Grand Slam record
MELBOURNE – When Rafael Nadal was down two sets to one and facing triple breakpoint, his chances of capturing a record 21st Grand Slam title were dwindling, he reflected on some of his toughest losses.
Nadal, a known end-to-end competitor, pushed deep in that crucial time and won the next four points to survive Daniil Medvedev's imminent threat. He held for 3-3 in the third set minutes later, reversing the direction of the Australian Open final.
After a remarkable 2-6, 6-7 (5), 6-4, 6-4, 7-5 comeback victory that lasted 5 hours and 24 minutes and ended early Monday morning, Nadal became the first man to reach 21 Grand Slam singles titles.
The 35-year-old Spaniard now has one more major victory than his longstanding opponents in the so-called Big Three, Roger Federer and Novak Djokovic.
In Australia, he was the only one of the three who had a chance to set the record on his own.
Djokovic was deported from Australia on the eve of the event because he was not vaccinated against COVID-19. Federer is recovering from knee surgery, while Djokovic was deported from Australia on the eve of the tournament because he was not vaccinated against COVID-19.
Also Read: Naomi Osaka quits French Open after news conference dispute
Now that Nadal has won all four major titles at least twice, he is only the fourth man in history to do so.
Rafael Nadal showing his gratitude
"I was repeating to myself during the whole match, 'I lost a lot of times here having chances He also said, "sometimes I was a little bit unlucky,'" Nadal said that he just wanted to keep believing until the end. Furthermore, he said, "Tonight has been unforgettable. I feel very lucky."
At 5-4 in the fifth set, Nadal was broken when serving for the title for the first time. However, he did nothing wrong. Two games later, collecting the first of his championship points.
Also Read: "Diversity and hierarchy is nowhere to be found in Football," Anton Ferdinand
From afar, Federer and Djokovic were watching, and both used social media to congratulate Nadal on breaking their three-way tie atop the men's Grand Slam standings.
The final between Nadal and Medvedev, which began late Sunday night and was delayed in the 84-minute second set when a human rights activist stepped onto the court, ended about 1:15 a.m.
Nadal was serving for the second set when he was broken. Then, in the third set, Medvedev had his chances to break again, but he admitted he became tense. But, he still is the champ!
Have something to add to the story? Comment down below!