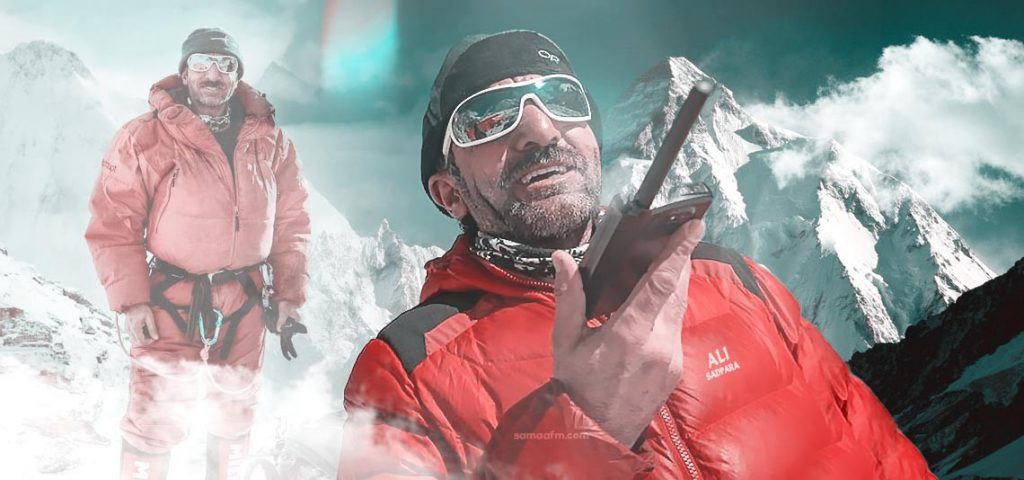 Summiting Tremendous Heights and Beyond Mountaineer Ali Sadpara
posted by:

Uzair Ahmed

No Comments
Most of us did not know who Ali Sadpara is until we heard the news of him missing, many eyes have been glued on TV and social media for about 3 days now hoping for this good news that mountaineer Ali Sadpara has returned safely from his K2 Summit Winter Expedition 2021 along with John Snorri and Juan Pablo.
About Muhammad Ali Sadpara
Pakistan is home to five 8,000m peaks including K2, Nanga Parbat, Broad Peak, Gasherbrum I, and II. The remaining are in Nepal and China. Sadpara, Gilgit Baltistan is famous for its porters who have helped countless summit seekers achieve their dreams as they carry backbreaking loads on Baltoro glacier — the gateway to the mighty K2 and other peaks.
Among all of them, Ali Sadpara is known as a Jolly, good fellow over the mountains, often described as a person who is tough as nails climbers and a good-humoured man. Born on the 2nd of February 1976, Sadpara belongs to a village in Sadpara, near Skardu in the Gilgit-Baltistan region. Started young as a porter in literally flip-flops, he became the only Pakistani to have climbed eight of the 14 [8000 meter] peaks, the thousanders.
Sadpara came to prominence in local media when he, along with Spain's Alex Txikon and Italy's Simone Moro, made a world record with the first winter ascent of Nanga Parbat in 2016. Both of them said their summit would not have been possible without Sadpara, and energizing endorsement for a man largely hidden from the public eye in Pakistan.
Over the years, Pakistan has witnessed few mountaineers rise up. Nazir Sabir, the first Pakistani to climb Everest; Ashraf Aman, the first Pakistani to climb K2 along with the now-deceased Nisar Hussain Sadpara and Hasan Sadpara; and Samina Baig, the first Pakistani woman on Everest are just a few more names. In this backdrop, Muhammad Ali's Sadpara's rise has been, in his own words, "due to hard work and sheer luck."
Ali Sadpara – A dreamer!
Sadpara's proper climbing started in 2004, when he accompanied an expedition to K2, during an interview he began with, "One of my very first jobs was to deliver supplies to Pakistan Army posts leading to Siachen way back in the mid-1990s."
It started when a Pakistani army truck pulled into Sadpara to recruit porters, Ali couldn't resist the opportunity. At the time, Pakistan and India were locked in a longstanding conflict over the Siachen Glacier, a strategic corridor to China. Ali was headed into the world's highest battleground. At night, he scaled walls of ice, ferrying supplies to soldiers in remote mountain passes, praying darkness would shelter him from shell-fire that seemed, he recalls, 'as relentless as firecrackers at a wedding'. "After the Siachen, I wasn't afraid anymore,' Ali remembers. 'In climbing, there are two outcomes—life or death—and you must find the courage to accept either possibility.' He used to tell to his wife that it is only climbing that he wants to do, nothing else.
After that he never looked back and summit mountains including Nanga Parbat, in 2015 his team tried to scale the killer mountain in winter and couldn't, and then they tried and succeeded in 2016. In January 2018, Ali Sadpara teamed up with Alex Txikon to summit Mount Everest without any supplemental oxygen but they came back without the summit. After 2018, he has been enlisted by Marc Batard to undertake a five-year program known as 'Beyond Mount Everest'. They planned to summit Nanga Parbat, K2, and Mount Everest in 2019, 2021, and 2022 respectively.
Ali Sadpara Gone Missing In K2
After celebrating his 45th birthday on the 2nd February 2021, Ali Sadpara left K2 Base Camp with John Snorri, Juan Pablo, and Sajid Sadpara [Ali's son].
Reports came along that Sadpara, along with John Snorri from Iceland and JP Mohr Prieto from Chile, successfully summited K2, and news emerged that the three had gone missing. The three lost contact with base camp late on Friday and were reported missing on Saturday after their support team stopped receiving reports from them during their ascent of the 8,611m-high K2.
Due to technical oxygen difficulties, after 6 days, Sajid returned to the base camp, according to his statement, he last saw his father at 'Bottleneck' considered the most dangerous route of the entire expedition, from where K2 is 400m [approximately a 2-hour journey] which Ali Sadpara could reach easily, according to his son Sajid, if anything had happened, it might have happened to him while descending. He said, "I am sure they made the K2 summit and on their way back they may have had an accident, that's why they are missing."
Ali's cousins, Imtiaz and Akbar, also reached K2 basecamp on Sunday evening. Both are experienced mountaineers and have summited K2 earlier.
The two are headed up the mountain and assisted others in finding the three lost climbers and try to bring them down to the base camp. "Ali is a brother to us. A hero for Pakistan. We will climb as high as we can within our limits. There is hope, but we know the reality of the mountain, especially in winter," said Imtiaz.
"When Ali left basecamp, he had the Pakistani flag with him. Every time he climbs, he has the mountain close to his chest; Pakistan is in his veins and blood. He's our hero," added Akbar.
Sadpara was in a rescue operation team of Daniele Nardi and Tom, with Karim Shah Nizari [a skier and climber] he shared that in a tweet, "The man who was always ready for the rescue operation to save lives, today I'm remembering your picture of 27 February 2019 when you were ready for the rescue operation of Nardi and Tom on Nanga Parbat. Today we lost you and your [sic] resting high on K2."
Rescue Operations For Ali Sadpara
Several experts, including local high altitude climbers Fazal Ali and Jalal from Shimshal, Imtiaz Hussain and Akbar Ali from Skardu, Găvan, Sabir, Chhang Dawa Sherpa, and other members of the SST winter expedition team, are part of the rescue mission for Ali, John and Juan. Two army helicopters flew to their maximum limit of 7,800 metres for a second time and conducted aerial reconnaissance for an hour to locate the missing climbers. The search team traced the Abruzzi and other routes but did not see any signs of the mountaineers, according to Chhang Dawa Sherpa. Sherpa said the operation was not successful due to cloudy conditions and strong winds, and was temporarily suspended.
"The weather was partly cloudy [on Saturday], but despite this the army helicopters went searching for the missing climbers above 7,000m. On Sunday, Dawa Sherpa and Sajid Sadpara were flown above 7,800m up and down the Abruzzi Ridge and above the South Face," mountaineer Sabir said. "In case of a fall from the bottleneck area, the climbers could be found on the South Face," he explained.
According to Sabir, the army helicopters will return to K2 and continue the search operation for the missing climbers. "Although with every hour passing the chances of our friends being still alive are becoming very marginal, a helicopter reconnaissance will be conducted on Feb 8 in the morning, for the third day in a row, weather permitting. Everyone is doing their very best," said Găvan, who is part of the rescue efforts.
The hopes are diminishing as each hour passing in a cold K2 with -62 temperature, we really hope that Ali Sadpara will miraculously come back safely along with Juan and John! Amen
---
READ MORE: THE STORY OF FAWAD ALAM: A SWEET REVENGE!