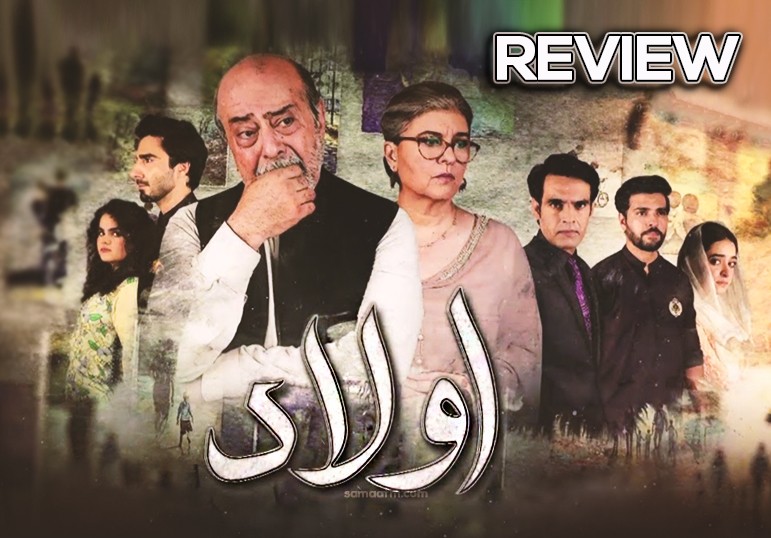 Aulaad Review Episode 2 and 3: The Emotional Saga!
posted by:

Abdul Latif Dadabhouy

No Comments
So we decided to review the second and third episode together because I needed some time to absorb the whole sobbing behind me, when I was actually wrong, the 3rd episode broke me down and at moments I was so hooked that I couldn't stop tearing. Let's jump directly into the two episodes combined.
Those of you who don't know about the family-oriented drama serial, "Aulaad." Let me give you a quick cast introduction. The drama is written by Syed Ameer Ali Shah and directed by the magnificent Aabis Raza under the Fahad Mustafa and Dr. Ali Kazmi Production (Big Bang Entertainment). The cast includes Muhammad Ahmad and Marina Khan in leading roles along with Sunita Marshall, Minsa Malik, Hasan Niazi, Furqan Sheikh, Nabeel Zuberi, Mah-e-Noor, Hina Javed, and others.
Plot
The drama touches the reality of the relationship, as I mentioned in my earlier review. It also touches the most brutal parts of them that how can children turn their backs when the parents grow old.
Strength and Weaknesses
We left off with how Jalal (Muhammad Ahmed) asked Khurram (Hassan Niazi) and Afreen (Sunita Marshal) to leave the house after the big fight? It ended up with that emotional scene. And it continued with that, how difficult it is for Zakia (Marina Khan) to accept the fact that her first-born Khurram is leaving as she always wanted their kids to stay together, but the situation says otherwise. She spends the whole night tossing and turning with the thought and though they won't leave and this will just be something that happened the other night and everything will be normal by the morning. But that was not the case.
Her strength her son has actually decided to leave her and his family. Afreen (Sunita Marshall) on the other hand tried to explain the severity of the situation and ask him not to take this rash decision for the sake of his own family. To which, Khurram (Hassan Niazi) asked her to stay out of this and told her to not go otherwise to keep their relationship sound.
In Jalal's (Muhammad Ahmed) mind everything was numb but he was angry. Considering the fact that he told his son to go off. He still has a slight ray that Khurram (Hassan Niazi) won't leave the house and everything will be fine. He goes to the university the other day early and that leaves Afreen (Sunita Marshall) sad, that over the years it never happened that Jalal goes to work without having breakfast.
During his conversation with a colleague, Jalal, and his friends discuss how hard family culture is now in this era. His friend makes him realize that "Waaldein to apne bachon se mohabbat karte hain, but hamare ajkal ke bachay apne bachon se mohabbat karte hain aur unke mustakbil ke baray mein sochte hain." He makes him realize that things have changed and no matter how we want them to stay they would still want to be with their families.
To add to Jalal's stress, his dean from the office presents his retirement letter to him which comes as a shock to him considering how big of a financial crunch they would be facing after Khurram's departure from home and this retirement will eventually be more of a problem.
Jalal comes back home and Zakia (Marina Khan) was already trying to stop Afreen, kids, and Khurram, who has already made his decision and found an apartment to be shifted on rent. The fight increased and Jalal overhears some of the most brutal sentences from Khurram [which were expected] and Jalal ended up making a decision to break all the ties from them.
Muhammad Ahmed's Marvellous Acting
Well talking about the particular scene, after that everything was just so powerful! This is the very first time I have seen this side of Muhammad Ahmed, being extremely angry as a father. Because we all agree with how sweet he has been on-screen as a father. To me, this scene was 10/10. The dialogues, the emotions, the delivery was simply amazing! The lines "Mera beta mujhay matlab parasti ka certificate dey raha hai" was the gist of this whole scene. MAJOR SOB-FEST! He also discloses how he is now retired and Khurram thinks that "oh, he was apologizing to me because now he is retired." I was practically shaking on that scene. Simply moving!
With this Khurram (Hassan Niazi) and his family ends up leaving, at one scene in particular while he was leaving, Jalal's (seeming to have a heart attack) falls down and Khurram runs over to him, but Jalal ended up being steady as a rock with his decision, resulting in Khurram's storming out from the home!
Khurram Niazi
Don't you just hate a character in a particular drama and want to throw something at your screen when he comes in? Yes, I can understand. Khurram as (Hassan Niazi) is playing one of the best characters. Strong delivery, cunning intention, cold-heartedness everything at once was a true reflection of how bad a son can be, how disobedient one can get.
Marina Khan
Marina Khan is playing an amazing mother, her dialogues were limited but very emotional, and that's not just the highlighting element, the OST added a huge impact with those dialogues, is a genius addition for this drama.
With so much happening around the drama, we really hope that it won't lose its essence and the strong storyline it follows.
Aulaad airs every Tuesday, 8:00 pm on ARY Digital
---
Read More
– DRAMA REVIEW: AULAAD EPISODE 1
– THE TEASERS OF AULAAD WILL DEFINITELY MAKE YOU EMOTIONAL