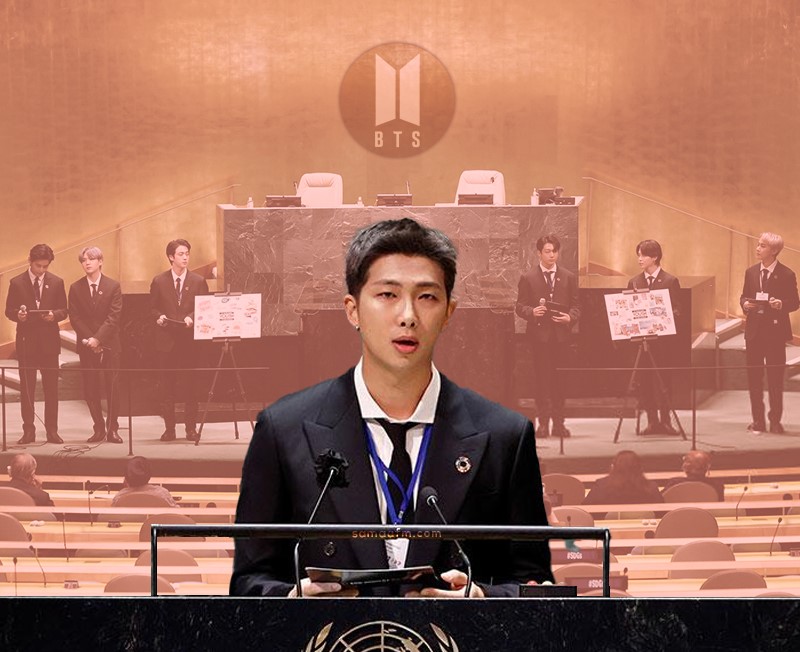 BTS sing their way through United Nations Headquarters
posted by:

Zainab Naseem

No Comments
BTS making strides at United Nations!
BTS is a global musical phenomenon. There isn't a single individual who isn't aware of their existence. BTS is one of the most popular music groups, with a fan base of millions. And now, with their participation at the United Nations, that band is not going to let anyone down!
BTS sing their way through United Nations Headquarters
While promoting the United Nations' 2030 goals, which include eliminating extreme poverty, protecting the environment, and attaining gender equality. "Every choice we make is the beginning of change, not the end," stated Rape Monster (RM), the band's frontman. AFP reported that the musicians took turns on stage during their seven-minute statement.
BTS on United Nations Sustainable Development Goals (SDGs)
It was shown during a discussion about the United Nations' Sustainable Development Goals. BTS, whose members claimed to be completely vaccinated against Covid-19, also made an appearance in person at the general assembly, where they were presented by South Korean President Moon Jae-in. They are special presidential envoys for future generations and culture at the United Nations.
Also Read: BTS drop 'Cooler' and 'Sweeter' remixes of 'Butter'
 "I was saddened to hear that entrance and graduation ceremonies had to be canceled," said Jeon Jung-Kook, known as Jungkook.
BTS appreciating the resilience of youth
"These are moments in life you want to celebrate and missing out on them must have been upsetting. We were heartbroken when our long-planned concert tours were canceled."
Also Read: BTS new album 'BE' intended as message of hope in difficult year
Not just this, they also praised the resilience of youth, saying they were not "COVID's lost generation."
However, the United Nations claims that the Covid crisis has set back the effort by years, with more than 100 million people plunged back into poverty and famine, on top of the 4.5 million who have perished.
"It would be easy to lose hope. But we are not hopeless or helpless," Secretary-General Antonio Guterres told the session.
Also Read: It's the power of music: Hybe unveils BTS Museum opening date
"We have a path to recovery if we choose to take it."
Have something to add to the story? Comment down below!