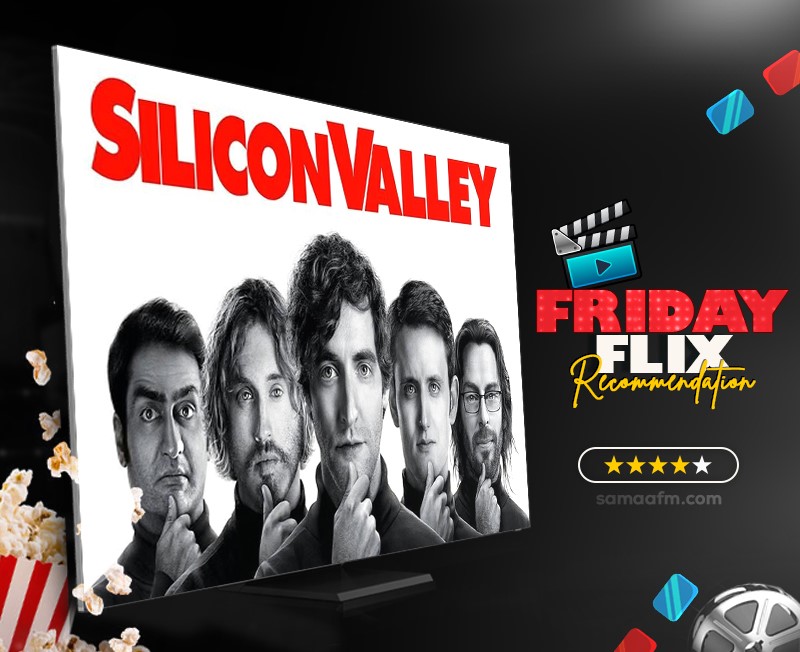 Friday Flix Series of the Week: Silicon Valley
posted by:

Zainab Naseem

No Comments
Silicon Valley
In the southern San Francisco Bay Area of California, lies Silicon Valley the home to many start-ups and global technology companies. Apple, Facebook, Google, you name and it's there. It's also the site of technology-focused institutions that centers around Palo Alto's Stanford University. The Computer History Museum and NASA's Ames Research Center are in Mountain View. The Tech Museum of Innovation is in San Jose.
Silicon Valley Cast
Mike Judge has similar intentions when he presented the award-winning Silicon Valley series. Mike Judge himself is a Physics graduate who worked in the tech industry before moving into Hollywood. 2014 show Silicon Valley features the genius coder Richard Hendricks (Thomas Middleditch), best frenemies Dinesh Chugtai (Kumail Nanjiani) and Leveyan Satanist Bertram Gilfoyle (Martin Starr), a rather frail and confused business manager Donald Jared Dunne (Zach Woods), Nelson Bighetti aka Big Head (Josh Brener), and the most irritating and loud landlord – who runs his own house as a tech incubator where these tech nerds live – Elrich Bachman (TJ Miller).
Additional cast includes Amanda Crew (Monica Hall), Matt Ross (Gavin Belson), Christopher Evan (Peter Gregory), Suzanne Cryer (Laurie Bream), Jimmy O. Yang (Jian-Yang), Stephen Tobolowsky (Action Jack Barker) and Chris Diamantapoulos (Russ Hanneman).
Silicon Valley series review
Richard Hendricks an employee of one of the biggest leading tech companies Hooli, creates his own app called 'Pied Piper' which contains a revolutionary data compression algorithm. He hires the residents of Elrich's incubator which includes Gilfoyle, Dinesh, and Jared Dunn who later joins after leaving Hooli. Whereas, Nelson Big Head accepts a substantial offer at Hooli, despite his lack of merit.
Gavin Belson instructs his Hooli workers to figure out Pied Piper's algorithm and fosters a reverse-engineered production called Nucleus. Both two organizations are scheduled to introduce their products at TechCrunch Disrupt. Pied Piper rushes to produce a feature-rich cloud storage platform based on their compression technology. At the TechCrunch occasion, Belson presents Nucleus, which is coordinated with the entirety of Hooli's administrations and has pressure execution equivalent to Pied Piper. However, Richard has a groundbreaking idea and goes through the whole night coding. The following morning, Richard makes Pied Piper's final presentation and exhibits a product that unequivocally beats Nucleus and he is approached by enthusiastic financial backers.
Problems for Richard Hendricks!
After TechCrunch Disrupt victory, multiple venture capital firms offer to finance the Pied Piper series A round. While Richard fights the case against Gavin Belson – for copyright infringement – Raviga and other offers retract. Richard ends up with Russ Hanneman's funding, but he soon realizes his mistake. Meanwhile, Belson promotes Big Head to Hooli to make an impression that Richard stole the algorithm from Hooli to create Pied Piper. During this Belson drops the lawsuit and it rules out in favor of Pied Piper. Raviga buys the stake from Russ Hanneman securing three board seats of the company removing Richard from CEO.
The Gavin-Richard saga continues
The board decides Jack Barker on the CEO position but after horrible fallout of money investing strategies Jack loses his position as the CEO, and Richard gets it back. He then starts working on his platform. Meanwhile Big Head receives a $20 million package from Hooli along with a non-disclosure agreement however Elrich and Big Head end up spending it all declaring bankruptcy. Elrich sells his share at Pied Piper against the debts. Gavin meanwhile hires Jack Barker as the new head of development at Hooli.
After getting positive Pied Piper's platform reviews, the platform still manages to get a small fraction of daily users. Jared secretly employs a 'click farm' to increase usage statistics. Richard discovers it and reveals it the source of the Series B funding meeting. Laurie disassociates with Pied Piper and Elrich and Big Head buy the company after the downfall. And platform pivots again as they include Dinesh's video chat application to the platform.
The peer-to-peer decentralized internet by Pied Piper
Richard then steps down as a CEO to make his own new decentralized peer-to-peer internet. That will be powered by networks and cellphones without firewalls, viruses, or government regulations. On the other hand, Gavin Belson also was removed as the 'head' of Hooli for violations. Jack Barker replaces Gavin. Gavin before leaving on a cleanse trip to Tibet gives the patent – of Peter Gregory's decentralized internet system code – to Richard.
Big Head suddenly becomes the lecturer at Standford University CS department whereas Laurie and Monica start their own VC company. Erlich gets into business with Keenan Feldspar, whose VR headset is the Valley's latest sensation. However, Erlich is left out of a signing deal and is abandoned by Feldspar, leaving Erlich disillusioned. Erlich then goes to Tibet to meet with Gavin. While Gavin eventually returns home and regains his state at Hooli and offered a deal to Richard which he refuses and agrees to join Laurie and Monica, Erlich stays in Tibet.
Richard gets into business with FGI, an insurance company for their data storage needs. But they discover a dark – mistaken – truth about their decentralized internet.
Pied Piper expanded team gets a bigger team who helps him with the internet. Jian-Yang — who also is one of Elrich's tenants and living off free — convinces the court that Elrich is dead and acquires his estate including the incubator and 10% share of PP, and goes to China to build his knockoff version of Pied Piper. Whereas, Bream/Hall forces Richard to work with Eklow, an AI team. Which causes problems between Richard and Laurie. They adapt the idea of Gilfoyle to create a cryptocurrency as a source of funding. Whereas Monica realizes that Laurie wants Richard to sell ads on his internet, and she ends up Pied Piper as a CFO.
The YAO net of Jian-Yang
Pied Piper witnesses unimpressive results of cryptocurrency and Laurie teams up with the Chinese company Yao where they were working with the Chinese team and Gavin Belson to create the decentralized internet that Jian-Yang sold to Belson. They prepare a 51 % attack against PP's network in order to acquire it completed. Richard saves the whole system, results in a loss for Belson and a bigger office space for Pied Piper's team.
Pied Piper becomes a large company of 500 employees. Richards speaks before congress on his ideology that his network will not collect user data. But things turn otherwise. Meanwhile, Jared and Richard get into a fallout. Things get vicious as they go deep into the problems and end up in a tiny orange flash drive that contains a bigger threat!
Silicon Valley isn't at all a show. It never falters in its craving to put the absolute silliness of its tech "masters" and their conduct on full showcase. Truly, it's been so reliably acceptable at doing that that the show has been underestimated in some ways.
In Conlusion
Amusing yet additionally significant, "Silicon Valley" consistently had a deceptively simple throughline. What was the best thing to do when "wrong" was quite a lot more profitable? 'Cash-wealth-cash' was the simple decision, simple turn out. Not really for Richard. He realized what was in question — his spirit, and as a substitute our own, as well.
More than six seasons of complex monetary gerrymandering, Pied Piper transformed from an application to help performers to a fresh out of the box new "Internet we all deserve." Richard honestly has that slogan put on announcements, uninformed that it's now been utilized to irritable impact.
Is Silicon Valley available on Netflix?
Silicon Valley is not available on Netflix currently, it is, however, available on HBO. You can stream it from here.
Have something to add to the story? Comment down below!