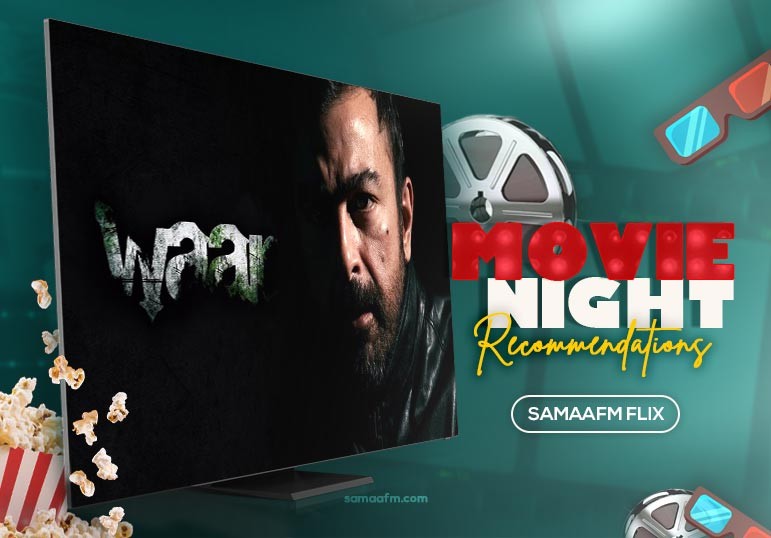 Friday Flix Movie Review: Waar
posted by:

Zainab Naseem

No Comments
Pakistani cinema is now seeing a magnificent boost in films and movies and this a positive image-creation. With new directors and filmmakers took the sword of Lollywood in their creative hands, we don't get to see, good stories, less gandaasay and more cinematic glamour. If we talk about movies that falls under the category of patriotism… well we have a lot of them as well today we are going to review an interesting and great Pakistani national movie. Waar!
Cast And Crew
Waar is a 2013 Pakistani action-thriller film directed by Bilal Lashari along with Brigadier Syed Mujtaba Tirmizi SI(M) , written and produced by Hassan Rana.
Waar cast includes Shaan Shahid, Meesha Shafi, Ali Azmat, Hamza Ali Abbasi, Shamoon Abbasi, Ayesha Khan, Suhaib Rana and Kamran Lashari. It is the sixth highest-grossing Pakistani film. It is a stylized depiction of events surrounding Pakistan's efforts to conduct a war on terror on state-sponsored terror groups, which resulted in warfare among tribal units in North-West Pakistan. One incident included a terrorist attack on a Police Academy at Lahore in 2009.
Plot – Waar
The film bases around Mujtaba (Shan Shahid), a resigned, straightforward armed force official with a grieved past. He is gotten back to the obligation for a counter-terror activity, driven by police official Ehtesham (Hamza Ali Abbasi) and his sister, Javeria (Ayesha Khan), an intelligence official. The police, military, and insight offices hold hands to stop a monstrous terrorist activity that will put any remaining dread-related incidents to disgrace. Their enemies are the Pakistani Taliban, driven by a Hakimullah Mehsud-styled militant and his multitude of "little angels" (brainwashed youth). The Taliban are paid by RAW specialists, Rammal (Shamoon Abbasi) and Laxmi (Meesha Shafi), who have just a single plan to satisfy: the obliteration of Pakistan, by whatever methods available.
Rammal and Laxmi, who calls themselves as a Pakistani social specialist (as though there isn't sufficient doubt of NGOs in Pakistan), are villains in the genuine sense, with no hazy situations or saving graces or redeeming qualities; they relish the brutality and death they incur.
At the point when two female suicide bombers get ready for 'martyrdom' by exploding the police headquarters in Islamabad — quite possibly the most chilling scenes in the film, and dependent on the genuine and real life attack on the Manawan Police Academy in Lahore in 2009 — the two specialists dance a death salsa.
With respect to the Taliban, it is fascinating. And insightful on the writers' part. To strip the militants of all religious power. These are men persuaded solely by insatiability and a desire for power. Instead of by any religious calling. All things being equal, the strict sloganeering and inspiration is left to the Pakistani military.
At that point there's the benevolent yet somewhat naive lawmaker Ejaz Khan (Ali Azmat), mostly modelled on current PM Imran Khan, who needs to see a dam built in light of the fact that he trusts it will profit individuals of the country, despite confronting resistance from different politicians. He requests to their 'ghairat' and 'Mussalmaniyat,' yet carries on a relationship with Laxmi in private, which he later finishes because of a pestering inner voice. In a press conference with the journalists, Khan rejects that he has a savior or a messiah complex, yet in the protection of his big mansion, he opens his arms to a nonexistent group and hears ringing applauses.
Well, there is no denying that this movie is a propaganda film with heaping jingoism. The movie got loads of critics as well, unpopular but valid. By portraying the Taliban simply as puppets of enemy country. The political element was somehow closer to the reality. To dump all the responsibility to others parties or simply dump it all over another state. There were some clever one-liners which were appreciated. But somehow script was lacking and broken in between. Could have been improved with more strength and less clichés?
The winning element of Waar – "Cinematography"
Waar might lack a few things here and there, but you certainly cannot deny the amazing cinematography by Bilal Lashari. With visually stunning cinematography, Bilal Lashari's attention to detailing was exceptional throughout the movie he surely has raised the bar for filmmaking in Pakistan up a notch. He made this movie in three years, and it showed with the movie's classic screenplay as well. Not only the photography was amazing, the cast played a fine job, every role was made for the character. And the performances were detailed, near to perfection and realistic! For not being a documentary but a commercial film. It managed to garner lots of appreciation and love from the audiences. For the love of Pakistan and patriotism instilled, this movie should be in your watchlist for the weekend!
---
RECOMMENDED MOVIES
If you like this Friday Flix review you can also check these