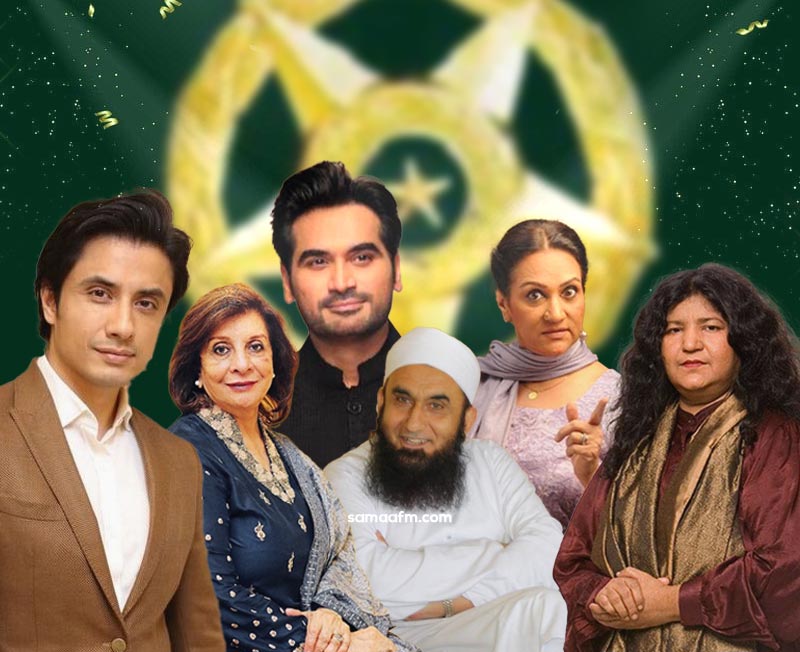 President Arif Alvi confers National Awards on Pakistan Day
posted by:

Zainab Naseem

No Comments
President Arif Alvi conferred top civil and military accolades over famous personalities on Saturday. This list also includes 18 foreigners for their contributions in different fields for excellence in a variety of fields including medicines, social services, gallantry, art, acting, and others on Pakistan Day ceremony at Aiwan-i-Sadar.
President Arif Alvi Conferring National Awards
Among them, Naeem Rashid was also honoured from the President as a Hero. Rashid tried to tackle the terrorist with bravery who was attacking Muslims at Christchurch last week.
Abida Parveen was also awarded for her singing contributions in the field of Arts.
According to the official statement, the president also conferred Nishan-e-Imtiaz over Sadeqain Naqvi and Prof. Shakir Ali for (Arts, Sculpture and Painting) and Ahmed Faraz for (Literature).
Muhammad Tahir Javed, Zeba Shehnaz, Hameedullah Shah Hashmi, Faisal Edhi, capt (retd.) Syed Amir Mehmood, Farid Ahmed Khan and Omar Saeed also received Tamgha-e-Imtiaz.
Celebrities receiving awards by President
Among celebrities President Arif Alvi also honoured Bushra Ansari and Sultana Siddiqui with Sitara-e-Imtiaz award.
Celebrities rejoiced and wished her congratulations, for her support and contribution to the industry.
Mahira wrote, 'Mubarak!! Love you!' Similarly, Imran Ashraf wrote, 'Aappaaa bohat bohaaaat Mubarak.' Hadiqa Kiani and Khalid Malik also send their wishes and love to her.
For utmost dedication, severe determination, and resilience, proving his mettle in the Bollywood industry. Ali Zafar was also awarded Presidential Pride of Performance.
For the contribution in the industry for more than 2 decades, Humayun Saeed received Pride of Performance. Moreover, his performance in the Khalil-ur-Rehman Qamar's written drama 'Mere Pass Tum Ho' was widely praised and his performance was well received by the critiques. Furthermore, his notable works for the Pakistani movie industry were also highly laudable.
Wife of Arif Alvi, Samina Alvi also attended the ceremony along with many notable personalities.
On the contrary, Prime Minister Imran Khan was not present at the ceremony due to his contraction of the Covid-19 virus earlier this week.
Read More: MAHIRA KHAN SHINES IN THE LIST OF 100 MOST INSPIRING WOMEN