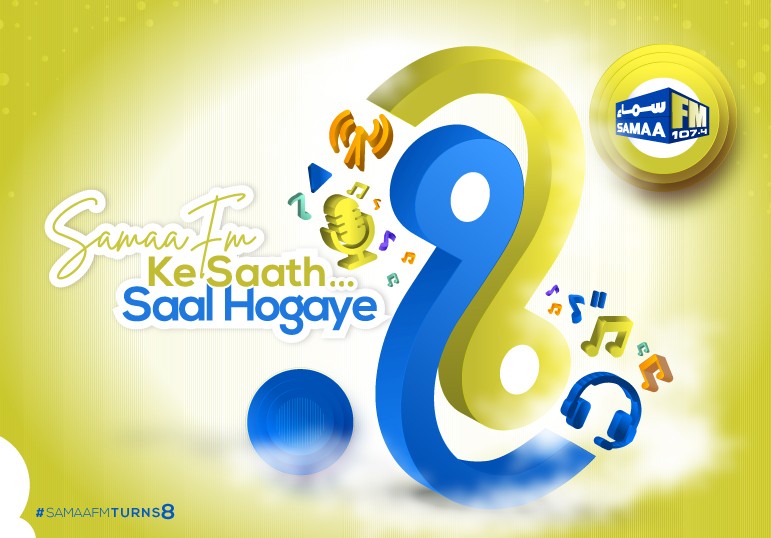 Samaa FM 107.4 celebrating 8 years of infinite love and support
posted by:

Zainab Naseem

No Comments
#SAMAAFMTurns8 "SAMAA FM ke sath, saal hogaye aath!" SAMAA FM 107.4 is proud to announce the celebrations of its 8th Anniversary on Friday the 25th of December 2020. With back to back shows, non-stop music, and fun. The day is going to be jam-packed loaded with gossips, your favorite songs, surprises, and celebrations together.
Do tune into SAMAA FM 107.4 on Friday and enjoy combined shows of your favorite RJs, Alina Memon, Ambreen Hala, and Azhar Ali will be back to back with their shows. With "Mubarak Tumhe," prestigious celebrities from all around Pakistan will send greetings and well wishes to the station and the team of SAMAAFM.
On the special occasion, you can also catch Aisha Malik, Shahpara Saleem, and Dr. Ajaz in the afternoon slots, as the night will begin to spread its wings you will enjoy Sulmeen Ansari and Sara Baloch with an entertaining session. Don't forget Sahir Lodhi, Sana Humayun Imran Hassan, and Sahar with greetings on our anniversary.
You can connect with your favorite RJ through SMS, Facebook, and live calls during the shows. Get connected on any favorite show on Facebook Live, you can also do live calls on 111-8-72622 (SAMAA), and SMS on Type SFM, Your Name, Your City, Your Message and send it to 4471.
SAMAA FM will also be celebrating the Birthday of Father of the Nation, Quaid-e-Azam Muhammad Ali Jinnah with the special dedicated segment of "Humare Quaid," where we will give tribute to Quaid-e-Azam, his life, his achievements, his sacrifices toward the nation!
Gear up as SAMAA FM will take you on a journey from 11 am to 1 am across all 6 stations of KLI, Sialkot Peshawar Bahawalpur. Tune in to Mera Radio SAMAA FM 107.4!
---
Read More: SAMAA FM 107.4 RJS GIVING LIFE TO RADIO