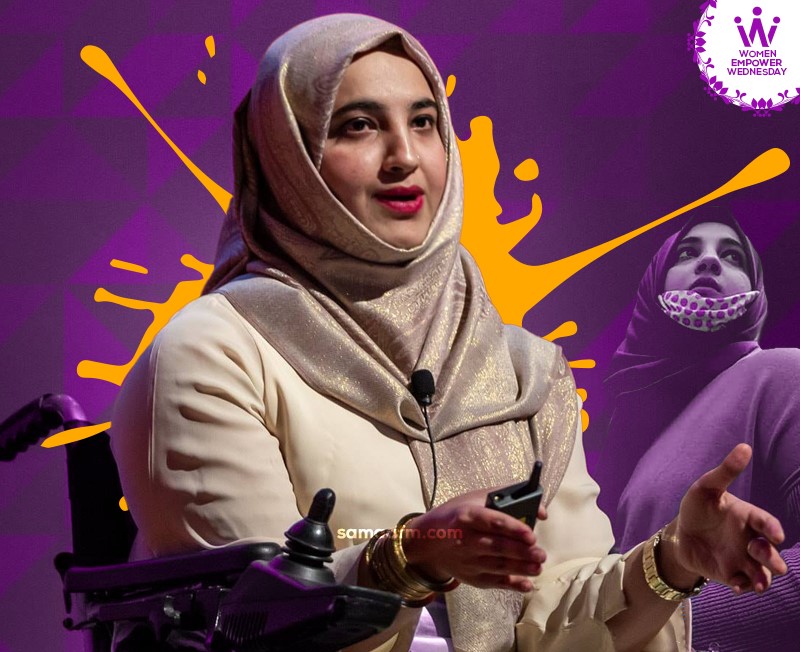 Women Empower Wednesday: The bird without wings Tanzila Khan
posted by:

Zainab Naseem

No Comments
Sometimes when you couldn't walk, you learn how to fly! Disability is Pakistan has always been an eye-raising phenomenon. People may be compassionate, but lack of communication has developed many problems in people with disabilities. Lack of confidence, social anxiety, not being able to get opportunities etc. But one woman defied all odds. Despite her disability she reached to the heights. Let's meet a leader, disability activist, trainer and motivational speaker, Tanzila Khan.
Tanzila Khan
Born and raised in Pakistan. Tanzila Khan is a Pakistani disability rights activist, author and motivational speaker. Tanzila Khan has been wheelchair-bound since birth. But she completed her Bachelors of Law degree in International Development from the University of London. Growing up in a patriarchal household, she was inspired by her mother to become an advocate. Her mother encourages Tanzila to achieve everything!
Founder of Girlythings.pk
Tanzila Khan is the founder of Girlythings.pk. Due to the societal taboo or menstruation in Pakistan and access to feminine hygiene products, Tanzila started her own venture. A startup company named Girly Things Pk delivers sanitary products on urgent basis. The urgent kit includes a disposable undergarment, a sanitary pads pack and a blood stain remover.
Girly Things Pk is undoubtedly making sanitary pad shopping less awkward. She also offers other products such as hair removing creams, razors, shampoos, soap, sanitizers, and toilet seat covers to her customers. She is also aiming to include contraceptives in future.
Fruit Chaat Films by Tanzila Khan
She has recently released her first short film 'Fruit Chaat.' Tanzila produced and wrote it under Zee5 alongside director Moiz Abbas. The film has been widely received by both Pakistani and Indian stars.
The storyline revolves around a recent disabled graduate 'Shabana' who becomes a fruit seller after not being able to land on a job.
An author
Tanzila Khan also enjoys the title of being an author for years now. She wrote her first book 'A Story of Mexico' when she was only 16 years old. And published her second book, 'The Perfect Situation' later. She also owns Theater of the Taboo, a training module using theatre where she talks about sexual and reproductive issues. Additionally, Tanzila is a recipient of the national-level advocacy recognition award 'Khadija tul Kubra.' And became a Youth Champion at Rise Up.
Tanzila Khan believes in women empowerment and gender equality. She is defying gravity and flying solo, crushing every stereotype and taboo of Pakistani society. She quotes, "I am just moving on, clinging to my dreams, rather than the fear of appearing dependent."
RECOMMENDED
Last but not the least, read more about Women Empower Wednesday and If you like this article you can also check these