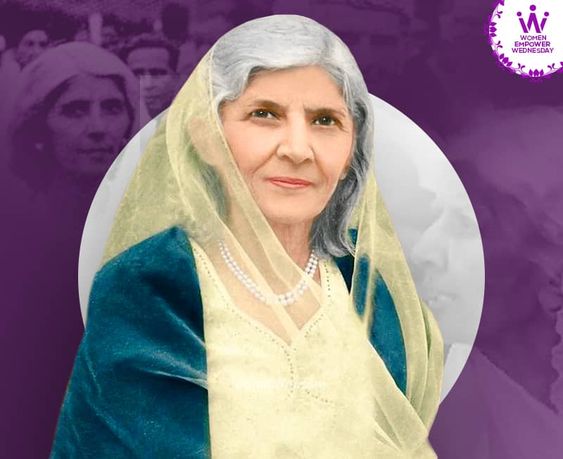 Women Empower Wednesday: Woman of steel Fatima Jinnah
posted by:

Zainab Naseem

No Comments
Pakistani politics have a strong portrayal of women, they have been an important part of Pakistan's political dynamics that changed the empowered women's narrative on a wider level. Fatima Jinnah is one of those strong women. She was definitely one of the most charismatic women during the painful existence of Pakistan.
Behind the petite exterior came a woman of steel. She was graceful and strong. Fatima shared her responsibilities as a sister and confidant of Quaid-e-Azam Mohammad Ali Jinnah. She was a political worker, a determined women rights activist, and a dental surgeon.
Fatima Jinnah
Fatima Jinnah is broadly known as Mader-e Millat "Mother of the Nation," was a Pakistani legislator, dental specialist, stateswoman, and one of the main founders of Pakistan. She was the younger sister of Muhammad Ali Jinnah, the founder and the first Governor-General of Pakistan and then-President of Pakistan.
 

 

View this post on Instagram

 
Subsequent to getting a dental degree from the University of Calcutta in 1923, she turned into a close associate and a counsel to her sibling, Muhammad Ali Jinnah, who later turned into the principal Governor General of Pakistan. A solid critic of the British Raj, she arose as a solid advocate of the two nation theory and a leading member from the All-India Muslim League.
A strong support system of Quaid-e-Azam
Fatima's friendship was the desperate need of a forlorn man Quaid-e-Azam, the extraordinary head of the Muslim nation. In the expressions of Beverley Nichols, Jinnah was "the most important man in Asia, truly an intellectual giant" and Fatima used to talk about with her sibling, different issues and included characters. Many times her assessment was acknowledged by her sibling.
 

 

View this post on Instagram

 
Fatima Jinnah and her book controversy
After the autonomy of Pakistan, Jinnah helped to establish the Pakistan Women's Association which assumed a necessary part in the settlement of the women migrants in the recently framed country. Moreover, she stayed the closest compatriot of her sibling until his demise.
After Quaid-e-Azam's demise, Fatima was prohibited from addressing to the country until 1951. Her 1951 radio address to the country was vigorously banned by the Liaquat administration.
Furthermore, Fatima was the only companion of her brother at Ziarat during Jinnah's illness. After his death, she became keen to get a biography of her brother written by a Pakistani author. She would not trust a foreigner with the material she had collected on Jinnah's life and work. Finally, she asked G. Allana to assist her in writing the biography.
She composed the book 'My Brother,' in 1955 however it was just distributed 32 years later in 1987, because of the censorship by the establishment, who had blamed Fatima for 'anti-nationalist material.' Her book, when published a few pages from the book's original manuscript was forgotten about.
Fatima Jinnah and women empowerment
Fatima Jinnah was interested to make women of Pakistan to become independent in financial matters, she desired an end to women's economic dependence on men.
 

 

View this post on Instagram

 
Her ideas are also established in the addresses and teachings of Fatima Jinnah. She explained that "it is necessary for women that they should earn money for themselves. It is the duty of men to take care of women and financially support them. It is most important that men and women should understand the problems of one another. With consultation, she can improve the relations and lifestyle. "
She also added that "Women can play an important role as far as mutual understanding and domestic life is concerned. She can change the mood and habits of a man. After spending a tiresome period outside the home, there should be a comfortable environment at home. This is the best characteristic of a sensible woman that she should sense the situation and act accordingly."
Also read: WOMEN EMPOWER WEDNESDAY: MICHELLE OBAMA
Fatima Jinnah remains one of the most cherished leaders of Pakistan and people still love and respect her. Jinnah died in Karachi on 9 July 1967. Jinnah's death is subject to controversy, as some reports have alleged that she died of unnatural causes. Moreover, her family members had demanded an inquiry, however, the government blocked their request. Her death might be controversial but her life was an example of grace and ultimate strength.