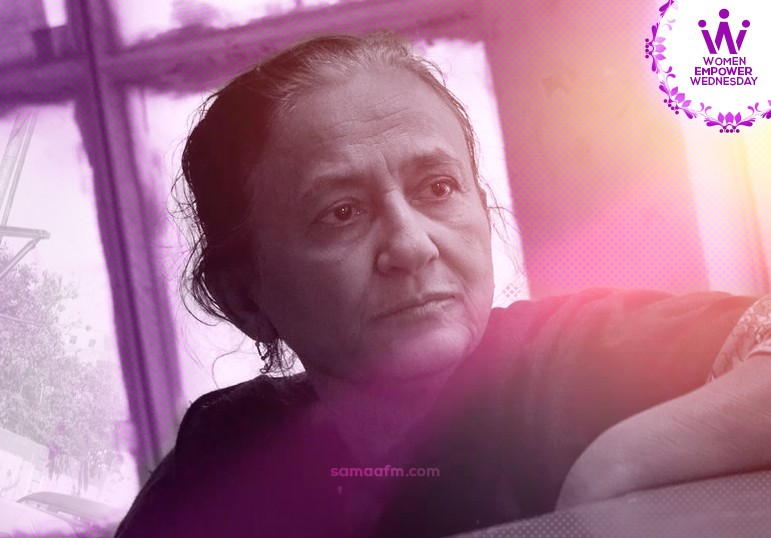 Women Empower Wednesday: The kind gem of Pakistan Bilquis Edhi
posted by:

Abdul Latif Dadabhouy

No Comments
The concept of kindness is getting weaker every day in this modern world. As the world started evolving, with globalization, everyone thinks about their own selves, their being, their desires, and their struggles. Without realizing that there are plenty out there who need a kind and gentle hand towards life. And deserve a chance. We always hear "Kindness is a Virtue." But we never really understood what it means; it means the showing of love in different ways, the qualities of having sympathetic, affectionate, warm-hearted, and considerate nature. Kindness softens your hearts; it lifts your spirits and mends relationships. And it begins at heart because kindness is certainly a part of the nature of GOD! It is not a duty towards the fellowship; it is an expression that is rooted within you.
At the point when you put some benevolence into the world, you'll like what the world offers in return. Pakistan is blessed to have a gem. That has made kindness not only a virtue like a prayer, but also a duty. And a promise to help other people the moment she gained consciousness! She is none other than The Mother of Pakistan, Bilquis Edhi!
Bilquis Edhi
Born on 14th August 1947 Bantva, British India, Bilquis Bano Edhi is a professional nurse, the wife of Abdul Sattar Edhi (Late), and one of the most active philanthropists in Pakistan. She is known as the Mother of Pakistan and she actively heads the Bilquis Edhi Foundation.
Early Life
As a young person, Bilquis didn't appreciate school a lot. She figured out how to join a little growing dispensary as an attendant Nurse in 1965. At the time the Edhi home was in the old city region of Karachi known as Mithadar. Where it had been established in 1951. The place had a modest number of Christian and Hindu medical nurses who worked there. They recently got decreased in number. The founder, Abdul Sattar Edhi, enrolled various medical nurses including Bilquis who, surprisingly, was from a Muslim background. Edhi proposed to Bilquis after recognizing her talents and allowing her to lead the small nursing department. He had recognized her enthusiasm and interest during her six-month training program where she had learned basic midwifery and healthcare.
They were married when she was seventeen and her husband was nearly twenty years old. They spent their post-wedding time as newlyweds while discovering a young girl with head injuries at their dispensary. Bilquis Edhi also shared in 1989 that she did not regret the time lost in consoling the twelve-year-old's concerned relatives. The foundation is based on the slogan of "Making a difference and changing lives forever."
The Jhoola Project
It is true, as the saying goes: "There is a woman behind every man". Bilquis Edhi is a woman of substance, for sure; and she has come a long way with Edhi for a cause that is simply noble! Bilquis Edhi took control over the administration of the "Jhoolas project." Edhi established it in 1952. These 300 jhoolas are accessible all through Pakistan where Parents can abandon their undesirable babies. They convey the message "Do not kill, leave the baby to live in the cradle" in both English and Urdu. A little minority of abandoned babies are disabled yet over 90% are females.
 

 

View this post on Instagram

 
This option decreased the number of dead children. Parents give their undesirable babies to Edhi Foundation. The Edhi project is also liable for burying dead infants found by the police. The Edhi Foundation doesn't accept any funds from the Government. And solely work with the help of the donations made by the people.
 

 

View this post on Instagram

 
Bilquis Edhi says, "We never spread our hands, even if donations are low. We have faith in Allah and we keep working." Her distinctive and significant involvement with the Edhi Foundation was while during the war; the bombings brought about various severely disfigured bodies that she needed to wash for burial. At times just an arm, leg, or head was recuperated. She, alongside around 60-70 laborers including volunteers, gathered and afterward washed those bodies.
 

 

View this post on Instagram

 
Edhi Foundation
Bilquis Edhi's present duties include taking care of the ladies segment of her foundation, giving babies and children for adoption – generally taking care of women and kids related areas all through Pakistan. Her two daughters Kubra and Almas Edhi work intimately with her. She regularly visits Edhi Homes all over Pakistan to screen their homes and give proposals and recommendations on how she feels the work ought to be finished. She is additionally instrumental in making Edhi Homes 'Centres of Excellence' – in the genuine feeling of the word.
Awards And Accolades
For her selfless devotion and work for the people of Pakistan, she holds the honor of being awarded the prestigious 'Hilal-e-Imtiaz' and along with Edhi. She has also received the 1986 Ramon Magsaysay Award for her Public Service. Moreover, she is also the recipient of the Lenin Peace Prize.
Bilquis Edhi has spent her life for a noble cause and she continues to do so even after the passing away of Abdul Sattar Edhi in 2016. She is lucky as a human-being and even luckier as a woman for she got a helping hand in the form of her husband. But her only rewards are not the awards, but the success stories of the people she has saved over the years.
"Do your little bit of good where you are; it's those little bits of good put together that overwhelm the world." Desmond Tutu.