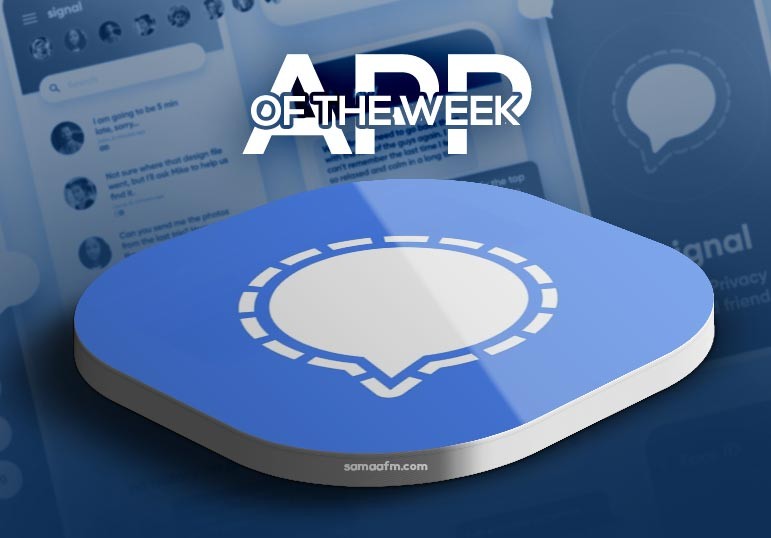 App Of The Week: Signal Private Messenger
posted by:

Zainab Naseem

No Comments
Today we are bringing the review of widely well-received chatting application and suggested by Elon Musk and Snowden, Signal!
Technology and Privacy
We are right now living in the supposed data age which can be portrayed as a time where financial exercises are fundamentally data based. This change in outlook has brought new moral and juridical issues which are mainly identified with issues, for example, the right of access to data, the right of security which is compromised by the importance or emphasis on the free progression of data, and the insurance of the monetary interest of the proprietors of licensed innovation. Human beings esteem their security and the insurance of their own sphere of life. They value some command over who knows shouldn't something be said about them. They absolutely don't need their own data to be open to anyone. However, late advances in data innovation undermine protection and have diminished the measure of authority over close to personal information and open up the chance of scope of negative outcomes because of admittance to individual information. During the twentieth century, information insurance systems have been set up as a reaction to expanding levels of handling of individual information. The 21st century has become the hundred years of enormous information and progressed data innovation (for example types of profound and deep learning), the ascent of huge tech organizations, and the stage economy, which accompanies the capacity and handling of heaps of information.
How in these, apps can ensure security and privacy, as it is an evident part of the technology now, from a click you can download an application in your phone and sometimes without looking, we tick the box of terms and conditions, and give access – which includes your picture, videos, camera, information – to everything. But now in recent times, we saw WhatsApp's forceful privacy changes that tipped the users on their toes, and they will have a peek through our private chats and removing the end-to-end encryption over the chats. Thousands and thousands of users are shifting towards other alternatives and we have picked out the most downloaded alternative in the recent week that app is, Signal Private Messenger.
Signal Private Messenger
Signal Private Messenger is a messaging application that can be downloaded on Apple (iPhone and iPad), Android, and Mac and Linux devices. The app market with a tagline that says, "Say hello to privacy". It has been developed by the Signal Foundation and Signal Messenger LLC. The Signal Foundation was created by former WhatsApp co-founder Brian Acton and current CEO of Signal Messenger Moxie Marlinspike. Acton left WhatsApp in 2017 and donated $50 million to fund Signal.
According to Brian Acton on leaving WhatsApp was concluded when Mark Zuckerberg and other Facebook executives wanted to begin targeting ads at users and selling business analytics tools, two plans that Acton didn't agree with. Acton revealed, "At the end of the day, I sold my company, I sold my users' privacy to a larger benefit. I made a choice and a compromise. I live with that every day."
Key Features of Signal App
Is Signal App Really Private?
Right now it has become the USP for Signal App to be private, Signal features include staying private and "end-to-end encryption," and they assure it that everything always end-to-end encrypted, the American whistleblower Snowden uses it, and what's more, the CEO Tesla and SpaceX endorsed Signal. READ MORE: WHAT ELON MUSK HAS TO SAY AMID SIGNAL VS TELEGRAM VS WHATSAPP COMPETITION!
Voice or Video Calls
The application features voice and video calls with anyone and they have recently rolled out other additions to the feature which is raising the group call limit from 5 to 8, so now you can call it even!
Is Signal App Safe with Disappearing Message
To keep your chat history clean and tidy with the disappearing message option, your messages will be deleted automatically after you set the limit when you want to delete and clear them from your chat history. So it's very safe to use.
Messaging and Calling
Though the application is widely getting love and appraisal, there are slight drawbacks which still needs to be improved, bugs like registering SIM1 with the application but messages being sent from the other sim here and there becomes frustrating but the kind of feedback the organization is receiving they will by the time get up to the mark of the users.
So the only drawback is that might annoy people would be their text management system. You can't simply write a long text, as it limits the number of characters visible, making your recipient press a button that would allow them to see the full message, to only get lost on where they stopped reading. This can easily be a bug of some kind that can be resolved over time. Whereas one of the things people will be enjoying about Signal is its transparency. Many know that it's one of the few apps where messaging is actually end to end encrypted, so ultimately your messages are 100% safe there. So tell your secrets to your best friends there and enjoy Signal!
Ratings: 4.6 out of 5
OS: iOS and Android
---
Recommended Apps
If you like this review you can also check these