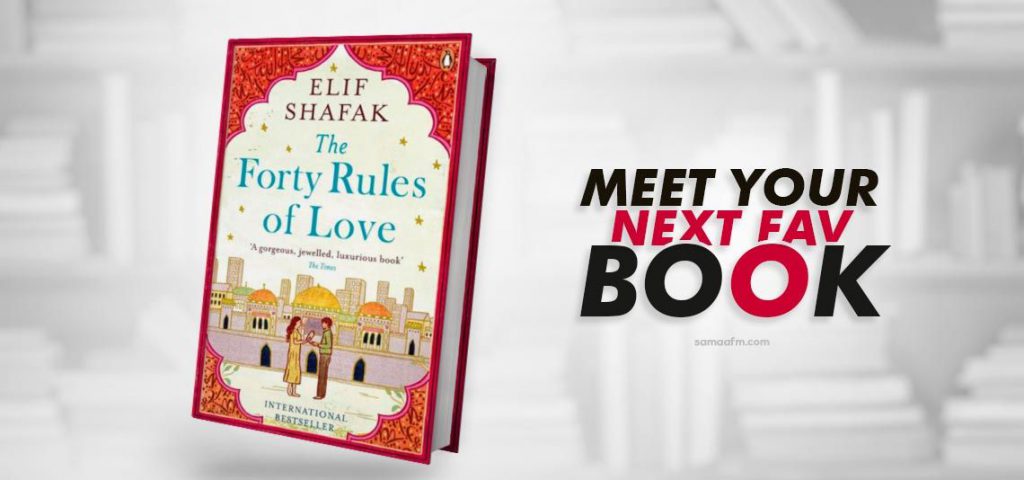 Book Review: Forty Rules of Love By Elif Shafak
posted by:

Abdul Latif Dadabhouy

No Comments
This week in the Book Review segment we are going for Elif Shafak's beautiful novel Forty Rules of Love that heals with the transformative power of love, friendship, and a deeper soulful connection!
About the Author – Elif Shafak
Elif Shafak is a Turkish-British writer, storyteller, essayist, academic, public speaker, and women's rights activist. In English, she publishes under the anglicised spelling of her pen-name 'Elif Shafak.'
 

 

View this post on Instagram

 
Shafak holds a degree in International Relations, a master's degree in Gender and Women's Studies, and a Ph.D. in Political Science. She has taught at universities in Turkey. She is also an activist for women's rights, minority rights, and freedom of speech. She also writes and speaks about a range of issues including global and cultural politics, the future of Europe, Turkey and the Middle East, democracy, and pluralism. She has twice been a TED Global speaker, a member of the Weforum Global Agenda Council on Creative Economy and a founding member of European Council on Foreign Relations (ECFR).
 

 

View this post on Instagram

 
Shafak writes in Turkish and English, and has published 17 books, 11 of which are novels, including 10 Minutes 38 Seconds in this Strange World, The Bastard of Istanbul, The Forty Rules of Love, and Three Daughters of Eve. Her books have been translated into 53 languages, and she has been awarded Chevalier de l'Ordre des Arts et des Lettres.
Review – Forty Rules of Love
"You can study God through everything and everyone in the universe, because God is not confined in a mosque, synagogue or church. But if you are still in need of knowing exactly where his abode is, there is only one place to look for him: in the heart of a true lover."
The Forty Rules of Love is a superb ensnarement of two accounts – one set in the contemporary occasions with Ella, a housewife as the main lead [protagonist]. Hers is an account of lost love and expectation, till she winds up changed in light of a book she should read as a piece of her new job's commitments. The second part of the story is that of the book 'Sweet Blasphemy', set in the thirteenth century, which depicts the lives and connections of Shams of Tabriz and Rumi.
The Beginning
Ella Rubenstein, an unhappy forty-year old housewife with a cheating husband and three children; she couldn't comprehend why she has such a life. Over the time she had all this grown on her and she made peace with what she had, giving up on love and hope. She continues to her daily life drowning herself into household chores to avoid further conflicts. Being a housewife, life takes a turn for her and she reviews a book as part of her new job's obligation, as a literary reviewer. The book 'Sweet Blasphemy' binds her as its own [set in the thirteenth century, which depicts the lives and connections of Shams of Tabriz and Rumi] and then she sets a conversation with a series of heartfelt emails with none other than Aziz Zahara himself. 
Shams and Rumi
The current track that unfurls through the correspondence among Ella and Aziz is moderate. The more earnest and broad piece of the book is the spreading out of the old story through twelve voices including the essential players, Shams and Rumi, yet additionally a large group of others including Rumi's family and a cast of dissimilar yet intriguing characters like Suleiman the Drunk, Desert Rose the Harlot and Hasan the Beggar.
Shams of Tabriz, a meandering dervish and intensive Sufi, outlines the forty principles of love which he grants to individual Sufi devotees. By uprightness of his endowment of having dreams about future, he predicts his own death. He chooses to give his insight to somebody at standard with him, somebody as heartfelt and in adoration as he is.
Significance and Love of Sufism
He makes a trip right to Baghdad to discover Rumi, a priest with a flustered soul. On the course of his imparting knowledge, he faces hatred and disillusionment from others, particularly Rumi's family. Notwithstanding all chances and risks, he shows the way of light and love to Rumi; accordingly ascribing to his getting quite possibly the most sought-after Sufi and artist of all times.
Through their unordinary and unlikely affiliation, regarded scholar Rumi forgets and relearns the methods of Sufism through Shams, who challenges description. Rumi's better half, kids, and devotees are astounded at the love that Rumi showcases to Shams, discovering Rumi's change totally impossible.
For every one of its anecdotes and philosophical leanings, the book isn't preachy at any stage. Each short part pushes the story ahead in straightforward words in the exceptional voice of each character. The narrative streams easily, holding the reader in riveted consideration. It is difficult to get vested in what happens between Ella and Aziz because the story of Rumi and Shams is of far greater significance. Every minor character makes a major impression because each one of them is critical to complete the tale.
The word 'Forty' Being Special
"Forty is a most beautiful age for men and women. In mystical thought, forty symbolises the conquest from one level to a higher one and spiritual awakening," says Aziz to Ella. And at one point through the end Aziz, through the words of Shams, makes Ella question — Am I ready to change the life I am living? Am I ready to change within?
The Greater Lesson
Much of what happens in life cannot be explained. Everybody, even great philosophers and mystics rationalises the world through their own lens and their beliefs, whether it is the fear that drives people or love, destiny plays a part in everything. To find the heart of the story in Shams, Ella, Aziz, you would find yourself turning pages and then your heart and your eyes will get stuck on Rumi's words –
"Love cannot be explained. It can only be experienced. Love cannot be explained, yet it explains all."
RECOMMENDED BOOKS
If you like this Book review you can also check these
– BOOK REVIEW: Make Time by Jake Knapp and John Zeratsky 
– BOOK REVIEW: Atomic Habits by James Clear