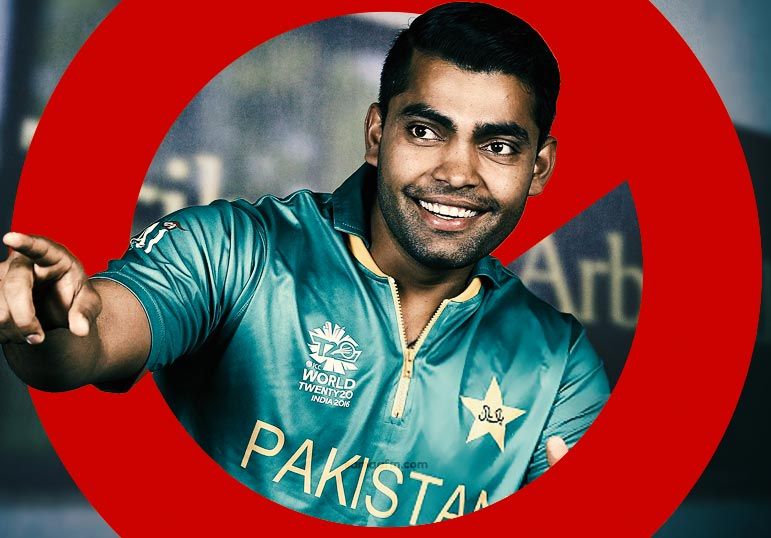 Court of arbitration for sports imposes 12-month ban and a fine of pkr 4.25million on Umar Akmal
posted by:

Abdul Latif Dadabhouy

No Comments
Umar Akmal got a ban imposed on him for 12 months and a fine of 4.25million by the Court of Arbitration for Sports.
The Court of Arbitration for Sports (CAS) has announced its decision on the Appeals filed by PCB and Umar Akmal against the Order of the Independent Adjudicator. CAS through a consolidated Order on both Appeals has been pleased to impose on Umar Akmal a sanction of a 12-month ban and a fine of PKR4.25million on one count of breaching Article 2.4.4 of the PCB Anti-Corruption Code.
Umar Akmal
Umar represented Pakistan in the 2008 U/19 Cricket World Cup in Malaysia. After his success at the U-19 level, he earned himself a first-class contract and played the 2007–08 season of the Quaid-e-Azam Trophy, representing the Sui Northern Gas team. He is considered a future asset for Pakistan cricket. He is an aggressive style cricketer. In only his sixth first-class match he smashed 248 off just 225 deliveries, including four sixes. He followed that up with an unbeaten 186 in his 8th first-class match, off just 170 balls. He fared less well in his second season of first-class cricket, with a string of low scores batting at number 3. He found form in the final few matches of the 2008/09 season and then in the RBS T20 tournament thus getting the selectors to nod to play for Pakistan A side on their tour to Australia A.
Umar Akmal grabbing the limelight
Umar came to prominence during Australia A tour in June-July 2009. In the two unofficial Test matches, he recorded scores of 54, 100*, 130, 0. In the unofficial ODI series that followed Umar continued his fine form with a century in the opening ODI encounter off just 68 deliveries. These performances made him gather considerable praise from the media who were there to witness him and calls began to grow about his inclusion in the ODI series for the main Pakistan side against Sri Lanka. Later that year, Akmal made his Test, ODI, and T20I debut.
Fine and Charges on Umar Akmal 2020
Umar was charged for two breaches of Article 2.4.4 of the PCB's Anti-Corruption Code in two unrelated incidents that took place in Lahore before the fifth edition of the Pakistan Super League began in Karachi on February 20. Akmal will now be eligible to reintegrate into competitive cricket subject to deposits of fine of PKR 4,250,000 and undergoing the program of rehabilitation under the PCB Anti-Corruption Code.
CAS has also refused the request of Umar Akmal seeking the return of his two mobile phones, which are in PCB's custody for some different investigation, and held that under the PCB Anti-Corruption Code it has the power to do so.
On 27 April 2020, the Chairman Disciplinary Panel had found Umar Akmal guilty on two charges of separate breaches of Article 2.4.4 of the PCB Anti-Corruption Code in two unrelated incidents and handed a three-year suspension with the periods of ineligibility to run concurrently.
Umar Akmal exercised his right of appeal and on 29 July 2020, the Independent Adjudicator modified the sentence and reduced the ineligibility period to 18 months.
Against this Order, PCB and Umar Akmal both approached CAS. PCB's appeal had been filed focusing on a point of law in regard to the cumulative operation of the sanctions for the two charges upheld by the Independent Adjudicator whereas Umar Akmal had sought a finding that he was not guilty of both charges.
"The PCB once again urges and reminds all participants to abide by their duty and promptly report any approaches to the anti-corruption offices and help themselves as well as the anti-corruption unit effort to eliminate the anathema of fixing."