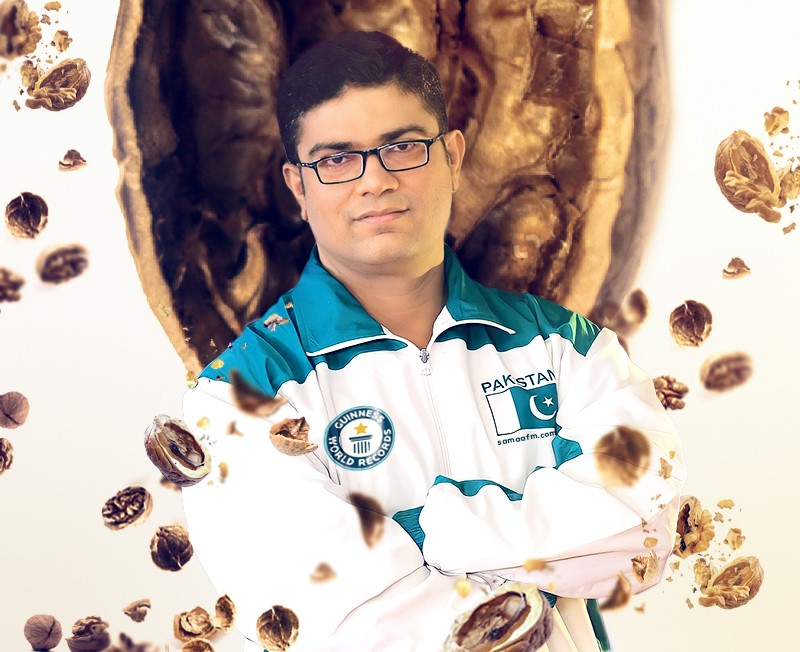 Pakistani Martial Arts Expert Rashid Naseem Breaks India's World Record
posted by:

Zainab Naseem

No Comments
Rashid Naseem setting a new world record
Proud moment for Pakistan as Rashid Naseem, a Pakistani martial artist, set a new world record for the 315 walnuts crushed in a minute with his elbow. Rashid broke the previous world record of 279 walnuts smashed in a minute, which was held by an Indian.
Who is Rashid Naseem?
Rashid is a Martial Arts Expert hailing from Karachi. He holds over 30 records, almost a third of the way towards his goal. Furthermore, he is also called the Bruce Lee of Pakistan by the Guinness World Records. The now 32-year old began his record-breaking career in 2013 at the Punjab Youth Sports Festival in Lahore, Punjab, Pakistan, when he broke the record for the most bottle tops removed with the head in one minute (40).
Also Read: Shehroze Kashif aka 'The Broad Boy' becomes the first 19 years old Pakistani to summit K2
His records are of smashing which includes,
Most walnuts crushed by the hand in one minute (284)
Watermelons crushed with the head in 30 seconds (49)
Most drinks cans crushed with the elbow in one minute (77)
Most spins of a fire staff in one minute (188)
Achievement to world record!
Rashid had already held the world record on two occasions. His initial attempt, crushing 195 walnuts in a minute, was beaten by Prabhakar Reddy, an Indian martial artist, who crushed 229 walnuts at the time.
Also Read: Neeraj Chopra says that it would have been good if Arshad Nadeem had won a medal too
Rashid recaptured the record by crushing 256 walnuts in a minute, but his record was broken again, this time by Sajeet Kumar, a student of Reddy's, who crushed 279 walnuts in the time permitted.
Rashid's latest attempt will now be sent to Guinness World Records, which will analyze it before approving it.
Have something to add to the story? Comment down below!