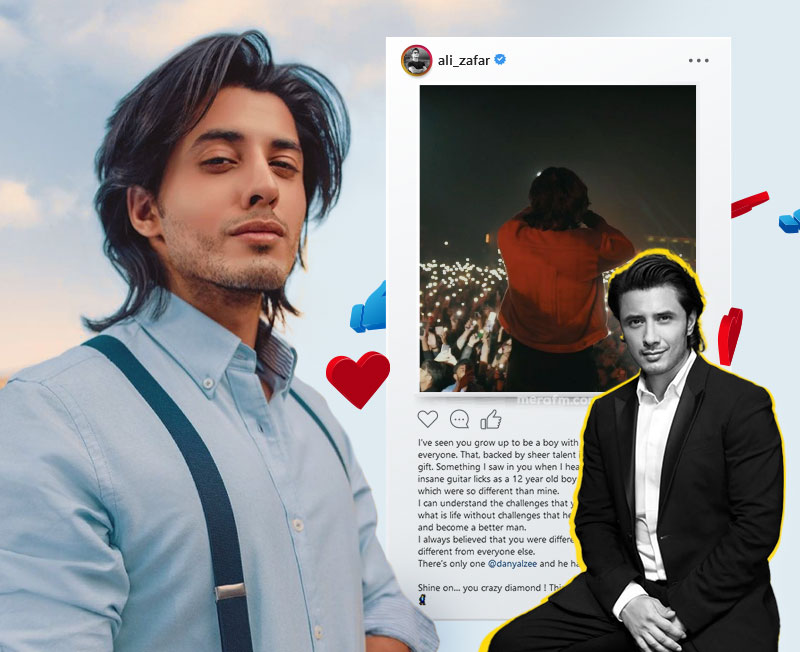 Ali Zafar praises brother Danyal Zafar with a heartfelt post
posted by:

Abdul Latif Dadabhouy

No Comments
Danyal Zafar, a artist par excellence
Danyal Zafar, an actor, and musician has been making news for his performances in the Ramadan special Taana Baana, directed by Danish Nawaz, and the upcoming Mahira Khan film Barwaan Khiladi. Previously, the young singer made a name for himself with his Coke Studio performances.
Danyal impressed the crowd with 'Muntazir,' in which he worked with Momina Mustehsan, a fan favorite, and subsequently with Julie, which he sang with his brother Ali Zafar. Last week, on the other hand, seemed like a dream to Danyal, who had just completed his first show.
Danyal Zafar shows his gratitude on Instagram
As he posted a snippet from his first-ever live performance, he was stunned by the response from the audience. Danyal expressed his gratitude by posting on Instagram.
"For 2 years I have just been locked in the studio making music. I know I put some stuff out that got a lot of love from you guys but I was dying to see how it all translates with y'all when I'm on stage… only to witness my expectations BLASTING THROUGH THE ROOF with such INSANITY! This was INSANE."

Furthermore, he said, "When I asked y'all to light up your torches I couldn't believe what I suddenly saw, it was like an ocean of lights as far as the eye could see… and I got GOOSEBUMPS there and then. I was so overwhelmed I didn't know what to say. I just lied down, and let go… I let the love sink in, and just then… I heard my name being chanted like never before."
Moreover, he continued, "I was complete in this moment. And I'm so happy it was captured. Thank you so much for the much love. You're the ones who made me. And the best part, it all happened in Lahore. The city I was born in. The city I grew up in. Thank you for making my dreams come true."
Ali Zafar shares his love for his brother Danny!
Soon after Danyal's tweet, his brother Ali also left a touching message for him. The Channo singer said in the comments section of the same video, "My dear brother, I've seen you grow up to be a boy with selfless love and care for everyone."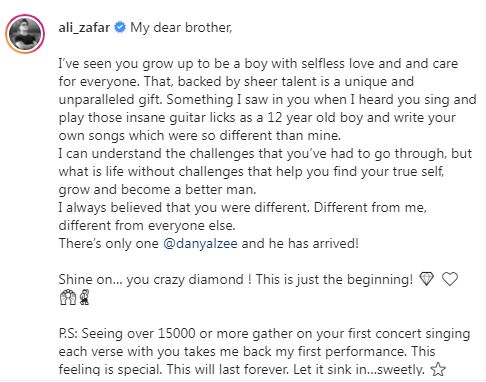 The Teefa in Trouble star added, "I can understand the challenges that you've had to go through, but what is life without challenges that help you find your true self, grow and become a better man. I always believed that you were different. Different from me, different from everyone else. There's only one Danyal Zafar and he has arrived!"
He added, "Shine on, you crazy diamond! This is just the beginning!"
Have something to add to the story? Comment down below!