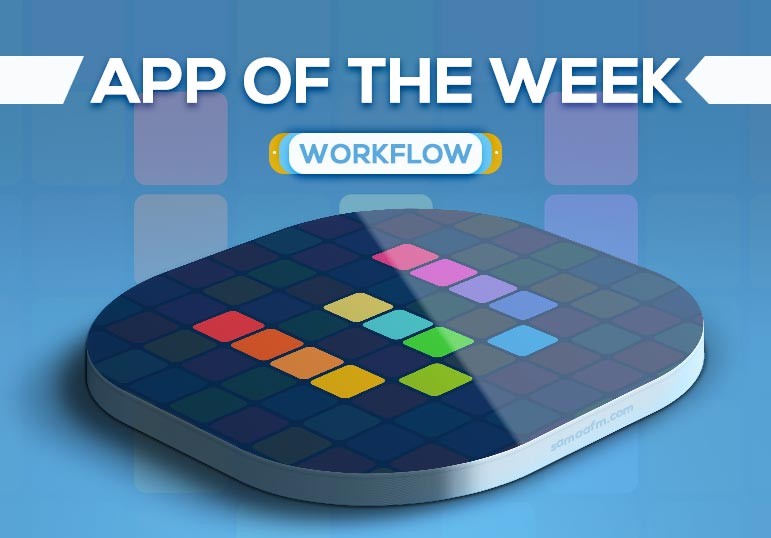 App Of The Week: Workflow Management
posted by:

Abdul Latif Dadabhouy

No Comments
Workflow Management
If you work in a multinational corporation or even in a small local organization workflow management is important, if you don't have a plan for your workflow management, you would be in trouble in front of your manager while giving any presentation. Studies show that 52% of businesses never or rarely measure the success or failure of their business processes, and 59% have any plan in place to analyze, design, or manage those processes even if they are measured.
Apple iOS strict Third-party App policy
Understanding and managing your business processes well is the key to longevity, and no process can truly be optimized without a well-managed workflow, too. Truth be told, workflow management can have an effect between the achievement and losses of the association overall. In any case, workflow management can contrast business measure management precisely. Apple iOS has been very strict about the permission it grants to any app. Apple's approach has ensured that it is almost impossible for your iPhone to be susceptible to malware, at least in contrast to android. This could also mean that a host of automation apps such as Tasker or Llama which is very popular in Android can never be allowed on App Store.
Because of this, there are plenty of things your Android – with automation – can do for example while using other apps you can disable your phone's password when you are at home and enable it when you leave. It gives control to the third-party app. Kind of trade between security and advanced features. This certainly does not mean automation isn't possible on iOS.
With the launch of iOS 8, Apple has finally put some restrictions off and introduced third-party keyboards and which led to the launch of Workflow. Let's see how Workflow works!
All you need to know about Workflow Automation App (Pros and Cons)
Workflow is an application that puts amazing automation tools available on iOS. With its natural interface, profound integration with core iOS highlights, and third-party applications, you can associate services and perform repetitive tasks with simply a tap of a button. Workflow lets you automate actions on iOS.
Pros
Design
Automation apps can be intimidating by the looks of it, Workflow has a colorful design, the bright color scheme was used to set the tone for a user-friendly interface! You can start by making a new workflow in the app.
 

 

View this post on Instagram

 
Workflow Management Usage
Essentially, a workflow is a way of automating your daily tasks for you. Also, you can create it by combing a set of actions such as Get current song, select photos, set brightness, get URLs, etc. When you run the app first it helps you to make a GIF file. Which also represents how easy it is to use Workflow. All you need to do is tap Create Workflow, swipe left to view the actions available, drag the actions you need to the right and arrange these in the correct order for the task you have in mind.
You can also set a workflow to your home screen. To be available as a Share extension, making it possible to share text and content with Workflow from other apps. The interface feels right at home on both an iPhone and iPad, with intuitive gestures used for easy navigation and interaction. It is pretty safe to say that this app has been a blessing to non-programmers who use iPhones!
Download Other Best Workflows
If you don't want to create your own workflow from the scratch, or you are just being lazy, the apps present you a nice gallery with some of the best already-made workflows so that you can just import to your device, and voila! It has an option to convert complex workflows to any webpage to a pdf file and then you can save it to your Dropbox, which can be downloaded from within the app itself. The layout of this gallery is similar to that of Apple's own App Store interface.
Cons
No Sync or Backup in Workflow Management app
Well, the only drawback this app throws at you currently is there is no sync option. While giving you the edge to download the same workflows on each device with iOS, it still doesn't give you anything to have a backup or sync it. So if you are saving your workflows in one device and might want to switch it to some other, or have it all deleted due to some mishap, well it's gone forever then!
Some users might have created workflows to help streamline the process of maintaining their libraries and important work notes. The entire baseline of this application is to maintain the flow of your work and automate tasks for you and increase your productivity, the lack of syncing is the only problem that can be fixed through an update in the future. But for now, we suggest all the users with iOS, try it for your work management and comment down below how did you like it?
Ratings: 4.2
O.S: iOS
---
Recommended Apps
If you like this review you can also check these