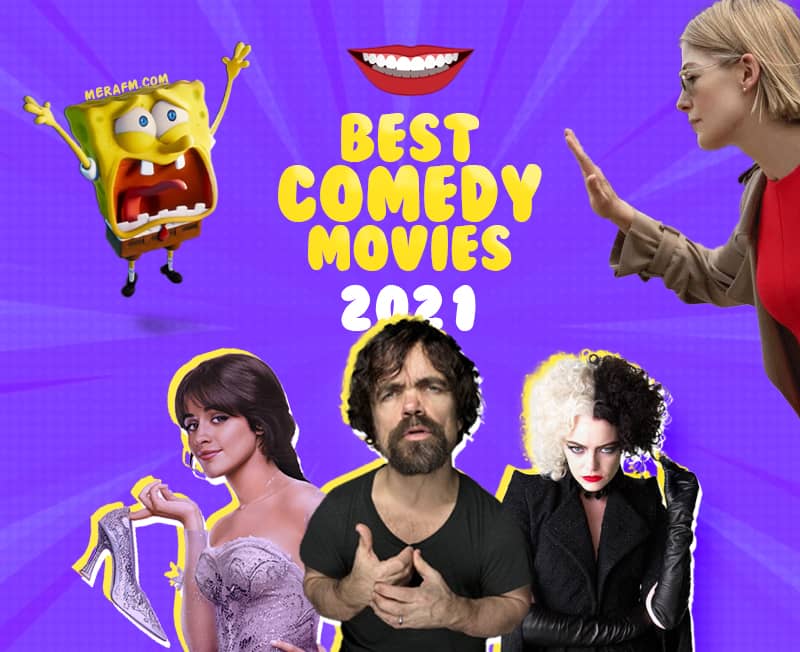 Best comedy movies of 2021
posted by:

Abdul Latif Dadabhouy

No Comments
Comedy – a genre of smile
Laughter is the finest medicine in a time when we could all need a little kindness and healing. Songs are a close second in our opinion. As a result, we've compiled a list of the best comedy movies of the 2021 lineup. (Which, by the way, has produced a slew of fantastic films.) And now that we're approaching the end of the year, there are a few features that you can watch from the comfort of your own home tonight. Comedic respite is right around the corner.
Best comedy movies of 2021
This article lists the best comedy movies of 2021 and their stories! and NO! we don't give out spoilers…
10) Cinderella
IMDb: 4.2/10
Rotten Tomatoes: 42%
Cinderella is a romantic musical film released in 2021, based on Charles Perrault's fairy tale of the same name. Kay Cannon wrote and directed the film. It stars Camila Cabello in her acting debut with Idina Menzel, Minnie Driver, Nicholas Galitzine, Billy Porter, and Pierce Brosnan. It's a jukebox musical including pop and rock favorites, as well as a few original songs.
Cinderella 2021 storyline
The titular orphaned main character is played by Camila Cabello. Her stepmother (Idina Menzel), who is widowed, is cruel. Anastasia (Maddie Baillio) and Drizella (Charlotte Spencer), her two stepsisters, are more ignorant than malicious. Meanwhile, Prince Robert (Nicholas Galitzine) rejects a proposal from a neighboring kingdom's princess, angering his father, King Rowan (Pierce Brosnan). After observing Ella at the "find the prince a wife" ball announcement, he urges Ella to sell her own dresses. Moreover, attend the dance as an opportunity to show off her work. Ella is eventually aided by her Godmother (Billy Porter), who helps her morph so she can get to the ball. Ella goes to the ball where she and Prince Robert spend an amazing evening — until midnight, of course.
Also Read: Best TV Shows of 2021
9) Thunder Force
IMDb: 4.4/10
Rotten Tomatoes: 21%
Thunder Force is a 2021 American superhero comedy film starring Melissa McCarthy, Octavia Spencer in lead roles. The supporting cast includes Bobby Cannavale, Pom Klementieff, Taylor Mosby, Melissa Leo, and Jason Bateman. It is written and directed by Ben Falcone. It is about two childhood friends who devise a means to become superheroes in a world where criminals have obtained abilities. Netflix broadcast the film digitally on April 9, 2021. Critics have mostly given it unfavorable reviews. McCarthy and Spencer will reprise their roles in a sequel in the process.
Also Read: Friday Flix Movie Review: Dead Poets Society
Thunder Force storyline
"Thunder Force" is set in modern-day Chicago, where residents are dealing with the fallout from a cosmic-ray burst in 1983. That transformed sociopaths and criminals into murderous villains with devastating superhero-like abilities. The cowed and powerless people refer to them as "Miscreants."
Since then, the Miscreants have created devastation, and ordinary people have been unable to stop them. Lydia (Melissa McCarthy) and Emily (Octavia Spencer), childhood best friends who became estranged for many years, team up to fight the Miscreants, using a genetic soup-formula developed by Emily over a painstaking years-long process that can be injected into "regular" people, giving them superhero powers as well.
8) The SpongeBob Movie: Sponge on the Run
IMDb: 6/10
Rotten Tomatoes: 67%
The SpongeBob Movie: Sponge on the Run is a live-action/computer-animated comedy film based on the animated television series SpongeBob SquarePants that will be released in 2020. It is the first film in the franchise to be entirely animated in stylized CGI rather than traditional 2D animation, directed and written by series developer and previous series writer Tim Hill, who co-wrote the narrative with Jonathan Aibel and Glenn Berger.
Spongebob on the Run storyline
The plot follows the origin of how SpongeBob met Gary the Snail, and SpongeBob's quest to rescue him after he is kidnapped. The regular voice cast of the series reprise their respective roles from the series and previous films, and the plot follows the origin of how SpongeBob met Gary the Snail, and SpongeBob's quest to rescue him after he is kidnapped. It is the series' third theatrical picture, following the first in 2004 and the second in 2015. The film is dedicated to Stephen Hillenburg, the project's founder and executive producer, who died in 2018.
Plankton hatches yet another nefarious scheme to steal the Krabby Patty recipe, which is once again defeated by SpongeBob. SpongeBob, not Mr. Krabs, is the one who consistently destroys his schemes, as Karen points out. When King Poseidon wants a sea snail for his beauty treatments, Plankton has an opportunity to smuggle SpongeBob out of Bikini Bottom.
Also Read: Steven Spielberg's 'West Side Story' banned in Middle East
7) I Care A Lot
IMDb: 6.3/10
Rotten Tomatoes: 79%
I Care a Lot is a 2020 American black comedy thriller film written and directed by J Blakeson. The film stars Rosamund Pike, Peter Dinklage, Eiza González, Chris Messina, Macon Blair, Alicia Witt, and Damian Young, with Isiah Whitlock Jr. and Dianne Wiest.
I Care A Lot storyline
The film follows a con woman who makes a living as a court-appointed guardian, seizing the assets of vulnerable elderly people, only for her to get mixed up with a dangerous gangster.
She earns a career by persuading the judicial system to award her guardianship of elderly people she claims are incapable of caring for themselves. Then she places them in an assisted living facility, where they are drugged and cut off from the rest of the world. She then sells their houses and assets and keeps the money. The film had its world premiere at the Toronto International Film Festival on September 12, 2020, and was released via streaming on February 19, 2021, through Netflix and Amazon Prime Video, depending on the region. The film received positive reviews from critics, with Pike winning the Golden Globe Award for Best Actress – Motion Picture Comedy or Musical for her performance.
6) Barb and Star Go to Vista Del Mar
IMDb: 6.4/10
Rotten Tomatoes: 80%
Barb and Star Go to Vista Del Mar is a 2021 American comedy film directed by Josh Greenbaum and based on a script by Kristen Wiig and Annie Mumolo. It also stars Kristen Wiig and Annie Mumolo. Jamie Dornan and Damon Wayans Jr. also star.
Barb and Star go to Vista Del Mar storyline
Barb and Star Go to Vista Del Mar were originally intended for a 2020 release, but owing to the pandemic, Lionsgate put it back and released it on February 12, 2021, on PVOD in the United States. The critical response to the film was overwhelmingly good. Star and Barb, two lifelong best friends from Nebraska, embark on a trip to Florida, where they decide to leave their hometown for the first time, only to become entangled in a villain's scheme.
5) Red Notice
IMDb: 6.4/10
Rotten Tomatoes: 36%
Rawson Marshall Thurber wrote, directed, and produced Red Notice, a 2021 American action comedy film. Dwayne Johnson, who also acted as a producer, plays an FBI agent who unwillingly joins forces with a known art thief (Ryan Reynolds) to apprehend an even more notorious crook (Gal Gadot). Following Central Intelligence (2016) and Skyscraper (2017), this is Thurber and Johnson's third collaboration (2018).
Red Notice storyline
After being informed that there may be a plan to steal one of Cleopatra's bejewelled eggs on display at a museum in Rome, Special Agent John Hartley, a criminal profiler for the FBI, is assigned to assist Interpol agent Urvashi Das in investigating the potential theft of one of Cleopatra's bejeweled eggs that had gone missing for two thousand years and was kept on display there.
Critics gave the picture mixed reviews, praising the cast's performances (especially Reynolds and Johnson). Moreover the humor and photography, but criticizing the narrative and script. It was the most-watched film on Netflix in its first weekend, as well as the most-watched film within 28 days of its release.
4) Bad Trip
IMDb: 6.6/10
Rotten Tomatoes: 78%
Kitao Sakurai directs the comedy movie Bad Trip, a 2021 American hidden camera comedy film. The film was set to debut on March 14, 2020, and to be released in theatres by Orion Pictures on April 17, 2020. However owing to the COVID-19 epidemic, it was postponed indefinitely. On April 17, it was unintentionally uploaded on Amazon Prime Video, and it was pirated before it was officially released. The film was eventually purchased by Netflix. Netflix and United Artists Releasing launched it on March 26, 2021. The critical response to Bad Trip has been overwhelmingly good.
Bad Trip storyline
The film follows two best friends (Eric André and Lil Rel Howery) on a road trip from Florida to New York City in order for one of them to declare his love for his high school crush (Michaela Conlin), all while being pursued by the other's criminal sister (Tiffany Haddish), whose car they have stolen for the journey. It is considered one of the best comedy movies of 2021.
3) Cruella
IMDb: 7.4/10
Rotten Tomatoes: 74%
Cruella is a 2021 American criminal comedy film inspired by Dodie Smith's 1956 novel The Hundred and One Dalmatians' character Cruella de Vil. Craig Gillespie directed the film. It is written by Dana Fox and Tony McNamara and based on a tale by Aline Brosh McKenna, Kelly Marcel, and Steve Zissis. It is the franchise's third live-action adaption and serves as a relaunch and origin tale for the title character.
Cruella storyline
Emma Stone plays the main character, with Emma Thompson, Joel Fry, Paul Walter Hauser, Emily Beecham, Kirby Howell-Baptiste, and Mark Strong rounding out the cast. The film is set in London during the punk rock era of the 1970s and follows Estella Miller, an aspiring fashion designer, as she explores the route that would lead her to become Cruella de Vil, a legendary up-and-coming fashion designer.
2) The French Dispatch
IMDb: 7.5/10
Rotten Tomatoes: 75%
Wes Anderson wrote, directed, and produced "The French Dispatch of the Liberty, Kansas Evening Sun." This is a 2021 American anthology comedy film based on a tale he co-wrote with Roman Coppola, Hugo Guinness, and Jason Schwartzman. The film has a big ensemble cast and explores three separate narratives as the fictional Liberty, Kansas Evening Sun newspaper's French foreign desk prepares its final edition.
The French Dispatch storyline
The story features the editor of the daily The French Dispatch, Arthur Howitzer Jr., who dies unexpectedly after a heart attack. Following one final goodbye issue, in which three pieces from previous issues of the paper are republished, along with an obituary, publishing of the journal is immediately discontinued, as per his desires indicated in his will.
1) Disney Pixar Luca
IMDb: 7.5/10
Rotten Tomatoes: 91%
Luca is a computer-animated coming-of-age fantasy film released in 2021 in the United States by Pixar Animation Studios. It is distributed by Walt Disney Studios Motion Pictures. The film stars Jacob Tremblay and Jack Dylan Grazer. Additional cast includes Emma Berman, Saverio Raimondo, Marco Barricelli, Maya Rudolph, Jim Gaffigan and more. It is directed by Enrico Casarosa and written by Jesse Andrews and Mike Jones, from a narrative by Casarosa, Andrews, and Simon Stephenson.
Luca storyline
The film is set on the Italian Riviera and follows Luca Paguro. He is a small sea monster youngster with the power to transform into a human when on land. Moreover as he explores the town of Portorosso with his new best friend, Alberto Scorfano, and embarks on a life-changing summer journey. Luca was inspired by Casarosa's youth in Genoa. Many Pixar artists were dispatched to the Italian Riviera to conduct a study on Italian culture and the landscape.
Also Read: Disney Pixar drops first trailer for Domee Shi's 'Turning Red'
The sea monsters were loosely based on traditional Italian regional tales and folklore. And were used as a "metaphor for feeling different."
The design and animation, like La Luna, were influenced by hand-drawn and stop motion animation, as well as Hayao Miyazaki's aesthetic. Finally, the end product, according to Casarosa, is a picture that "pays tribute to Federico Fellini and other iconic Italian filmmakers, with a dash of Miyazaki thrown in for good measure." According to the audience it is one of the best comedy movies of 2021.
So what is one of your favorite best comedy movies of 2021?
Last but not least, if you have something to add to the story? Comment down below!