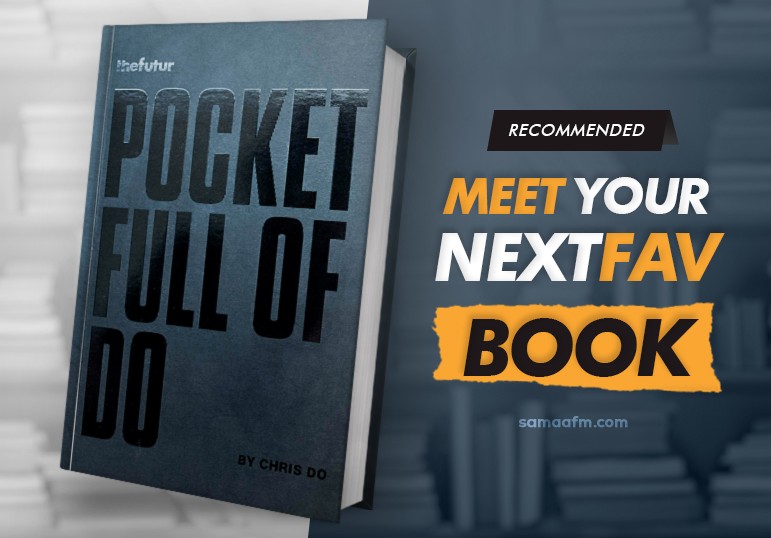 Book Review: Pocketful Of Do By Chris Do
posted by:

Abdul Latif Dadabhouy

No Comments
"I stand on the bridge between the life I have and the life I am working toward. Every day, I gain clarity over what my goals are, take the steps that are necessary, and forgive myself when I mess up. On my journey, I try to help as many people as possible while doing no harm to myself or others" – Chris Do
In life everyone has highs and lows and, every one of us is made from experiences. Sometimes those experiences are not good, and sometimes they are memorable and give you the pleasure of letting you stay in a happy place. For example, you start off with a business and after a few months, you see that it is not working out the way you thought it would be? What will you lose before anything? Even before money? – as a loss – You lose motivation! You lose the sense of courage to continue what you start. Not everyone is brave enough to start something and keep on going without thinking about the loss of it, through any means. Sometimes you need to be motivated through different means, books help too in that case. There is a book that is going to be helpful for you with the tools to disrupt the thought process of yours that is keeping you from reaching your full potential as a creative professional, that book is Pocketful of Do by Chris Do!
About the Author
Chris Do is an Emmy award-winning designer, director, CEO, and Chief Strategist of Blind and the founder of The Futur—an online education platform with the mission of teaching 1 billion people how to make a living doing what they love. Chris currently serves as the chairman of the board for the SPJA, and as an advisor to Saleshood. He has also served as an advisory board member for AIGA/LA, Emmys Motion & Title Design Peer Group, Otis Board of Governors, Santa Monica College, and Woodbury University. He has experience teaching Sequential design for over 15 years at ArtCenter College of Design as well as Otis College of Art and Design. Moreover, he has lectured all over the world including AIGA National Design Conference, Birmingham Design Festival, Awwwards New York/San Francisco/Amsterdam, AIGA Miami, The Design Conference Brisbane, Creative South, Digital Design Days Milan/Geneva, and Post Production World at San Diego University. The book he wrote is all about his lectures and a compilation of his experience of life!
The Book In Review – Pocketfull of Do by Chris Do
Pocket Full of Do summarizes up more than two decades of experiences of entrepreneurship, creativity, coaching, and learning, into potent, bite-sized lessons that can be ingested quickly. It's a treasure of ideas and observations (on creativity, mindset, pricing, marketing, relationships, and sales) that will help you disrupt the thought patterns that are keeping you from reaching your full potential.
Questions Are Greater Than Answers
For what reason do we generally have this desire to answer quickly when being asked upon? Odds are, we got too eager to even think about sharing what we know. Responding to the answers rapidly is additionally behavioral conduct that we've created since childhood. In school, we are compensated for offering the response quickly. We even hold challenges and rivalries to justify understudies for it. Take a step back, be mindful, and use the power of pausing. Then respond by asking more questions.
As Dan Lok has once said, "Whoever asks more questions is in control of the conversation."
Questions allow you to unravel the root cause of the problems that actually needs solving. Asking questions also allows you to stay in the diagnostic phase of anything and helps you find those answers without complicating things evermore.
Communication And Feedback
If someone responds differently to your message than what you expected, change the style, maybe the tone, and delivery until you get the desired feedback. Communication is not the message you send, it's basically the feedback you get in return. While listening to feedback, pay attention to the verbal and non-verbal signals, as they will reveal a person's true feelings towards that topic.
Creative Blind Spots
Have you ever wondered why it's so comforting to pass on advice to other people's problems? And yet, we still struggle to even identify our own problems at the same time. It's hard to read what's on the label when you're inside the bottle, that's why we need to provide help to others in order to understand own selves.
Discovering Your Superpower as Chris Do Did!
You're finished with school and you're eager to go after a good position to work. "Work" abruptly tops off an enormous lump of our lives, taking about half of our 24-hour clock. At that point you're confronted with a choice — would it be advisable for you to seek after something you've generally delighted in doing? The things you're normally acceptable at? Employment that pays you well? Or maybe what the world needs? Or maybe you haven't discovered it at this point, start with the things you love doing. What gives you the feeling of euphoria? The test is to turn your hobbies, interests, abilities into a drawn-out maintainable long term career. This main thing is to discover your superpower.
The small passage from which I started this review "I stand on the bridge of the life that I have and the life that I am working toward…" gives you the motivation and the need to have the courage and the maturity to say if today you are here or even tomorrow. If you keep working hard if you keep working smart and if you are patient enough and do not lose the ability to dream and you keep yourself motivated. Maybe tomorrow you will be able to stand on the other side of this bridge that will eventually give you the discovery of your own superpower, the ability to question for better communication. The Author brilliantly talked about many life-changing elements in the book. So read it all in one sitting or in pieces. It will give you a quick dose of inspiration. Carry it around or keep it on your nightstand for some meditation. Do you need a boost for your upcoming job interview? This book will be a life savior! Grab this book as a nerd-motivating-partner for yourself.
---
READ MORE: BOOK REVIEW: ZERO TO ONE BY PETER THIEL WITH BLAKE MASTERS