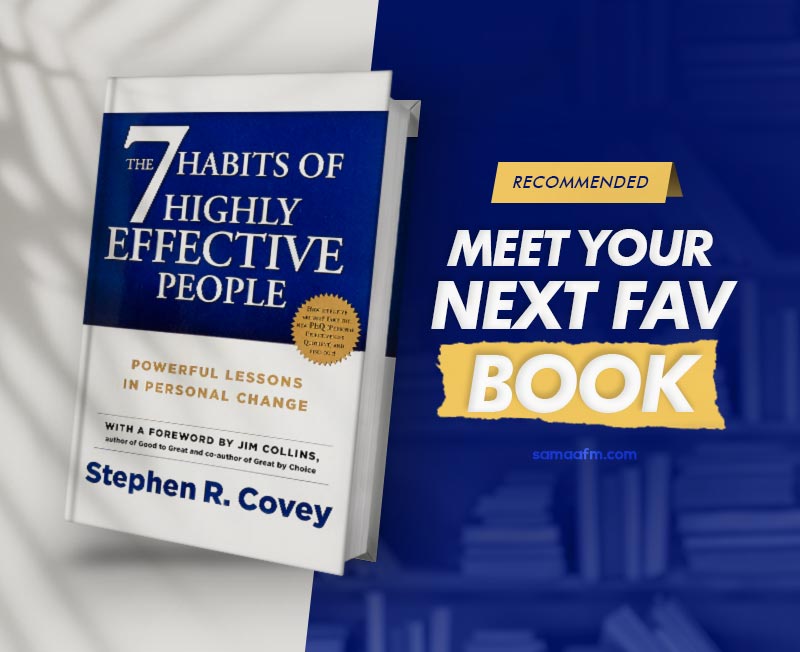 BookReview: The Seven Habits of Highly Effective People by Stephen Covey
posted by:

Abdul Latif Dadabhouy

No Comments
What do you do when you want to be more productive at anything? You find ways how can you be at your best, well there is a book that is helpful to make you productive and become a perfectionist. That book is The Seven Habits of Highly Effective People by Stephen Covey.
Stephen Covey – Author
Stephen Covey was an American author, businessman, and keynote speaker. He garnered attention by his famous book The Seven Habits of Highly Effective People. He has also written other books include First Things First, Principle-Centered Leadership, The Seven Habits of Highly Effective Families, The 8th Habit, and more. Additionally, he has been named as one of the most influential people of 1996 by Time Magazine. He served as a professor at the Job M. Huntsman School of Business at Utah State University before his death in 2012.
Book Review – The Seven Habits of Highly Effective People by Stephen Covey
Stephen Covey's book is based on self-improvement. He believed that the way we see the world is based on our ideas and our own sets of perceptions. To change it we should change ourselves. And to make this happen we should change ourselves from the inside and make a reflection on our perception for a better change.
As Stephen Covey was also a notable keynote speaker so this book can also be used as a guideline for one's personal life to make better management for themselves and not only this but to lead others on the same path too. It is a great tool for both your personal and professional traits.
Private Victory For Stephen Covey
He starts the book by combining three habits under Private Victory. This is about developing your habits as a person. If you want to make a change for society or a team you must start this practice on yourself. These habits will further strengthen the rest of your habits in 4th, 5th, and 6th which will ultimately help you boost your leadership skills along with your management skills.
Habit 1 – Be Proactive
Habits can be hard to maintain and Being Proactive is one of them. Things can come your way and that might make you less responsible if you don't get the results you desire. Being proactive will encourage you to make the most changes in your life.
It doesn't mean that you should put all your energy and effort into one single thing. It means you should focus on events that you can control easily without worrying.
If you develop this habit where you can control everything in your surroundings accordingly, you will be able to master it. And this will become the support pillar for the rest of your habits.
Habit 2 – Begin with the End in your Mind
Stephen starts this point as to begin something with a result in your mind. That means to develop self-leadership for success. Moreover, keeping a particular goal in mind and believing in the result will ensure you that you are not going off track.
Habit 3 – Put First Things First
Stephen quotes that personal management is the key. This reflects the 2nd habit that to implement perfectly on the goals we need to be organized and be focused.
Habit 4 – Think Win-Win
This means that if one person is successful others do not need to achieve that at their expense. During the outcomes based on win-win situations, we should not risk our own rules.
Habit 5 – Seek First to Understand, and then to be Understood
Covey says that communication is the key. He explains that we should communicate with others first. To maintain a positive relationship, empathy is important. If you listen to others, you open a window into their souls.
Habit 6 – The Idea to Synergize with Stephen Covey
This means to take out the results from all those habits above and exercise them. Furthermore to acknowledge the contribution that other people make to a relationship or in a project.
Habit 7 – Sharpen the Saw
This means that we need to create a positive balance. The balance of physical, spiritual, mental, and social dimensions of our lives. This practice will eventually increase our productivity for a great renewal of life.
To Conclude
Stephen Covey summarized the 7 habits in a very logical manner, which made perfect sense. This book contains all the logic to maintain and balance your life's flow with different mastering techniques. With a little practice and slight changes in your normal day-to-day tasks, you can also incorporate some of these habits until you reach your success 7!
Recommended Reading
If you like this Book Review you can go on and check these below
– CAN'T HURT ME: MASTER YOUR MIND AND DEFY THE ODDS BY DAVID GOGGINS