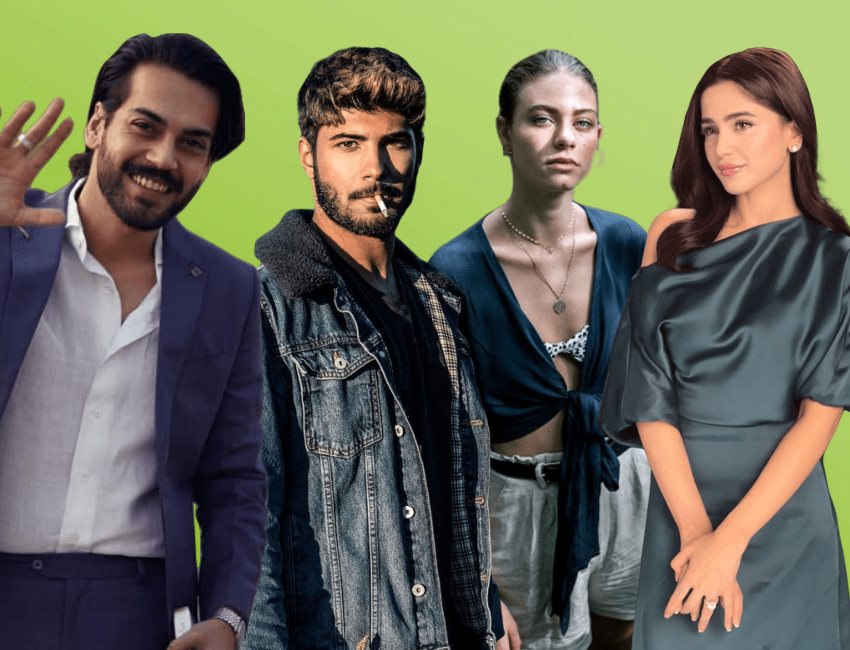 British model Taloulah Mair accuses Aima Baig of cheating on ex-fiancé Shahbaz Shigri
posted by:

Abdul Latif Dadabhouy

No Comments
Aima Baig accused of cheating on Shahbaz Shigri
We are still not over Adam Levine cheating on his wife, Behaati Prinsloo. Now it is Aima Baig! The famous singer is accused of cheating on her ex-fiancé Shahbaz Shigri with filmmaker Qes Ahmed. British model Taloulah Mair came forward with a series of proofs and allegations.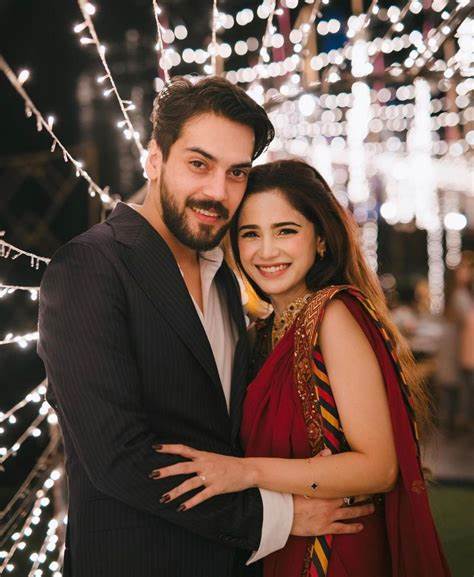 The 'Stunner' crooner recently announced that she and the actor had parted ways a year after their engagement.
Who is Taloulah Mair?
Following that, the British model Mair took to Instagram to accuse Baig of being involved with her ex-Qes Ahmed while she was engaged to Shigri. Not only this, the model made some serious allegations against the singer, referring to her as "one of the famous women of Pakistan."
Taloulah shared proofs!
Mair said in her stories that she was in a relationship with a Pakistani filmmaker (Ahmed) who cheated on her with Baig. Furthermore, she added that Ahmed told her about his deceit while gloating that he was dating one of the well-known singers in Pakistan.
Mair went on to further accuse Baig of spending a holiday together with Ahmed in Dubai while adding that the singer bought the plane ticket for Ahmed as well.
Cheating and more cheating
She claimed that Qes Ahmed stole money not only from her but also from other "Pakistani" girls with whom he was involved, totaling $20,000 in total.
Someone asked Mair during a Q&A session how she knew Baig was engaged when she was dating Ahmed.
In response, she sent Shigri a screenshot of a conversation in which he asked the model to send him screenshots proving Baig's infidelity.
Also Read: Adam Levine accused of cheating by Instagram model Sumner Stroh
It's unclear whether this "alleged" affair occurred before or after Aima's engagement. She also posted a screenshot of Shahbaz Shirgri contacting her. Taloulah's original Instagram account was apparently disabled by Aima's report. But then Taloulah shared another shocking revelation where Aima tried to call the model several times. Moreover Aima accused Qes that he sexually assaulted her.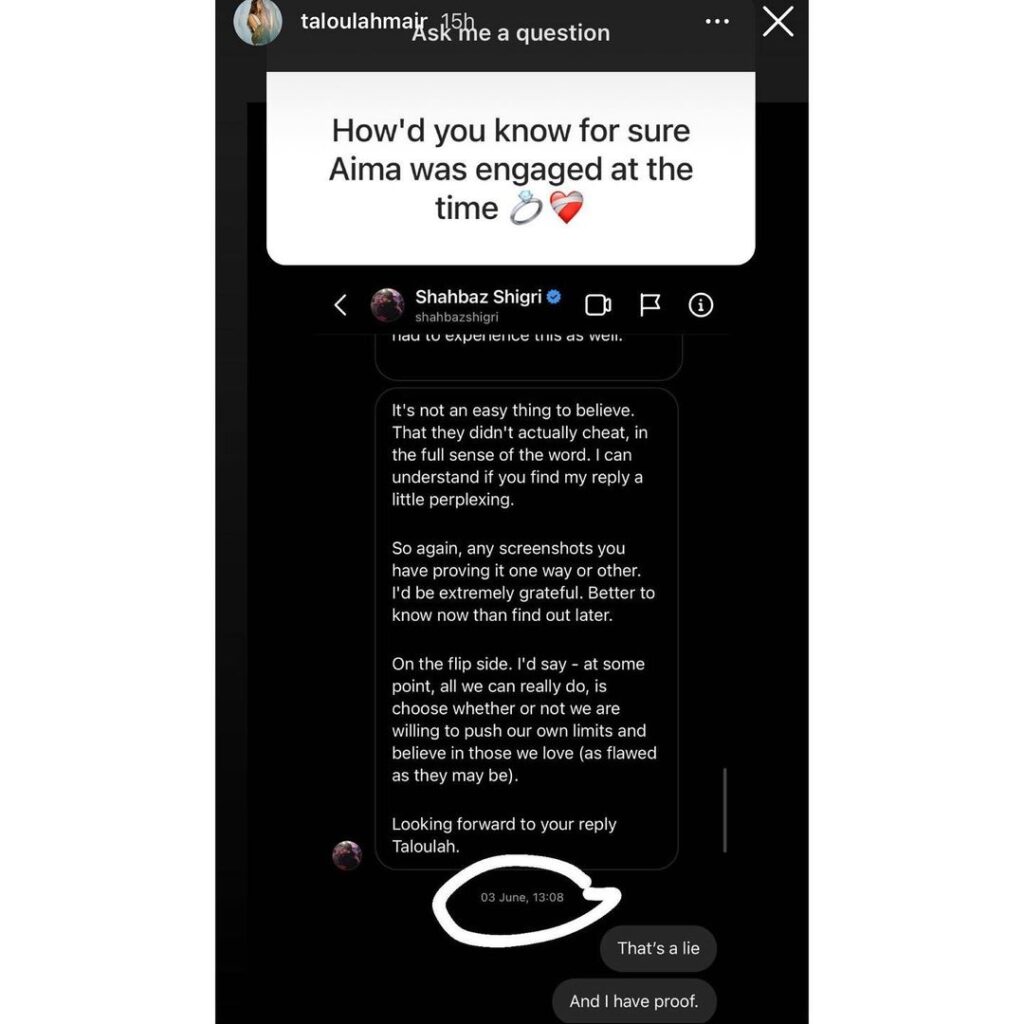 Aima Baig and Shahbaz Shigri are the most popular couple in town. The couple held a grand ceremony with almost the entire entertainment industry in attendance. Their adorable chemistry and love-up photos made us adore them. However, the couple encountered a stumbling block.
Qes Ahmed issues a formal statement on the matter
Qes Ahmed, after Taloulah's accusations, took to his Instagram and shared his side of the story. He said, "I've been made aware that a woman from my past has been saying some out-of-order things about me. She's accused me of stealing from her and is reaching out to people I know without context screenshots and false facts."
Furthermore, he wrote. "Earlier this year, she did a very similar thing where she reached out to my clients with the same story. She then demanded I pay her 10,000 Euros and after much frustration upon advice from my family, I decide to pay it in order to achieve peace."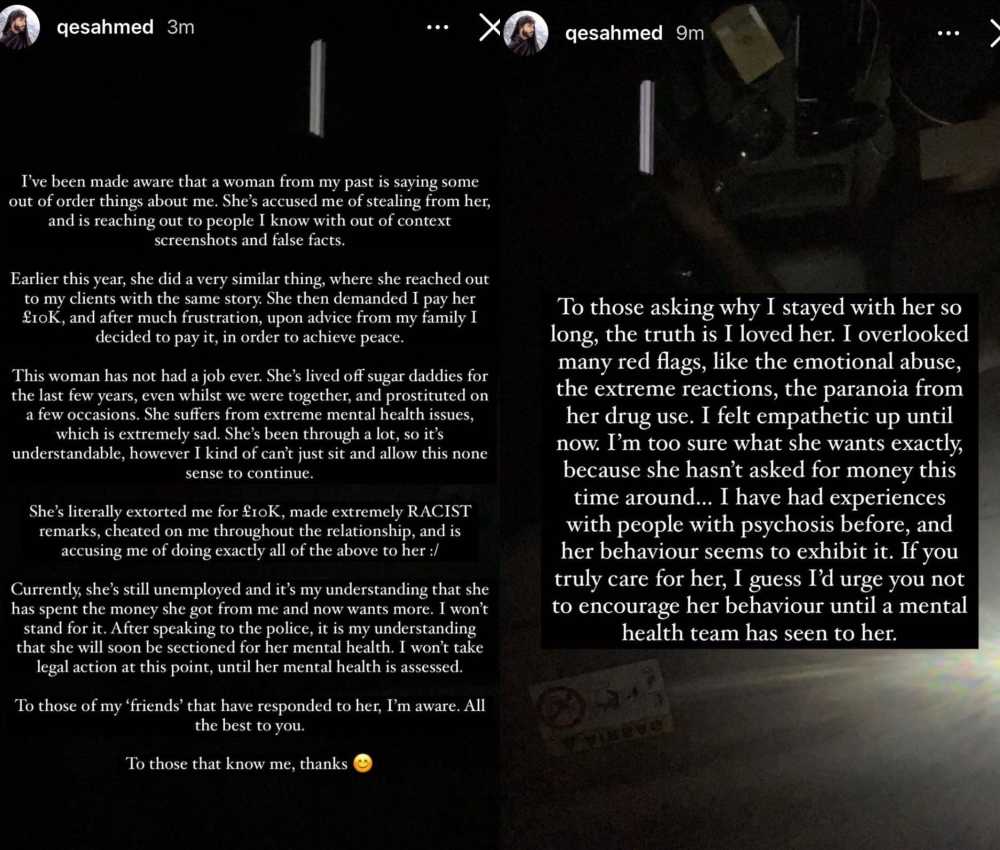 Things are not furling for Aima, that is for sure. However, we still have to sit back and wait.
Have something to add to the story? Comments down below!