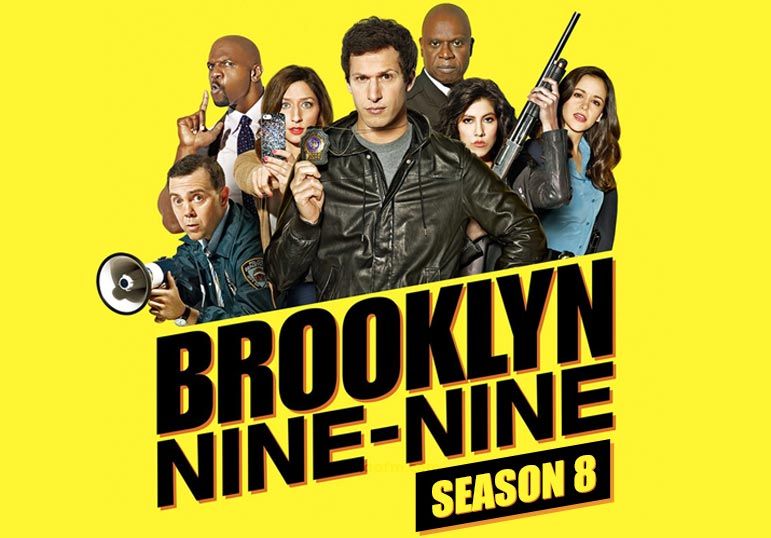 Brooklyn Nine-Nine is ending with a delayed season eight!
posted by:

Abdul Latif Dadabhouy

No Comments
A rather sad news for the fans of B-99! It is coming to an end after a delayed Season Eight!
The signature comedy will not return until the 2021-22 broadcast season and will wrap with a 10-episode order.
Brooklyn Nine-Nine
Brooklyn Nine-Nine is an American police procedural satire TV series made by Dan Goor and Michael Schur. The series rotates around Jake Peralta (Andy Samberg), a capable however immature NYPD criminal investigator in Brooklyn's fictional 99th Precinct, who regularly comes in conflicts with his boss, the genuine and harsh Captain Raymond Holt (Andre Braugher). The remainder of the cast highlights Stephanie Beatriz as Rosa Diaz, Terry Crews as Terry Jeffords, Melissa Fumero as Amy Santiago, Joe Lo Truglio as Charles Boyle, Chelsea Peretti as Gina Linetti, Dirk Blocker as Michael Hitchcock, and Joel McKinnon Miller as Norm Scully. Produced as a single-camera comedy, Fox originally ordered 13 episodes for its first season, eventually expanding it to 22 episodes. Brooklyn Nine-Nine premiered on September 17, 2013. On May 10, 2018, Fox canceled the series after five seasons. The following day, NBC picked up the series for a sixth season; it premiered on NBC on January 10, 2019. The seventh season premiered in February 2020. The ten-episode eighth and final season is set to premiere in 2021. The series has been acclaimed by critics for its cast, particularly Samberg and Braugher. It has won two Creative Arts Emmy Awards and a Golden Globe Award for Best Television Series – Musical or Comedy. Samberg has won a Golden Globe Award for Best Actor – Television Series Musical or Comedy, while Braugher has been nominated for four Primetime Emmy Awards for Outstanding Supporting Actor in a Comedy Series and has won two Critics' Choice Television Awards for Best Supporting Actor in a Comedy Series. The series has likewise gotten specific recognition for its depiction of difficult issues while holding a funny bone. For its depiction of LGBTQ+ individuals, B-99 also won a GLAAD Media Award for Outstanding Comedy Series.
Brooklyn Nine-Nine Is Ending
NBC announced the final season will consist of 10 episodes, and they won't air during the 2020-21 broadcast seasons as planned.
According to the sources, NBC opted to delay Brooklyn's return in order to give the beloved and award-winning comedy a proper sendoff. NBC has already set its "midseason" slate as part of a crowded broadcast calendar in April and has, pandemic challenges notwithstanding, the Olympics in the summer.
Rather than bury it in August, NBC will use the Olympics to market the final season and give the show a big promotional push for an expected 2021-22 premiere.
At the same time, Brooklyn is facing a significant challenge in the wake of George Floyd's killing by a police officer. "The writers are all rethinking how we're going to move forward," Samberg, who also exec produces the series, told People Magazine in July. [Everyone is] discussing how you make a comedy show about police right now, and if we can find a way of doing that that we all feel morally OK about? I know that we'll figure it out, but it's definitely a challenge."
The writers' space for season eight, which acquired an early reestablishment over a year back, has been going since April as Goor and his group likewise wanted to fuse how the pandemic effects people on call like cops into its storyline. Co-star Terry Crews noted in June that the initial four contents of season eight were tossed in the waste after the mid year of fights following Floyd's killing. "We've had a lot of somber talks about it and deep conversations, and we hope through this, we're going to make something that will be truly groundbreaking this year," Crews told Access Daily. "We have an opportunity, and we plan to use it in the best way possible."
Brooklyn Nine-Nine is NBC's longest-running comedy and will end after the broadcast network concludes its other signature comedy, Superstore, in March after six seasons. "I'm so thankful to NBC and Universal Television for allowing us to give these characters and our fans the ending they deserve," Goor said.
"When Mike Schur and I first pitched the pilot episode to Andy, he said, 'I'm in, but I think the only way to tell this story is over exactly 153 episodes,' which was crazy because that was exactly the number Mike and I had envisioned. I feel incredibly lucky to have worked with this amazing cast and crew for eight seasons. They are not only among the most talented people in the business; they are all good human beings who have become a family. But most of all, I feel lucky that we have had the best fans in the world. Fans who literally saved us from cancellation. Fans who fill us with joy. Ending the show was a difficult decision, but ultimately, we felt it was the best way to honor the characters, the story and our viewers. I know some people will be disappointed it's ending so soon, but honestly, I'm grateful it lasted this long."
Goor, meanwhile, will remain in business at NBC with comedy Grand Crew. The series, one of Rovner's first pickups, will premiere next season. He has other projects in the works under his longtime deal with Universal TV.
---