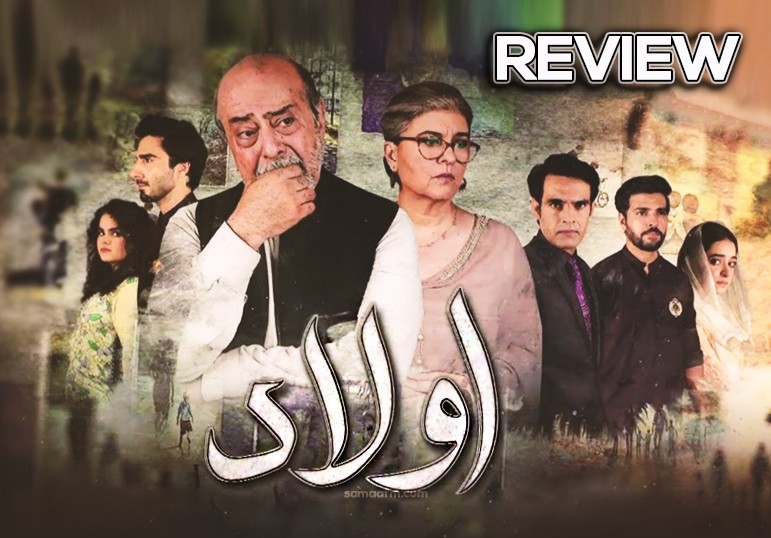 Drama Review: Aulaad episode 1
posted by:

Abdul Latif Dadabhouy

No Comments
We have picked out a drama serial which touches the reality of relationship and everything around it, the drama serial is Aulaad!
Pakistani dramas sometimes really pick out weird stories and even weirder plotholes with broken stories and unrealistic dialogues and scene sequences, but some stories manage to gather a lot of attention and garner appreciation just after its first episode. I believe this happens because of the closer-to-reality type of stories and a group of people who doesn't appreciate or all-in-all rejects the whole storyline with just one episode of one problematic dialogue.
Storyline of Aulaad Drama
I turned to social media one and stumbled upon a teaser of Aulaad, Big Bang Entertainment's recent production , directed by the pioneer Aabis Raza and written by Ameer Ali Shah. The first thing I noticed was the OST, because the whole set of teasers were amalgamated into one OST, and that too by Rahim Shah – His famous song Jhoola – yes! The very emotional Maa Mujhko Jhulao Na Jhoola Rey. I am not going to lie; it was emotional so I planned to write a review on this. I anticipated and watched the very first episode.
Cast Introduction Aulaad
It was a roller coaster; it was very fast-paced for being an opener. Story of Aulaad starts with a usual happy setting of a joint-family of around 5 siblings – 2 girls and 3 boys – living with their parents Jalal (Muhammad Ahmed) and Zakia (Marina Khan). Their sons Khurram (Hassan Niazi), Adnan (Furqan Qureshi), Bilal (Nabeel Zubairi) and their two daughters Roshna ( Minsa Malik) and Mooni (Qudsia).
Almost the whole cast got introduced in the very first scene. As I mentioned that it was fast-paced, the younger daughter of Jalal Ahmed, Mooni is mentally impaired, so she was majorly creating troubles for the entire family. Bilal and Adnan seem to be having a very good bond with her, but Khurram being the elder one is the most vicious character in them all. It was overwhelming in a few scenes.
Plot
Jumping entirely into the plot, the story shows a hanging connection of love, respect and disrespect around the episode. Jalal (Muhammad Ahmed) has been a teacher all his life and spent his entire life on his kids' wellbeing and education, which their kids realize, but the eldest son Khurram(Hassan Niazi) has some issues with the home-setting. He constantly complains about his money being wasted on the household, and no one appreciates the fact that he is earning and giving most of his share to this family. Whereas, Afreen(Sunita Marshall) being Khurram's wife is a totally opposite person, she is kind and very sweet towards the family. Adnan on the opposite is seemingly a good son, and a very caring one, he realizes that his parents are getting old and they can not work much, but his wife Farwa(Hina Jawed) disagrees!
The Saas-Bahu-Aulaad Dimension
In general the relationship among the Mother and Daughter-inlaws are different, due to Afreen's sweet nature, she is the favourite among all, but Adnan's wife Farwa(Hina Jawed) seems to be having troubles with Zakia, due to Farwa's harsh nature. Zakia avoids her.
Unreasonable Demands
The part that made me cringed overall was the entry of Muskaan (Mah-e-nur Haider) and Bilal (Nabeel Zubairi) Muskaan is the daughter of Jalal's brother and Bilal in specific shares a good bond with her Aunt, due to his liking and love towards her daughter, Muskaan, but 5 minutes into the scene and Muskaan demands that she will only marry Bilal(Nabeel Zubairi) If his father (Jalal) will sign his house on her name. (YES, I WAS TAKEN ABACK TOO) There are so many root problems going in that household and this unnecessary demand looked like a filler scene in the story! There could be a lot of problems a writer could have quoted but this is one of the most ragged lines ever "Mein tumse shadi karungi lekin ek shart per, agar tum apna ghar mere naam karougay." Too much for living in 2020.
The drama ended with an expected cliffhanger, through the magic of hearing both (Zakia & Jalal) on many occasions overheard Khurram's nagging over money and his share on ONE LAC rupees in the household, made it very clear for the audience that he wants to live alone and be alone with his family.
After the Mooni's mobile tragedy with Khurram's son, a fight happened which led Jalal to make Khurram and his Family leave the house. The difference of opinions and thinking made many elements sad in this roller coaster of an episode.
Overall, for a first episode that seemed a lot, financial issues, problems within the family, sarcastic comments on the breakfast table was unexpected, but I guess writer had to tell some real points anywhere. The new characters introductions of Mah-e-Nur Haider and Hina Jawed as Muskaan and Farwa might be adding a good feel to the screen, the cast overall is fantastic in terms of their screentime and their overall contribution in the industry. Marina Khan was a pleasant surprise, seeing her on-screen is always very refreshing. Finally Mooni (Qudsia) is playing an amazing mentally impaired person. The camera work(cinematography) seems appealing. Let's hope the next episodes won't disappoint us!
Aulaad airs every Tuesday, 8 pm on ARY Digital.
---
Read More
– THE TEASERS OF AULAAD WILL DEFINITELY MAKE YOU EMOTIONAL
– AULAAD REVIEW EPISODE 2 AND 3: THE EMOTIONAL SAGA
– MUHAMMAD AHMED OPENS UP ABOUT BEING A FATHER ON-SCREEN