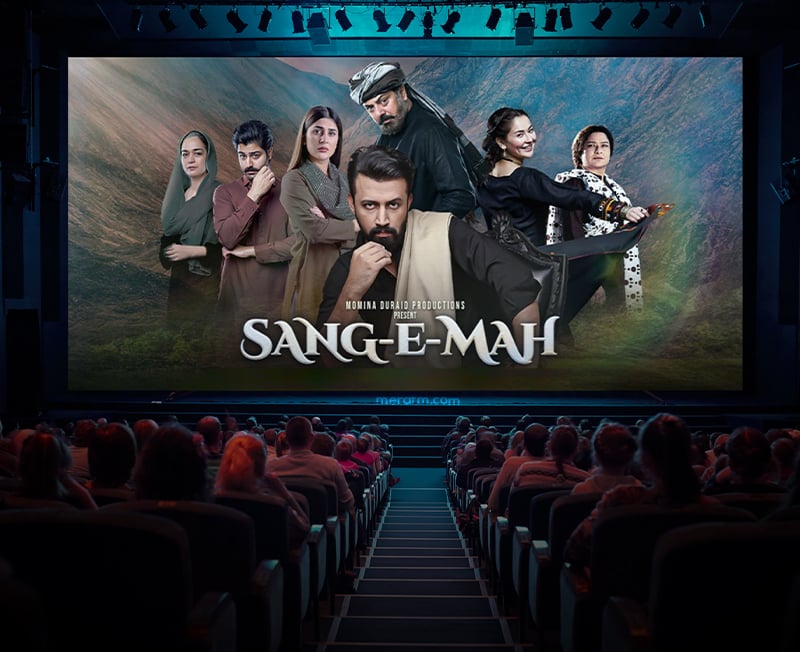 Drama Sang-e-Mah, featuring Atif Aslam all set to premiere in Cinemas
posted by:

Abdul Latif Dadabhouy

No Comments
Sang-e-Mah to premiere in cinemas!
The first episode of Atif Aslam's highly anticipated debut drama 'Sang-e-Mah' will be shown in cinemas, according to HUM TV. The show will air on HUM TV. However, you can see it ahead of time on a theatre screen near you.
The film Sang-e-Mah stars Atif Aslam, Hania Aamir, and Kubra Khan. After an 11-year sabbatical, Atif returns to acting in this serial. He most recently appeared in Shoaib Mansoor's social drama Bol, in which he co-starred with Mahira Khan.
Sania Saeed, Mikaal Zulfiqar, Nauman Ijaz, and his son Zaviyar Ijaz are among the cast members.
Atif Aslam's first look was released in December, and it drew excellent feedback from fans who were anxious to see him in his first TV drama.
Naumaan Ijaaz also shared a video clip in which he confirmed Atif's role and presence in the drama. Fans are ecstatic by the news and looking forward to his performance on the silver screen.
Also Read: Atif Aslam is all set for his debut drama Sang-e-Mah
Sang-e-Marmar, the accolades and appreciation!
The sequel to Sang-e-Mar Mar is Sang-e-Mah (2016).
The drama serial starred Kubra Khan, Sania Saeed, Naumaan Ijaz, and Mikaal Zulfiqar, and it received numerous accolades at the 5th HUM Awards in 2017.
The plot revolves around a tribal family that places a high priority on their rigorous rituals and also values.
Moreover, this time the show will address contentious issues such as 'ghag,' a practice in which a guy stakes a claim on a lady he wishes to marry.
Furthermore, according to Hania Aamir, a rite is a form of declaration that signifies "this girl is my wife" and that "anyone who tries to submit a proposal would face a terrible destiny."
Atif Aslam also performs on the OST, which is set to be released shortly.
Sang-e-Mah release date?
The much-anticipated TV show will premiere in theatres on January 7, 2022.
Have something to add to the story? Comment down below!