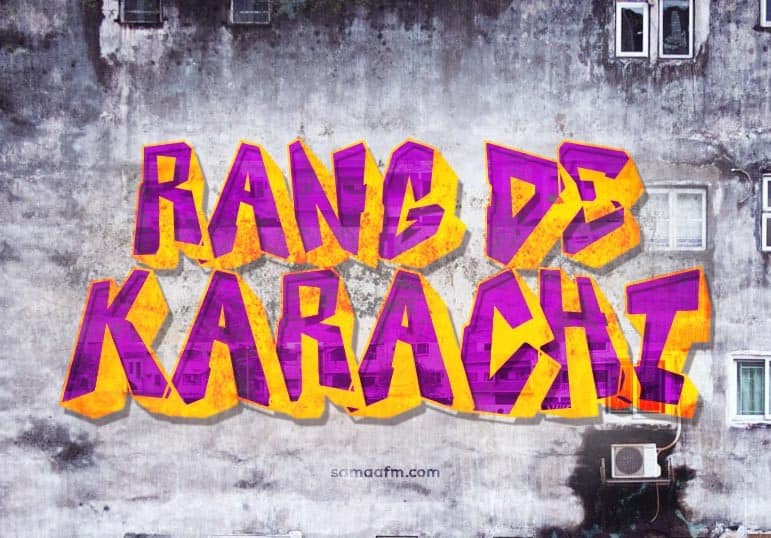 Rang De Karachi painting the City of Lights with positivity and love!
posted by:

Abdul Latif Dadabhouy

No Comments
A city makes you feel alive, well wherever you live, whatever your life be throughout the day, week, month or year; when you get tired of the same old routine you get out. Take a break from it and explore. The city is your identity, but during our busy lives, we tend to forget this identity. We forget how much it gives us, a sense of identity, safety, comfort, love, and more.
Living in a particular place is one thing, but taking ownership as a citizen is another. When you love where you live, you take charge! You make that place right. You start to love everything about it. There is a group of people in Karachi who has taken the charge to make this city more beautiful and more colorful! This group's campaign name is "Rang De Karachi."
Rang De Karachi
The idea generated from a young citizen Zohaib Ahmed Khan, the organizer of Rang De Karachi. The campaign is not just about painting the town; this campaign also includes various cleaning drives, plantation, and footpath, and streetlights renewal. Around two and half months ago, Zohaib along with his little team decided to take charge of the beautification of Karachi with this group.
Even during this week, the campaign is in full swing. You will find various chalking and graffiti around Mazar-e-Quaid enhancing the walls and footpaths that were ignored around the landmark. This campaign is giving a lively feel around an important place in Karachi. Adding beautification will attract tourists and localities more for more exposure.
Zohaib, during an interview, said, "We want to clean the roads of Karachi, install street lights and uplift the footpaths." This also gives exposure to many artists with a passion to make a difference with their art, while people appreciate it on a huge scale. This will add a positive point for the local artists to project their art around the streets of Karachi.
Zohaib Ahmed Khan further said that they have cleaned the walls and footpaths from 'Peoples Chowrangi to Numaish and Shahrah-e-Quaideen,' while the remaining will be cleaned in the days ahead. "We will then draw portraits of the Quaid-e-Azam on big walls," he added. Their mission is to bring colors to the streets of Karachi with art that is free of cost!
He welcomed individuals from different backgrounds to collaborate with them to help clean the city. Khan, who considers himself a social worker, is also a businessman by profession. He announced the campaign driver on social media and youngsters and women from various colleges and universities came along joining his cause as volunteers through social media. At first, he had moved toward a couple of street artists through Facebook and planned out his idea to them, and now he has 1,000 or more individuals having a place with all age gatherings. 'Rang De Karachi' began their work in Clifton's Boat Basin zone, where they cleaned the dividers and pathways as well as changed them with show-stoppers. At that point they proceeded onward to Nazimabad, Gulberg and the Garden area.
Zohaib said, that they mainly paint the walls and footpaths, but they involve different governmental departments and authorities for the installation of street lights where they engage them. Regarding the funds, he shared that different multinational corporations fund them for their campaigns and sponsor them, for the extra funding he said that he bears it himself. He also shared that they have taken the city commissioner and deputy commissioners of different districts of Sindh on board regarding their beautification work. "We don't have any problem with the authorities. Even the traffic police facilitate us during our work." Khan said.
It has been almost five years since Zohaib Khan moved to Karachi from Peshawar. He said that his motive is to eliminate the issues of the city, not raise them. He also said that he is against racism in Karachi. He pointed out that they had painted Karachi's well-known Teen Talwar area on the traditional Sindhi theme on Sindh Culture Day.
People have been joining them, as volunteers for their campaign, a resident from North Karachi saw their campaign on Facebook and joined it as a volunteer while sharing his experience he said, "I liked their work, filled out their membership form, and after a week I became their member." He added, "As my first activity, I sketched and painted angel wings on one of the walls of the city." Another 20-year old volunteer shared that she saw their work on one of the streets on Boat Basin and not even she joined it, but also became the main street artist.
This shows that Karachi, despite its problems, still manages to live in people's hearts and stays in! Love the city, love its vibe, and keep supporting local artists!
---
READ MORE: THE GREAT GATSBY IS BEING TURNED INTO A TV SERIES