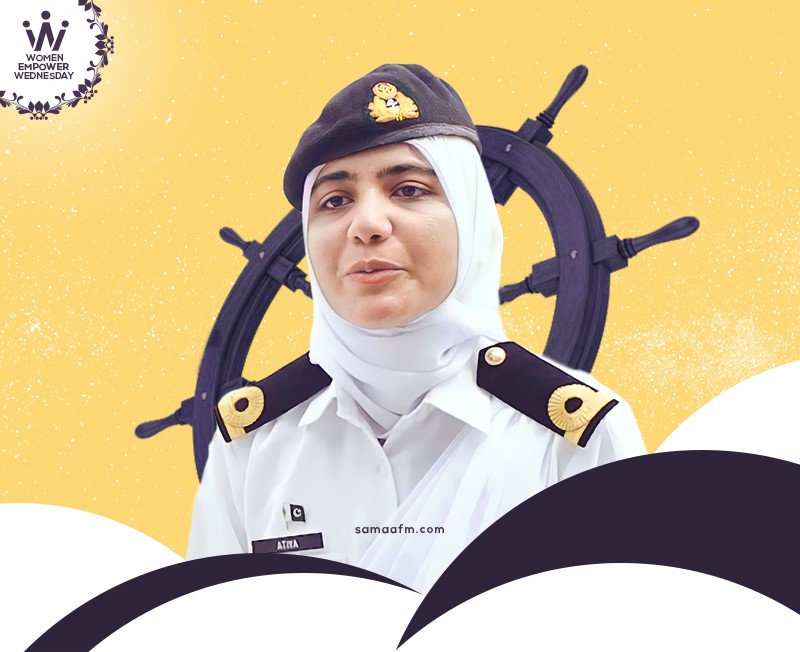 Women Empower Wednesday: Sub Lt. Atiya Zeeshan
posted by:

Zainab Naseem

No Comments
Shahadat, a badge of honor
It takes a lot of strength and bravery to be the wife of an army soldier, and much more strength and courage to look forward and build up the endurance for whatever may come up in the life of someone who is busy safeguarding the country. Being the wife or mother of an Army or Navy officer takes a lot of guts. Sub Lt. Atiya Zeeshan is one of the ladies who has been labeled as a "martyr's wife."
Life of Sub Lt. Atiya Zeeshan
Lt. Zeeshan Wazir was married to Sub Lt. Atiya Zeeshan two months before he underwent shahadat. Lieutenant Zeeshan Wazir embraced Shahadat in a helicopter crash due to awful weather conditions on 30 August 2018 near Haripur, KPK, Pakistan.
Sub Lt. Atiya was in a lot of agonies at first, but her heart was pleased as well. Her motivation was to be a martyr for Pakistan. And, thanks to her naval family's unwavering support, she decided to join the Pakistan Navy. Currently, she is a Sub Lt. She has a dream to carry on his legacy, and she is working hard to make that goal a reality.
The constant support for Sub Lt. Atiya Zeeshan
Not only did she have the backing of her military family, but she also had the support of her father-in-law Wazir. Following Zeeshan's funeral. Her father-in-law urged her to stay strong and pursue her husband's ambition.
Shahadat – the faith of a Muslim
Muslims believe that Martyrs never die and that they live forever. Zeeshan's shahadat provides his wife the sort of fortitude that didn't break her, and she boldly stood up and did what she wanted to do and what was the finest thing to deliver without crying.
Also Read: Women Empower Wednesday: Defying stereotypes with Arooba Faridi
Lt. Zeeshan Wazir has received nothing but affection from the whole nation and his family, from a loving son to an even more loving spouse to a martyr. Sub Lt. Atiya Zeeshan's tenacity and bravery, as well as his commitment to his mission, have made the nation proud.
Find out more women empowerment and inspiring stories here