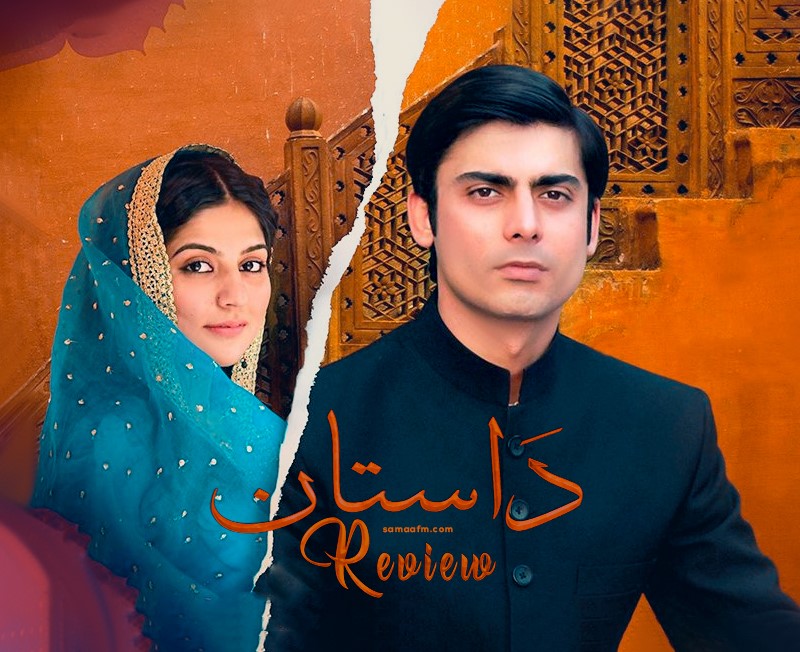 Friday Flix Series of the Week: Dastaan
posted by:

Abdul Latif Dadabhouy

No Comments
I'll believe it if someone states that the drama Dastaan leaves them with a heavy heart. The story was masterfully woven together, so intricately that when it ended, I felt ripped apart. Never before had I felt so deeply about a drama and it further reinforced my belief that Pakistani television is the best thing that has ever happened to us as individuals.
The grand story of Dastaan
The grandness of a story like 'Dastaan' sets it up for a justifiable rivalry with cinematic greats. Stories like these are plucked and sculpted to unravel empathy, pain, loss, and, last but not least, love – and it is the grandness of a story like 'Dastaan' that sets it up for a justifiable rivalry with cinematic greats like 'Pearl Harbor' and '1947 Earth.'
Dastaan cast
The 2010's drama Dastaan written by Samira Fazal features a stellar cast that includes, Fawad Khan, Sanam Baloch, Ahsan Khan, Saba Qamar, Mehreen Raheel, and, Samina Peerzada. Further cast includes Saba Hameed, Affan Waheed, Seemi Raheel along with others. The drama is directed by Haisam Hussain for HUM TV.
Also Read: Drama Review: Parizaad
Dastaan drama story
The drama's primary premise is as follows: Suraiyyah (Saba Qamar) and Saleem (Ahsan Khan) are set to marry. Saleem's younger sister, Bano (Sanam Baloch), is Saleem's younger sister, and Suraiyyah's nephew, Hassan (Fawad Khan). The family is almost perfect – it's large, it's delightfully boisterous, and there's an enduring sense of Ronak that pervades their haveli. Everyone adores their tremendously distinct personalities. Hassan is a nationalistic wonder lad who falls in love with a youthful and innocent Bano right away. Saleem is severe and uncompromising, but he has a kind heart (however layered it might be at times). Suraiyyah is the epitome of sweetness, humility, and kindness. Bano and Saleem's mother Bibi (Samina Peerzada) and Hassan's mother Rasheeda (Saba Hameed) are both loving and affectionate. It's a foreshadowing of what's to come, and one can only imagine how dreadful the consequences will be.
Also Read: Drama Review: Hum Kahan Ke Sachay Thay starts off with a roller coaster of emotions
A dreamlike balance
Dastaan offers the perfect blend of a romantic Bollywood setting with midnight rooftop glances, old-fashioned but good wine. The gazes of Hassan and Bano with flaming lamps were the highlighted romance moments. What began as sensual collisions and soft-spoken words of admiration for one another evolved into a love motivated by Muslim League commitment. Bano started creating illustrious protest posters, to Saleem's chagrin. Melodic old tunes play in the background, adding to the drama's dreaminess – but not to the point of becoming absurd. 'Dastaan' struck the ideal blend between a dreamy presence and a more strikingly acute undertone.
The polarity of politics
Saleem and Hassan represent the polar opposites of a wavelength. Hassan an enthusiastic supporter of Jinnah and Saleem flying the Congress flag due to close Hindu connections, both imply a passionate love for politics. They frequently cross paths and butt heads, attempting to impose their beliefs on one another. And it's not just the males who are passionate about politics; Bano, too, begins to support the Muslim League and frequently expresses her views in inspiring speeches in front of moved family members.
Is Dastaan a true story?
The series is based on the historical events of 1947's split, and it depicts the riots and chaos that occurred during that time. Dastaan, based on the novel Bano, opens with Suraiya and Salim's wedding. Bano, Suraiya, Faheem, Salim, and Hassan grew up together as childhood buddies.
Final Thoughts
Dastaan was more than Bano and Hassan, and it was an experience from which we must learn a lot. To say that Dastaan is an experience in and of itself is an understatement; it is a journey that is supported by the characters, but the message is independent of any individual. I believe we would be carrying more than anything else the narrative of hope and sacrifice.
Is Dastaan available on Netflix?
Unfortunately, this series is not available on Netflix yet. But you can watch it online here.