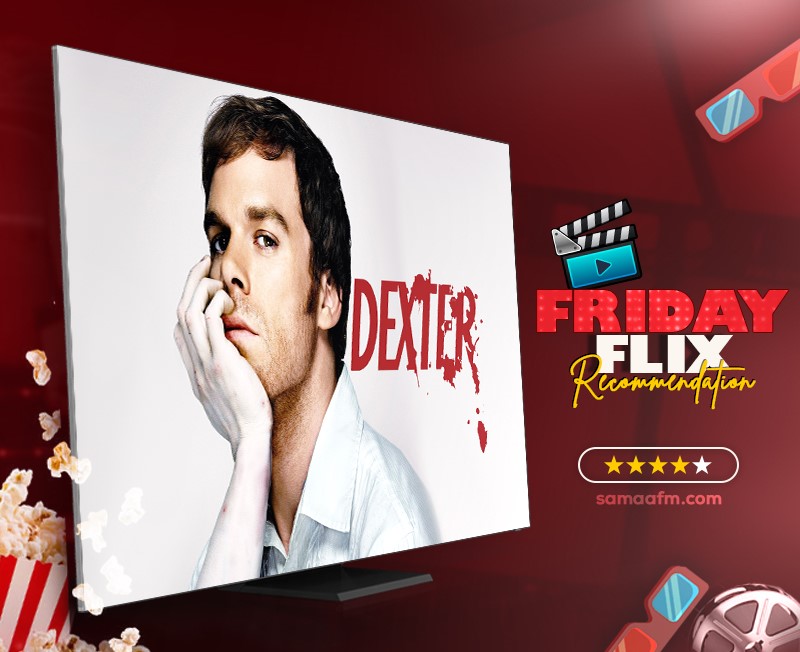 Friday Flix Series of the Week: Dexter
posted by:

Abdul Latif Dadabhouy

No Comments
The tale of an American import white male antihero with a desire for a crime that tears his family apart is one of the most talked-about television shows from 2013. To make matters worse, this family includes relatives who work for the same law enforcement agency that is hunting him down. You must be wondering if I am blatantly quoting Breaking Bad here? No, I'm referring to the American psychological thriller series Dexter.
Dexter TV series cast
The cast includes Michael C. Hall, along with Jennifer Carpenter, David Zayas, James Remar, C. S. Lee, Lauren Vélez, and others.
Dexter TV Series review
Dexter (Michael C. Hall) was orphaned at the age of three after seeing his mother being brutally murdered with a chainsaw. He was adopted by Miami police officer Harry Morgan (James Remar). Harry has persuaded him to channel his grisly bloodlust into vigilantism. Murdering only horrible criminals who slip through the criminal justice system, after recognizing the boy's trauma and subsequent development of sociopathic traits. Dexter gets a job as a forensic analyst for the Miami Metro Police Department, specializing in blood spatter pattern analysis, to help him conceal his homicide trail.
Also Read: Friday Flix Series of the Week: Money Heist
Furthermore, to decrease his chances of being discovered, Dexter wears gloves and utilizes plastic-wrapped "death chambers," carves up the bodies, and disposes of them in the Gulf Stream of the Atlantic Ocean.
The balance between good and bad
Dexter tries to balance his two lives. Although his murderous instincts are unrelenting, and he initially professes detachment (through narration). Moreover, he attempts to feel normal emotions and retain his look as a socially responsible human being throughout the series.
Read More: Netflix announces a release date for the third season of "You"
Dexter, a playful maniac
Dexter's murders, on the other hand, are a bit of a sideshow. The major premise of the series focuses on the police department's efforts to find the serial murderer who is responsible for a trail of bloodless bodies. Only he sees these atrocities as a friendly challenge from a like-minded psychopath, and his cooperation with the cops is motivated by his sense of solidarity with the perpetrator.
Last but not least, like deficit spending, violence is a uniquely American habit. Another temptation that is very difficult to refuse is "Dexter."
Showtime releases season 9 Dexter New Blood
Showtime releases Dexter's New Blood trailer. Dexter's new existence in Iron Lake, New York, is seen in the new trailer, where he's romantically connected with the head of police and appears to be a well-respected part of the town under the alias Jim Lindsay. Worst of all, when children go missing in the community. However, things begin to revert to their previous state, forcing Dexter to pick up his blades once more. Finally, in the trailer, Harrison's return shocks Dexter, which might shatter the entire facade he's created in the aftermath of the previous episode.
Watch the trailer here:
Where can I watch Dexter TV series?
The series is available on Showtime. You can watch the series here.
Have something to add to the story? Comment down below!