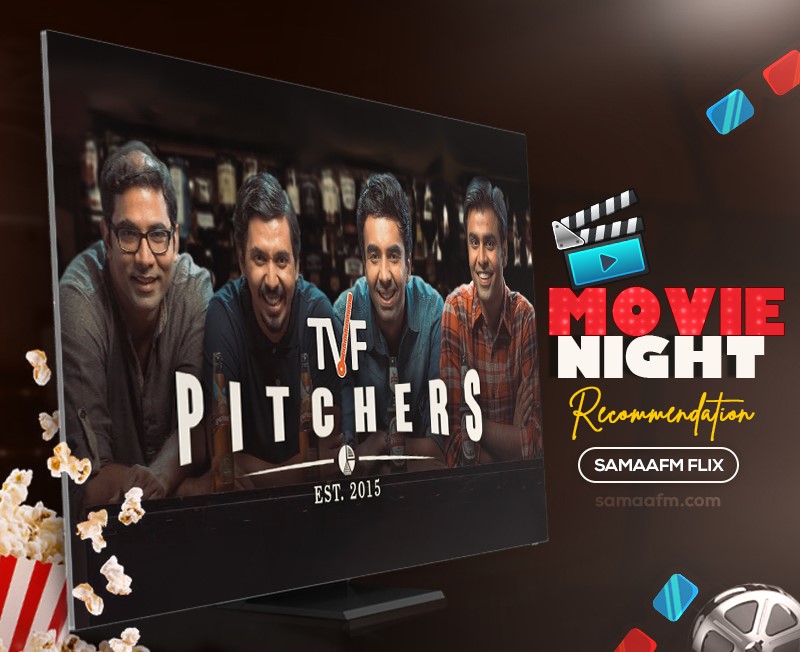 Friday Flix Series of the Week: Pitchers
posted by:

Abdul Latif Dadabhouy

No Comments
After reviewing Kota Factory and Aspirants, I can safely say that Indian web-series culture is trending more than the mainstream industry, and The Viral Fever (TVF) undoubtedly wins the race. Whether it is cinematography or storyline, realistic cast, character portrayal, or literally any other element you pick, TVF's content ticks all the boxes! TVF Pitchers is of similar sorts as it has made a recent wave of friendship among youngsters, i.e., emerging from the bottle and streaming like the Beer!
Pitchers Cast and Crew
TVF Pitchers cast include Naveen Kasturia as (Naveen Bhansal), Arunabh Kumar as (Yogi), Jitendra Kumar as (Jitendra Jitu), Abhay Mangal as (Saurabh Mandal), Maanvi Gagroo as (Shreya), and Akansha Thakur as (Saumya). Directed by Amit Galati the show is created by Arunabh Kumar and written by Arunabh Kumar along with Biswapati Sarkar. Vaibhav Bundhoo gives the background score. 'Pitchers' has made a colossal impact among the people, and there are certain reasons why one should watch TVF Pitchers!
Unique Concept and Storyline
The subject of Pitchers revolves around business ventures, start-ups, and entrepreneurship. TVF left behind all buzzwords, cliched and investigated the uniqueness of entrepreneurship. It's difficult about opening your own startup. The aspirations, struggles have been legitimately reflected in the show. The challenges of an orthodox Indian society are to have a secured job rather than a dream job. The situation was expressed when Jeetu (coder guy) was afraid to tell his father about leaving his high-paid job as a senior software developer to follow his dream. The total of five episodes keeps your attention engaged and speaks a ton about the greatness of the show.
Well written dialogues and execution
The idea and concept were beautifully portrayed along with the delivery of the dialogue. There is no such melodrama or cheesy dialogues involved which is trademarked in Indian cinema. The beauty of Pitchers is the realistic dialogues – which could also be seen in Kota Factory – One of the best lines that became a tagline for all the t-shirts and mugs of that era was "Tu Beer Hai." Not just these but also, "Decision toss karke liya tha, toss ka decision dekh ke nahe." "Nahi try karengey to definitely successful nahe houngay," and the famous dialogue of Mandal, "I am zero in the team but inke peechay lag jaata hun toh net value 10 times houjati hai."
Witty and intellectual humor
'Pitchers' has intellectual humor that makes us want more. You don't need punch lines or proper humorous dialogues to laugh at while watching the series. The satire in Pitchers balances intenseness and amusement at the same time. For instance, smoking directly under the saying, "smoking is injurious to health." Or at one point in Jeetu's office, Yogi trains the new employees and teaches them to never quit, and then quitting his job the next moment was hilarious. Mandal and Rastogi add humor to every scene they are in.
Cinematography and music
We can praise the show alone for its cinematography and background score. It is soulful and the cinematography refreshes the eye. Every scene is well calculated and defined. There are no larger-than-life sets and gorgeous locations but still, it manages to give the 'Dil Chahta Hai' feels to it.
Lesson
Pitchers gives out a bigger lesson, it's not your basic storyline with melodrama. Pitchers each episode gives us a lesson to never quit. To leave your comfort zone if you want to achieve something, the boundaries are not the challenge. Furthermore, it gives out the lesson of staying and being in a team and how it is important than anything else, more important than your idea.
Watch the trailer here:
Is TVF Pitchers available on Netflix?
TVF Pitchers is not available on Netflix currently, however it is available online for streaming.
Have something to add to the story? Comment down below!