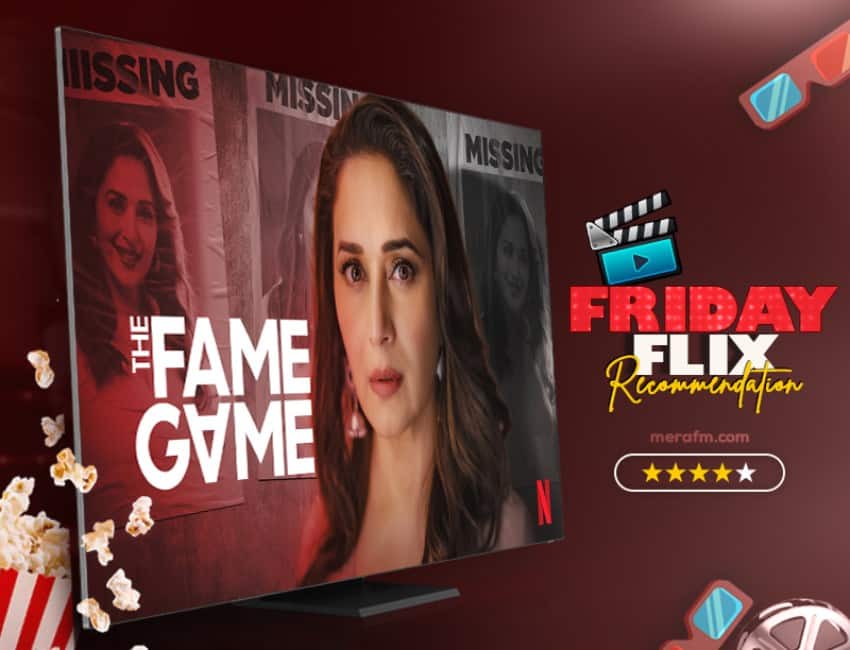 Friday Flix Series of the Week: The Fame Game
posted by:

Abdul Latif Dadabhouy

No Comments
Madhuri Dixit, a benchmark for everyone
Madhuri Dixit is a classic figure and a benchmark for performance and artistry for someone who was introduced to Bollywood in the 1990s. Dixit captivated audiences from the late 1980s through the early 2000s with her unrivaled dancing abilities and effortless expressions. She was the ultimate celebrity, a heartthrob who made young boys and men swoon. As an actress, Dixit convinced some of Bollywood's major producers to cast her, garnering praise from critics and fans alike.
However, for Netflix, we have seen her return to a leading role, with the new web series "The Fame Game."
The Fame Game
The Fame Game is a Hindi-language thriller written by Sri Rao, directed by Bejoy Nambiar and Karishma Kohli, and produced by Dharmatic Entertainment. It marks Dixit's comeback as well as that of her former co-star Sanjay Kapoor.
The Fame Game storyline
The storyline features Anamika Anand, played by Dixit, is an older Bollywood diva who is fighting to keep her gorgeous image and stay relevant. Her manager and film producer spouse Nikhil More (Sanjay Kapoor) is attempting to get the most out of her career before it dries up. Anamika is a well-known actress. At home, though, she contends with an introverted daughter, a suicidal son, and an emotionally and physically abusive husband.
Also Read: Friday Flix Series of the Week: Yeh Kaali Kaali Ankhein
The plot thickens!
Anamika sees some light at the end of the darkness when her co-star and old lover Manish Khanna (Manav Kaul) reappears in her life. However, one day she simply departs from her home. There is no ransom note or threat, and while her relatives, friends, and the police look for her, various truths about her dark past and unstable family emerge. With the conspiracy thickening, the investigating officer Shobha Trivedi (Rajshri Deshpande) is led on a wild goose chase.
A good, clean watch with a little mediocrity
The Fame Game is a family-friendly thriller that is free of sexual innuendos, gimmicks, and physical violence. The series is kept engaging throughout thanks to the storyline and direction. However, there are certain problems in the series. The entire production has an air of mediocrity about it: The Fame Game is never boring, but it's also a stretch to label it an out-and-out entertainer.
Also Read: Friday Flix Series of the Week: Mismatched
Is The Fame Game show available on Netflix?
Yes, it is available on Netflix.
Watch the trailer here:
Have something to add to the story? Comment down below!