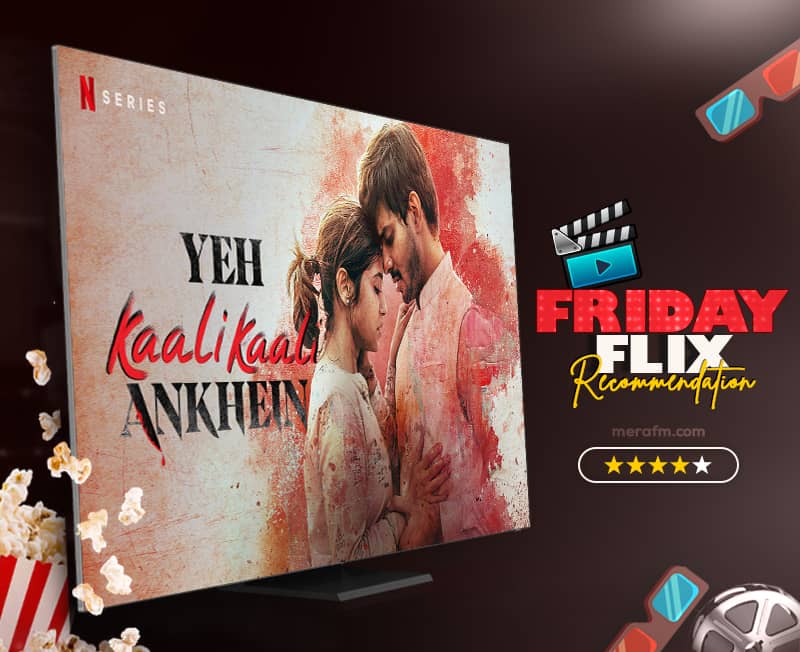 Friday Flix Series of the Week: Yeh Kaali Kaali Ankhein
posted by:

Abdul Latif Dadabhouy

No Comments
What is the last time you watched a good drama with a good love triangle narrative? We're not talking about a situation where someone has to select between two persons who are both excellent. We're talking about someone who is trying to escape a powerful person who is obsessed with him while maintaining a loving relationship. This is the struggle at the heart of a new Indian Netflix drama Yeh Kaali Kaali Ankhein.
Cast Yeh Kaali Kaali Ankhein
The cast includes Mirzapur famed Shweta Tripathi along with Anchal Singh and Arunodhay Singh in lead roles. Furthermore, the cast includes Surya Sharma, Saurabh Shukla, Bijendra Kala, Kalp Shah, and Tahir Raj Bhasin.
Yeh Kaali Kaali Ankhein story
The story starts with Vikrant (Tahir Raj Bhasin) who, from his childhood has been tormented by a woman named Pruva (Tahir Raj Bhasin). She is the daughter of Akhiraj Aswathi (Saurabh Shukla), a powerful local politician; Vikrant's father works for him and worships the ground on which he walks. Vikrant suffered from bodily discomfort every time she went to the same school as her as a child. He declined her request to be her friend. She eventually moves away.
The moving on
Vikrant went on with his life, enrolling in engineering school and meeting Shikha (Saurabh Shukla). He's been sitting around his family's house since graduation, and his father is getting bored of it. He says he's waiting for a job offer letter from a plant outside of town; he knows it's a good one, and he's looking forward to starting a new life with Shikha there.
The haunted dream returns
Vikrant's father, on the other hand, insists on an interview with Akhiraj. He notices a lovely woman coming out of an indoor pool on his approach to the politician's office. Pruva is back, he realizes right away. She hasn't forgotten about Vikrant; in fact, she keeps track of how long they've been separated down to the day. Vikrant, who wants to relocate and start over, bombs the interview until Akhiraj receives a call from his daughter, who offers him a job at her Zumba studio. His father insists that he take the job because the pay is significantly higher than what he would make at the factory.
Some, or more thriller
His first mission is to take Purva to a pier where the entire class used to go while they were in school. There's no reason he's out there – she has a driver who knows the region — but he can see Purva is just as enamored with him as she was in elementary school when she turns to face him. Shikha is understandably enraged when she learns of what happened, and Vikrant's pal Golden (Avant V. Joshi) does nothing to assuage her fears.
SPOILERS AHEAD
To safeguard his relationship above all things, Vikrant decides to risk Akhiraj's — and his father's — wrath by telling the politician he doesn't want the position. When he gets to the office, though, he discovers something he shouldn't have seen: Akhiraj inadvertently killing a man by hitting him. Vikrant is recruited by Akhiraj's henchmen to assist them in dismantling and disposing of the body.
Final verdict
It takes too long to get to Yeh Kaali Kaali Ankhein, and the route isn't even remotely engaging or intriguing. Sengupta appears to have taken a feature-length story and stretched it to fit an eight-part first season (that ends on a cliffhanger). It's also overly plot-driven, which gets old after a while. If a direct route from point A to point B is possible, Yeh Kaali Kaali Ankhein will take three detours along the way. Everything is overcomplicated unnecessarily. It wants to put its characters in awkward circumstances, but it uses inelegant methods to do so. It's as if Sengupta writes himself into a position and then decides to give up rather than discover a better way out.
Watch the trailer below,
Have something to add to the story? Comment down below!