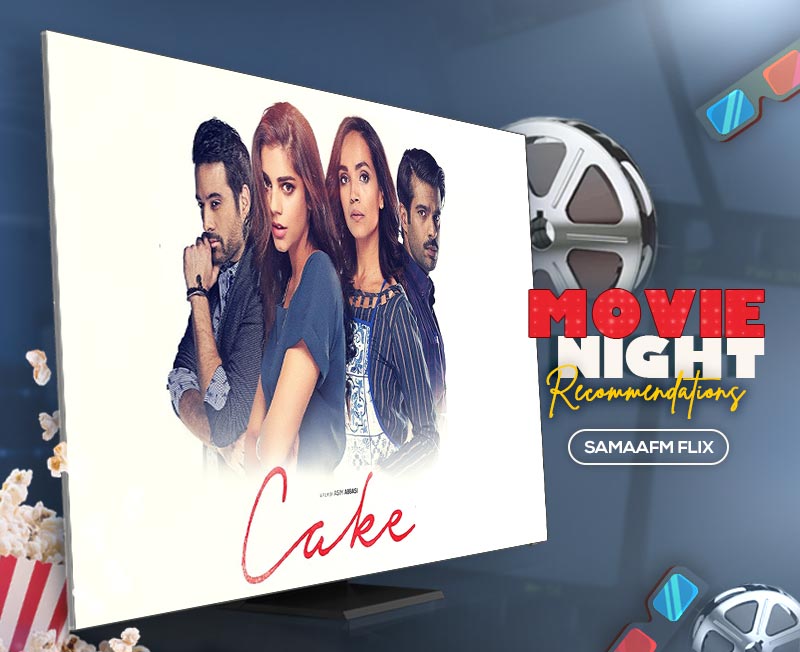 Friday Flix Movie Review: Cake
posted by:

Abdul Latif Dadabhouy

No Comments
Over the years, Pakistani cinema has grown and proven its mettle in the industry. There has been a competition between the commercial-level movies of India and Pakistan. And with time, efficient directors and writers are surfacing in the Pakistani industry. The level of web-series, commercial movies, and short films has reached a certain stature of maturity. Out of many films, one is, Cake!
Cake – Cast and Crew
The 2018 movie Cake is a comedy-drama movie written and directed by Asim Abbasi. The movie cast includes Aamina Sheikh, Sanam Saeed, Adnan Malik, Beo Zafar, Muhammad Ahmad, Faris Khalid, Mikaal Zulfikar, and Hira Hussain. The Cinematography is by Mo Azmi. The Abbasi-Azmi dynamic duo was also seen and widely appreciated in their recent web-series Churails.
Plot – Cake 2018
The movie revolves around two sisters Aamina Sheikh (Zareen) and Sanam Saeed (Zara) in lead roles, depicts how close families are despite their geographical borders. An emotional distance can also be seen among the members of the family.
 

 

View this post on Instagram

 
Siblings bonding and love
Zareen and Zara, both have their struggles and problems to deal with, while juggling with their parents' health back and forth. Zara lives in London while Zareen resides with their parents in Pakistan taking care of her family estate. Being the unmarried middle child Zareen is graciously stubborn. With an unnerving attitude, Zareen takes care of the family while keeping herself behind everything. This comes into realization for her that there is a lot more to think of than just her family when their father suffers from a major heart problem.
Zara flies back from London and her brother also comes back home to take care of their parents and YES… they bicker about life and their problems. Everyone complains that their problems are much more than the other and while this happens a point of realization comes for us as a viewer that, this is how families 'operate.' They fight and then they bounce back. In one particular scene where Zareen decides to have lunch on her own after a quarrel, both her siblings squeeze her in between shows no matter what happens, siblings share a beautiful bond!
Asim Abbasi beautifully explains the concept of a woman being an alpha and how they can be their heroes and can do anything without any hurdle. If we talk about the production Cake is beautifully directed. It gives out a modern feel and Mo Azmi's soft-lighted cinematography is intelligently portrayed throughout the movie.
Finest Acting
The realistic set designing was amazingly aided by fine acting, which also gives out a very realistic feel. The movie did not fake any emotion or any character. The laughter, the family time, the open 'fart jokes' and honest conversations were raw and imperfect but leave a slight giggle. The veteran actor and comedian Beo Zafar and Muhammad Ahmad shared a beautiful and funny on-screen chemistry and since they both are maestros of acting, they knew how to capture the attention and grip the audience throughout.
The nerve-wracking climax
The climax is one of the most brilliantly achieved scenes in the movie, where the family secrets come out in the open with an unsent letter. A series of confrontations start from room to room, which feels like a grand theatre play. The 10 minutes were emotionally intense and perfectly played by the actors.
Cake is a cinematic masterpiece that deserves massive praise. It is sweet, layered with a strong idea of feminism and a topping of siblings bond [majorly sisterhood]. Take a bite and enjoy the beautiful ride!
RECOMMENDED MOVIES
If you like this review you can also check our FridayFlix segment