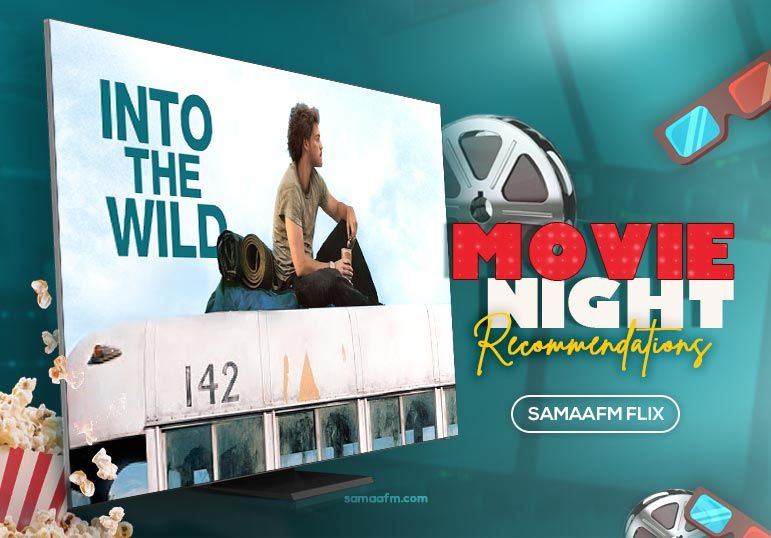 Friday Flix Movie Review: Into The Wild
posted by:

Abdul Latif Dadabhouy

No Comments
Accepting this out loud won't be a lie that Sean Penn has reached a new maturity and depth as a director with the movie 'Into The Wild.' It's a 2007 American biographical adventure drama film written, co-produced, and directed by Sean Penn. It is an adaptation of the 1996 non-fiction book of the same name written by Jon Krakauer and tells the story of Christopher McCandless's "Alexander Supertramp," a man who hiked across North America into the Alaskan wilderness in the early 1990s.
Cast And Crew
The film stars Emile Hirsch as McCandless and Marcia Gay Harden and William Hurt as his parents; it also features Jena Malone, Catherine Keener, Brian Dierker, Vince Vaughn, Kristen Stewart, and Hal Holbrook. The movie's direction and screenplay was by Sean Penn. And music by Michael Brook, Kaki King and Hal Halbrook. The movie premiered during the 2007 Rome Film Fest and then opened outside Fairbanks, Alaska on September 21, 2007.
The film received critical acclaim and grossed $56 million worldwide. It was nominated for two Golden Globes and won the award for Best Original Song: "Guaranteed" by Eddie Vedder. It was also nominated for two Academy Awards: Best Editing and Best Supporting Actor for Holbrook.
Into The Wild – Plot
There is a lot of distress to be found in "Into the Wild," Sean Penn's transformation of the true to life blockbuster by Jon Krakauer. The story starts with an unhappy family, continues through a progression of experiences with the desolate and the lost, and finishes in premature death. In any case, however, the film's construction might be terrible, its soul is definitely not. It is filled with a broad, practically thrilled feeling of probability, and it communicates an unadulterated, unaffected take pleasure in open spaces, outside air and brilliant daylight.
The movie sets in April 1992, a man Christopher McCandless arrives in a remote area called Healy, just north of Denali National Park and Preserve in Alaska. McCandless travels into the wilderness and sets up a campsite in an abandoned city bus, which he calls "The Magic Bus." At first, McCandless is content with the isolation, the beauty of nature around him, and the thrill of living off the land. He hunts with a .22 caliber rifle, reads books, and keeps a diary of his thoughts as he prepares himself for a new life in the wild.
Stumbling Upon Thrill with Joy
The movie is a non-fiction life story from a novel of the same name, so some of the main characteristics were to understand by Penn to deliver it to Emile Hirsch, the exuberance and the passion which was portrayed, in the book.  Chris was at once a troubled boy with a brave and dedicated spiritual soul. He stumbled upon everything but enjoys it thrillingly on the road to joy.
Rejection to Human Attachments
And afterward, McCandless vanishes from the guides of memory, into unforgiving Alaska. Indeed, it looks delightful. It is all he longed for. He finds an abandoned bus where no transport ought to be and makes it his home. He has a go at chasing, not effectively. He lives off the land, yet the land is a zero-resistance framework. Penn made Emile Hirsch play the character extraordinarily. Giving him entrancing execution, every expression actually igniting with enthusiasm. It was more than acting
In letters to his friends, parts of which are scrawled across the screen in bright yellow capital letters, he basks in the simple beauty of the natural world. Adopting the pseudonym Alexander Supertramp, he is validated by his lifestyle choice, rejecting material possessions and human attachments, he proclaims himself an "aesthetic voyager."
The Lessons of Society
Into The Wild is a reflective, regretful and serious film about a young man getting swept away by his uncompromising, unforgiving choices.
One of the most truthful statements in recent culture is that we need a little help from our friends and that sometimes we must depend on the kindness of strangers. If you don't know those two things and accept them, you will end up eventually in a bus of one kind or another. 
Some lessons that were to be learned from this movie hit home about the society that "every system has rules," Chris wanted to leave the society because of its stupid rules. But Mother Nature has its own sets of rules and all are brutal, all were brutal on him! Sometimes you were told not to put your elbows on the dinner table, but a slight misjudgment can lead you to your death when you reject the world and accept nature as your destiny. The second is that "happiness is only real when shared."
Chris gave up on society, but he was alone, freedom comes within, the choices you make become evidently the result of what you did and what you decide.
If you want to see, nature, a reality the part of society that you think is wrong, and want to change from within, watch this movie and decide for yourself!
IMDb: 8.1/10
Rotten Tomatoes: 83%
Reelviews: 4.5/5
---
RECOMMENDED MOVIES
If you like this review you can also check our Friday Flix segment