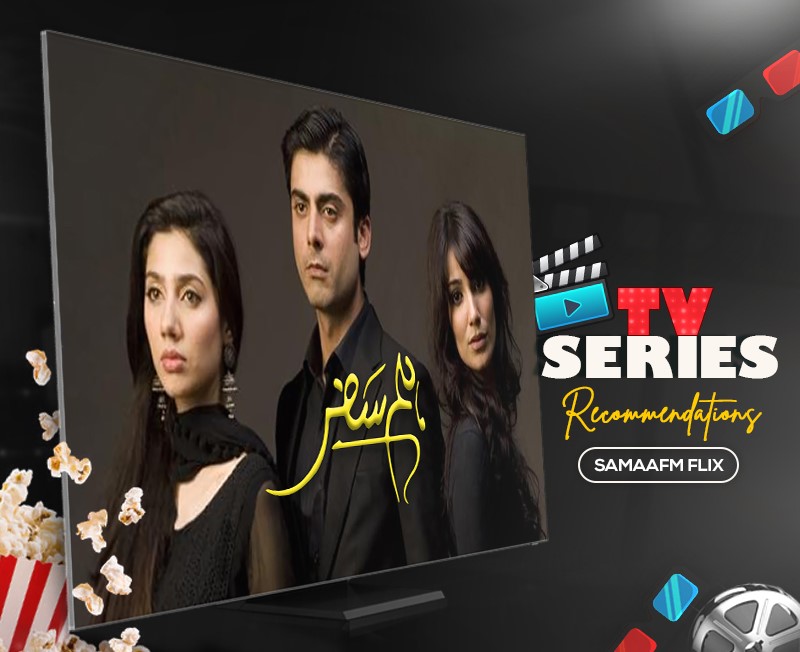 Friday Flix Series Review: Humsafar
posted by:

Abdul Latif Dadabhouy

No Comments
It is safe to say that every Pakistani knows the gorgeous on-screen couple 'Ashar and Khirad.' There was also a massive surge seen in 2011-2012 with babies named Ashar and Khirad, and definitely not [Sara] for obvious reasons. The love was not limited to Pakistan, it transcended boundaries. The drama serial also made Quratulain Baloch (QB) renowned. Humsafar made history. And today we are going to discuss everything about this classic by Farhat Ishtiaq.
Cast and Crew
Humsafar 2011-2012 is Pakistani drama series based on the novel of the same name by Farhat Ishtiaq. It is directed by Sarmad Sultan Khoosat. The cast includes Fawad Khan, Mahira Khan, Naveen Waqar, Atiqa Odho, Behroz Subwari, Hina Khawaja Bayat, Noor Hassan, and (then) child star Sara Kashif Rajput. The drama became instantly highlighted because of the ensemble cast and gorgeous screen portrayal of both the lead characters. Furthermore, referred to become the reason of the Golden Age of Pakistani television.
Plot – Humsafar
Humsafar starts with Khirad Ehsaan who belongs to a lower-middle working-class local area in Hyderabad and lives with her widowed mother, Maimoona in a little place. The series opens up with Khirad (Mahira Khan) completing her Bachelor of Science degree. Khirad's late father was a mathematician. Whereas, Maimoona's brother Baseerat Hussain is an independent rich business tycoon. He is married to Farida, (Atiqa Odho) a social worker who runs a Human Rights NGO. They have one child, Ashar (Fawad Khan), who got his MBA from Yale University and runs the family's powerful firm with his dad.
Tragedy one on Khirad
After Maimoona gets a cancer analysis, Baseerat at that point carries her and Khirad to his huge home in Karachi for treatment. At the point when she understands that there is no fix, Maimoona requests Baseerat for a marriage proposal for Khirad. Feeling remorseful for not caring more for Maimoona, Baseerat remunerates by promising that Ashar will wed Khirad, unbeknownst to Farida, Khirad, or Ashar. Farida is against the match until Baseerat threatened to toss her out of the house if she didn't acknowledge it.
Wo Humsafar tha? we don't think so
While at first went against, Ashar is then controlled by his dad to acknowledge the marriage, as is Khirad by her mom. In the meantime, Sara (Naveen Waqar) (who is in love with Ashar) attempts suicide after both finding out about their marriage, hearing from Ashar that he just considers Khirad to be a companion. After he rescued Sara, she vows to proceed onward. In spite of being against the thought, Ashar and Khirad get married in a home function. Inside a brief timeframe, Maimoona dies and Farida seems to have had an adjustment in heart, regarding Khirad as a daughter-in-law.
Love and tragedies go together
After a few tough days of aloofness, Khirad and Ashar eventually fall deeply in love with each other. And then Baseerat dies. After the sad turn of events, Khirad enrolls herself in a Masters's program in Applied Mathematics. She discovers that her classmate Khizar (Noor Hassan) is Sara's paternal cousin. Ashar becomes jealous of her friendship and involvement and became a little distant from Khirad. Khirad became sadder and clueless and found herself pregnant. She reveals this news to her mother-in-law but decided to keep it a secret for Ashar.
The climax of Humsafar
Khirad never gets the chance to tell him the news. She eventually got framed by Khizar, Farida and Zarina (Hina Khwaja Bayat). Farida never accepted Khirad as her daughter-in-law infact Khirad belonged to a middle class was a problem for Farida. As Ashar left for his official trip. Farida and Zarina invite Khirad to Khizar's apartment and leaves them both in the kitchen to create an explicit scene.
Khizar who was equally involved in this scenario had taken money for his education abroad and the promise from Farida to marry Sara (Khizar was madly in love with her). After Farida and Zarina lures Ashar into Khizar's apartment. They accuse them for having an affair. Ashar storms out and disappears. Farida fabricated the story and ask her to leave the house immediately. She reveals her true self to her. Khirad tries to talk to everyone but no one listens to her. She managed to write a note to Ashar and leaves to Hyderabad. Batool Bano (a neighbour) comforts her and provides her the space to live where she delivers a premature baby girl. Ashar refuses every call from Khirad. At the moment she decides to raise Hareem (Sara Kashif Rajput) on her own. Working as a math teacher.
Another tragedy strikes
Four years later, Hareem got into a medical emergency and needs an open heart surgery. Khirad confronts Ashar in that moment and shows every report to him. Khirad comes out as a confident and angry woman with a stone heart, whereas Ashar was enraged to see her after years. Evidences force Ashar to look into the matter and when he meets Hareem, he decides to take responsibility of her daughter. He brings both of them home during the medical procedures. Khirad faces Sara and Farida with confidence and hate and blocks every rock that comes her and Hareem's way.
Sara becomes suicidal again after seeing Khirad back at home. She confesses her love to Ashar but he turns her down that he cannot love her back. Khizar who also returns from the US reminds Farida of her promise and eventually starts to blackmail her. Farida who fears that Khizar will tell everything to Ashar goes to Sara and Zarina and ask for Khizar. They both refuse and Sara attempts suicide and succeeds!
The letter of truth
After Hareem's successful surgery, Khirad sees an unbreakable bond of Hareem and Ashar and decides to leave Hareem to him and goes back to Hyderabad giving full custody to him. However, during this period Ashar rekindles his feelings towards Khirad and while going through old albums he finds the letter (yes, the same letter Khirad gave 4 years ago to a servant which never got to Ashar) Ashar goes into disbelief and understands that he has committed a big mistake. He overhears a phone call between Farida and Khizar which confirms the fabrication.
Finally, a happily ever after!
Ashar then flees to Hyderabad and begs for her forgiveness. He manages to bring Khirad back home and confronts Farida. This time Ashar stands up for his wife. Farida becomes frightened by hallucinating Sara and her husband Baseerat and loses her consciousness. Ashar begs for Khirad's forgiveness and asks her to forgive him and hopes that she will stay so they can raise Hareem together. Khirad accepts and a few months later ( with a now mental patient Farida) the three of them were shown as a happy family.
RECOMMENDED MOVIES
If you like this review you can also check our Friday Flix segment