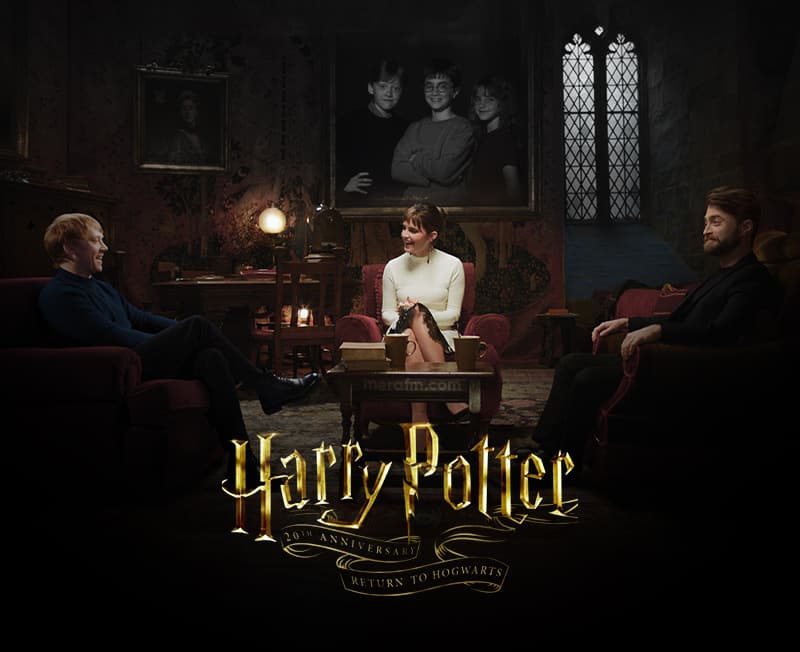 Harry Potter Return to Hogwarts: A hug of reminiscing!
posted by:

Abdul Latif Dadabhouy

No Comments
A return to a magical world!
Harry Potter 20th Anniversary: Return to Hogwarts, a Harry Potter reunion special, aired on the new year. Daniel Radcliffe, Emma Watson, and Rupert Grint starred in the special alongside Robbie Coltrane, Helena Bonham Carter, Jason Isaacs, Gary Oldman, and Ralph Fiennes, among others. While this is certainly fantastic news for Potter fans, the performers who made the HP characters eternal on-screen were sorely missed during the much-anticipated show. We especially missed the stars who have died since the franchise began 20 years ago.
Harry Potter Return to Hogwarts!
Over the course of an hour and a half, the show conjures not only wonderful recollections of the books and films but also of life two decades ago. That is nostalgia's true power. Writers and filmmakers are far too frequently satisfied with simply adding a name or a recognized tune and calling it a day these days—and no one is more guilty of this than JK Rowling. They believe that jolting ancient memories from the depths of our subconscious are preferable to allowing them to gradually surface. The mind, on the other hand, is a strong tool, both mysterious and marvelous in equal measure. When I heard Emma Watson's brittle voice in the reunion special, it reminded me not only of her Hermione Granger portrayal but also of the scent of fresh ink on paper. How intriguing.
Also Read: Harry Potter cast reunites to celebrate 19 years of "The Sorcerers Stone"
Absence of Professor Snape at Return of Hogwarts
Apart from the iconic three of Harry (Daniel Radcliffe), Ron Weasley (Rupert Grint), and Hermione Granger (Emma Watson) in the first Harry Potter films, it's difficult not to mention the late great Alan Rickman, who was brilliant in every scene he was a part of. Extra credit goes to the casting directors for selecting Rickman as the right fit for the part. Not everything in those films was a perfect adaptation, but there were a few things that came close. One of them was Rickman, who played the antihero, Severus Snape. Rickman got Snape down to the dot with his sweeping dark robe, chin-length dark hair, and that sardonic, dry, and half-amused tone.
Not only did we miss everyone, but we also missed Richard Harris, Helen McCrory, and Richard Griffith, who died during this time period.
The directors' legacy of Harry Potter
Through the directors' insights, a deeper look into Harry Potter was also offered. The directors went over each of the seven parts in great detail. Onset, there were some sweet moments and a lot of laughs. Chris Columbus, Alfonso Cuaron, Mike Newell, and David Yates are among the directors on the list. Each of those directors directed the films based on the demands and feelings of the audience.
Harry Potter, larger than life!
Harry Potter was available to those who did not have pals. Harry Potter was available to many who came from shattered homes. Furthermore, it was there in their loneliness that they discovered. Even if not all of those pals are still in your life and your parents are no longer alive, the memories you shared as a result of Harry Potter will live on. There are also people whom you have yet to meet. Future spouses coworkers, Harry Potter lovers with whom you will have a lot of interests. You may not recognize them, but they are folks to look forward to on the horizon. It is a whole world, that too is magical.
Watch the trailer here:
If you have anything to add to the story? Comment down below!