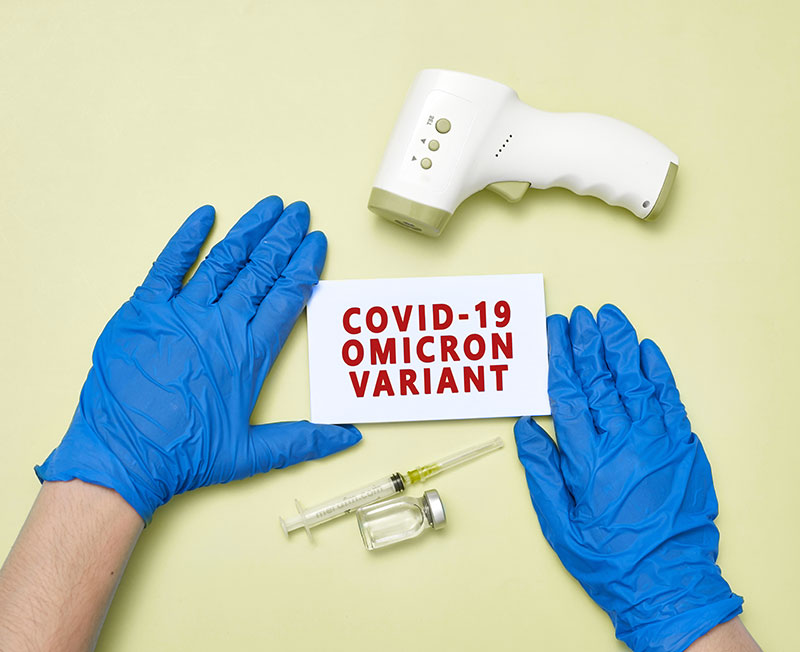 Everything to know about the Omicron variant of Covid-19
posted by:

Zainab Naseem

No Comments
The horrors of Omicron Variant
The World Health Organization (WHO) designated a novel SARS-CoV-2 variant presently circulating in South Africa as a 'variant of concern' on Friday. It was also given the name Omicron.
The mutation was discovered on Monday by the Network for Genomics Surveillance in South Africa (NGS-SA). It had discovered a cluster of SARS-CoV-2 viruses that belonged to the B.1.1.529 lineage.
According to preliminary findings, this variant may be even more transmissible than the highly infectious Delta form. And current vaccinations may be less effective against it.
What do we know about Omicron thus far?
As SARS-CoV-2 spreads, new variants occur, and the significance of each mutation is discovered after some time. However, health authorities around the world must keep a close eye on which ones are more vital than others. The NGS-SA discovered B.1.1.529 as part of such an experiment.
Also Read: Covid-19 Delta Variant: All you should know about this strain
B.1.1.529 has several spike protein mutations, according to what is currently known. And a preliminary study suggests it is highly contagious. Over the previous two weeks, South Africa has seen a four-fold spike in new cases, corresponding with the appearance of B.1.1.529.
B.1.1.529 has rapidly expanded in Gauteng province, which encompasses Johannesburg and Pretoria, from November 25, 2021. According to the NGS-SA, and may already be present in most provinces. Cluster outbreaks, according to the NGS-SA, may be behind the ongoing increase in cases.
What are the modifications that make this Omicron variant unique?
The new variety B.1.1.529 has "very unusual constellations of mutations," according to the NGS-SA, with 30 in the region that encodes the spike protein, which is important for the virus's entry into human cells.
The modifications in Omicron variant
Some of the alterations are well-characterized, having a known phenotypic influence on transmissibility and immune evasion, according to the study. In the Alpha and Delta forms, some of these mutations have already been discovered. Many other mutations, however, have been "rarely observed until now and not well characterized," according to the NGS-SA. As a result, the full relevance of these alterations is unknown at this time. "More investigations are underway to determine the possible impact of these mutations on the capacity of the virus to transmit more efficiently. To impact vaccine effectiveness and evade the immune response, and/or to cause more severe or milder disease," the Africa Centers for Disease Control (CDC) stated.
Also Read: Pakistan's COVID-19 daily cases count less than 3,000 in September
Is there a difference in the symptoms?
According to the South African National Institute for Communicable Diseases (NICD), "no unique symptoms" have been observed as a result of infection with the B.1.1.529 strain. It has drawn attention to the fact that, like other infectious variations like Delta, some people are asymptomatic.
What should you do?
It's unclear whether Omicron is more transmissible (i.e., easier to transfer from person to person) than other variations, such as Delta. In areas of South Africa afflicted by this variation, the number of people testing positive has increased. However epidemiologic studies are planned to determine if this is due to Omicron or other factors.
Individuals can reduce the spread of the COVID-19 virus by maintaining a physical distance of at least 1 metre from others, wearing a well-fitting mask, opening windows to improve ventilation, avoiding poorly ventilated or crowded spaces, keeping hands clean, coughing or sneezing into a bent elbow or tissue, and getting vaccinated when their turn comes.