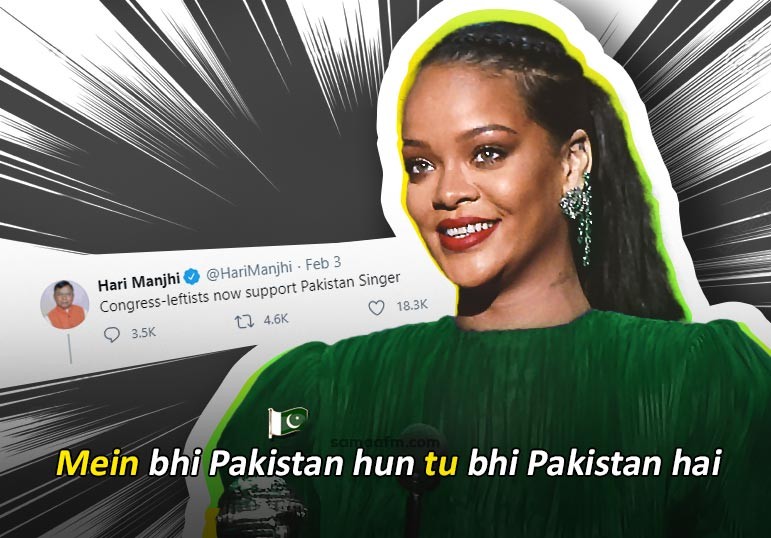 Indian politician thinks Rihanna is a Pakistani singer
posted by:

Abdul Latif Dadabhouy

No Comments
Before we begin with Rihanna being a Pakistani, let us give you a little background on what really is happening in India?
Indian Farmers Protest
The 2020–2021 Indian farmers' protest is an ongoing protest against three farm acts that were passed by the Parliament of India by Lok Sabha and Rajya Sabha in September 2020. The 3 [passed] acts include,
-Farmers' Produce Trade and Commerce (Promotion and Facilitation) Act: expands the scope of trade areas of farmers produce from select areas to "any place of production, collection, and aggregation." Allows electronic trading and e-commerce of scheduled farmers' produce. Prohibits state governments from levying any market fee, cess or levy on farmers, traders, and electronic trading platforms for a trade of farmers' produce conducted in an 'outside trade area'.
-Farmers (Empowerment and Protection) Agreement on Price Assurance and Farm Services Act: creates a framework for contract farming through an agreement between a farmer and a buyer before the production or rearing of any farm produces. It provides for a three-level dispute settlement mechanism: the conciliation board, Sub-Divisional Magistrate, and Appellate Authority.
-Essential Commodities (Amendment) Act: allows for the center to regulate certain food items in the course of extraordinary situations like war or famine. Requires that imposition of any stock limit on agricultural produce be based on price rise.
Other related issues incorporate farmers' suicides and the condition of the economy in Punjab and in India as a rule. India detailed a rising 296,438 Indian farmers suicides somewhere in the range from 1995 to 2015. In 2019, 10,281 individuals who work in the cultivating area ended it all. The more slow development of Punjab's economy, especially its horticultural agricultural area, is believed to have instigated the on-going protest.
Farmer unions and their representatives have demanded that the laws be repealed and will not accept anything short of it. Farm leaders have rejected a Supreme Court of India stay order on the farm laws as well as the involvement of a Supreme Court-appointed committee. Farm leaders have also rejected a government proposal, dated 21 January 2021, of suspending the laws for 18 months. Eleven rounds of talks have taken place between the central government and farmers represented by the farm unions between 14 October 2020 and 22 January 2021; all were inconclusive.
On February 3rd, farm leaders warned of escalating the protest to overthrowing the government if the farm laws were not repealed. These acts, often called the Farm Bills, have been described as "anti-farmer laws" by many farmer unions, and politicians from the opposition also say it would leave farmers at the "mercy of corporates". The farmers have also demanded for a creation of an MSP bill, to ensure that corporates cannot control prices. The government, however, maintains that they will make it effortless for farmers to sell their produce directly to big buyers, and stated that the protests are based on misinformation.
Soon after the acts surfaces and introduced, unions began holding protests, mostly in Punjab, and after 2 months it turned into a movement called 'Dilhi Chalo,' which causes the Indian government to enforce charges over the protesting farmers, causing a stir, Indian police is now using water cannons, batons and tear gas to prevent the farmer unions from entering into Delhi.
Indian Actors on Farmers Protest
With the ongoing protests, celebrities, Bollywood biggies, and global stars jumped in support and also in criticism. Global icon Rihanna, activist Greta Thunberg, Jay Sean, John Cusack are talking about the ongoing protest,
Actors including Akshay Kumar, Suneil Shetty, Karan Johar, Diljit Dosanjh stand for the Farmers,
https://twitframe.com/show?url=https://twitter.com/karanjohar/status/1356897467850059780Greta Thunberg also supported the cause for the protest,
https://twitframe.com/show?url=https://twitter.com/GretaThunberg/status/1356694884615340037Rihanna, among the biggest pop stars of the day with 101 million followers on Twitter, started the global chorus of support for India's farmers, taking their movement to a new high. "Why aren't we talking about this?! #FarmersProtest,"
https://twitframe.com/show?url=https://twitter.com/rihanna/status/1356625889602199552To which Kangana Ranaut called them out, out of nowhere, she has the need to attack those people who think freedom of speech is still relevant!
https://twitframe.com/show?url=https://twitter.com/KanganaTeam/status/1356640083546406913She also called Greta Thunberg a "spoiled brat" in her tweets.
Sachin Tendulkar also shocked his fans with his tweet,
Is Singer Rihanna Pakistani?
But the most interesting part of this Tweet thread is how casually an American Singer Rihanna gets called a Pakistani, that too from an Indian Politician without any knowledge,
https://twitframe.com/show?url=https://twitter.com/ArifCRafiq/status/1356790772130074630Hari Manjhi Former member of Lok Sabha and Nationalist BJP, has clearly said that Rihanna is a Pakistani singer, we really wish. This started a series of replies from people
Furthermore, Indians are now calling Rihanna a "Pakistani Spy" as her old picture went viral on Twitter with Zulfi Bukhari.
https://twitframe.com/show?url=https://twitter.com/alamdarnaqvi5/status/1356955196455288833This whole protesting wave has caused another very important element highlighted which is "Human Rights Violations." Farmers have been living under the poverty lines for decades and all the politicians are simply gaining their kind of interests from this whole scenario. No matter what solutions come to the table, Human Rights Violation is evident!
---
READ MORE: IS RIHANNA JOINING BLACK PANTHER 2 CAST?