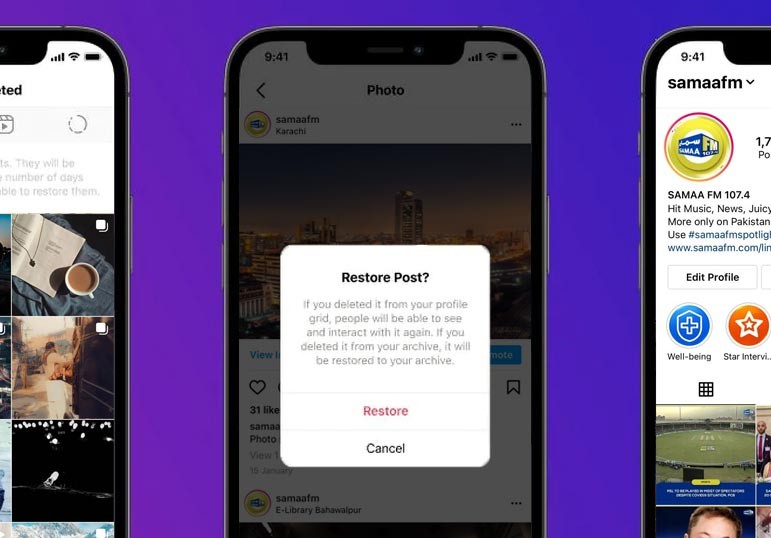 Instagram Now Lets You Recover Deleted Posts
posted by:

Abdul Latif Dadabhouy

No Comments
The Popularity of Instagram
Instagram is all about giving visual treats to your followers and showing your work off of social media. It is one of the most used applications all around the world. The app turned 10 years in 2020 and it is safe to say that Instagram became extremely popular during the pandemic, and has changed many lives with its existence. The visual-centric platform that began as a photo-posting app has grown into a source of income for creators and a new sales channel for businesses. Instagram has been able to maintain its user base fairly consistently over the last year. In 2019, the percentage of US adults who use Instagram rose from 35% to 37% and the active-reported users have held steady around almost 1 billion people.
In June 2018, Instagram had reached one billion monthly active users, up from 800 million in September 2017. The app is one of the most popular social platforms worldwide and one of the four billion-user properties owned by Facebook.
Imagine clicking a great photo for your Instagram and get loads of appreciation likes and reactions for it, and then it gets deleted accidentally. It will be going to hurt for a while. Instagram has rolled out a new section on its app for iOS and Android, which allows users to restore recently deleted videos, photos, IGTV videos, reels, and stories.
Instagram Now Recovers Deleted Photos
The company as of late reported that the new 'Recently Deleted' from Instagram will presently save the posts for 30 days within the platform. With this new feature, the post will step by step continue to erase posts permanently after 30 days. The story is accessible on the Instagram blog post. Alongside the Recently Deleted feature, Instagram has likewise ventured up the protection process that prevents the deletion of posts on the record by hackers.
User Demands For the Recently Launched Feature
This new feature was a long time coming. And in major demands as well. Instagram users have been complaining about losing their deleted posts for years, coming up with all manner of incomplete solutions that claimed to solve the problem. It never really solved. The inability to recover content also made instances of hacking exceptionally upsetting, as there was no way to undo the damage. Getting hacked is always disturbing regardless of whether any content is lost, but at least it will be marginally less problematic now.
To get to the folder, users will have to go to Settings, trailed by Account and Recently Deleted on the most recent version of the Instagram application. Users then will have the option to get to the deleted content to re-establish, restore or permanently erase the content. In the event that the post is restored, it will begin showing up on the Instagram profile again and if that it was erased, then the restored content would again go to archives.
The new update, nonetheless, is turning out in a staged and settled way, which implies that only a set of limited restricted users would get the update for now on.
So now you can take a photo, without worrying if it gets deleted, because you can retrieve it back, keep Instagramming and channel your inner blogger, artist or anything you want!
---
READ MORE: NEW FEATURES ROLLED OUT FOR INSTAGRAM AND MESSENGER