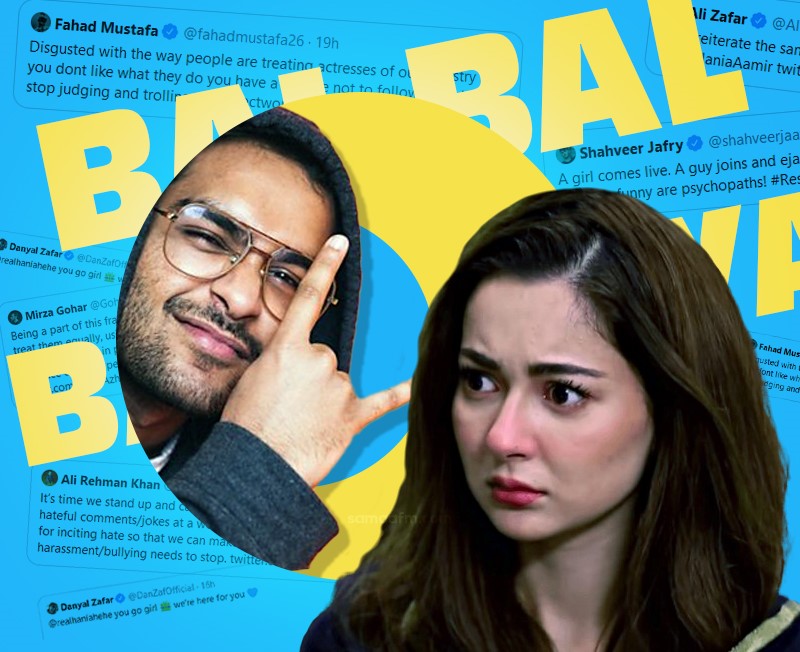 Internet divides as Hania Aamir and Asim Azhar's spat stirs
posted by:

Abdul Latif Dadabhouy

No Comments
It is another day for misogynists; it's another day for trolls. Hania Aamir and Asim Azhar who dated for quite a while broke up a few months ago due to unknown circumstances. But now it's a new drama for them.
What happened between Hania Aamir and Asim Azhar?
No one revealed the reason why the two celebrities broke up. But that gives trolls a reason to bully Azhar for quite a while. The word "Kat gaya" was associated with him for over a year. Every meme was hinting out pointing it out to Azhar. Whereas, the singer never broke his silence over the matter.
In recent events, Hania shared an indecent Instagram story where she was chilling with Wajahat Rauf's sons Aashir and Nayel, Soon after the video went viral, the actress became the trending topic on social media as trolls began lecturing her for exhibiting 'vulgarity and indecency' online and accused her of being an attention seeker.
And in an indirect response, Asim Azhar tweeted,
After that Hania Aamir tweeted back in response,
Online sexual-harassment
During this spat, Hania Aamir had also faced a rather disturbing cyber-sexually harassing incident. Someone harassed her online during her live session. Hania was left shocked and immediately ended the live session. That took a toll on her mental health too.
She posted a story on her Instagram. She wrote, "Just another day surviving in a misogynist world where double standards have power over innocence and where coexisting with the difference of opinion is not a thing. Where a man trying to belittle a woman is applauded but if a woman does the same she is hated. Where a woman showing affection to her loved ones is wrong but a man ejaculating on a woman's picture on video on the internet is retweeted and made viral content."
On their ending notes to this scene both the celebrities posted a closure note on their social media.
Furthermore, Hania posted this note.
Read More: Shafqat Mehmood vs students: Asim Azhar stands with the students
Last but not the least, we really hope this drama ends here. And pray that the internalized misogyny and online harassment/trolling will stop too.
Want to add something to this story? comment down below.