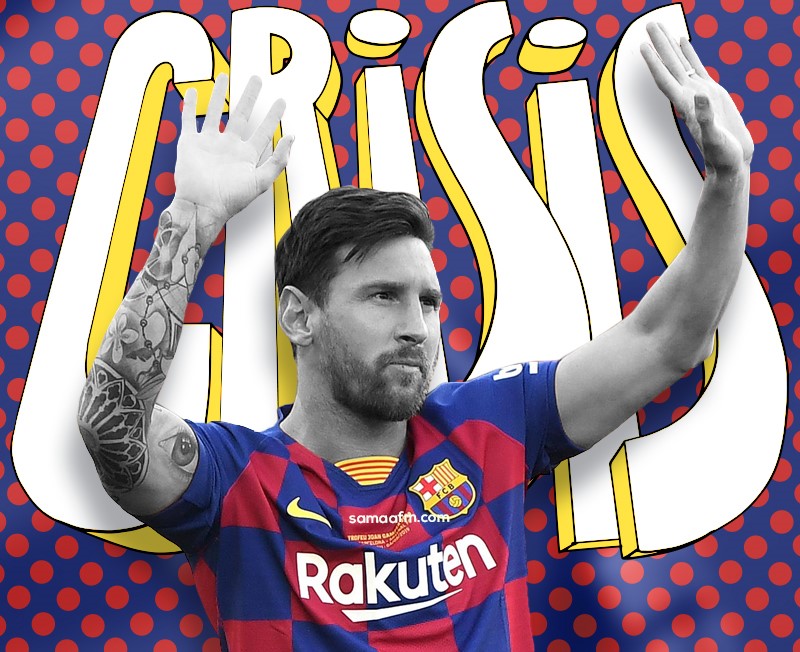 Lionel Messi to leave Barcelona due to financial constraint
posted by:

Abdul Latif Dadabhouy

No Comments
Messi is leaving FC Barcelona
On Thursday, the Catalan giants revealed the news in a statement, despite FC Barcelona and Lionel Messi has reached an agreement and the clear intention of both parties to sign a new contract today; this did not happen because of Spanish LaLiga regulations on player registration.
As a result of this situation, Messi shall not be staying on at FC Barcelona. Both parties deeply regret that the wishes of the player and the club will ultimately not be fulfilled.
The statement further reads, "FC Barcelona wholeheartedly expresses its gratitude to the player for his contribution to the aggrandizement of the club and wishes him all the very best for the future in his personal and professional life."
Messi was free to negotiate a transfer with other clubs after his deal ran out at the end of June. However, Barcelona had always maintained he wanted to stay with the club. The 34-year-old was reported to sign a new five-year deal.
Was Messi leaving in 2020?
Furthermore, Messi had tried to leave Barcelona in August 2020. He made a formal request for an exit after a breakdown in his relationship with then-president Josep Maria Bartomeu. However, successor Joan Laporta, who presided over the Argentine's rise to greatness, convinced him to stay.
Read More: Lionel Messi is tired of being the problem over Barca-drama
Social Media uproar over Messi leaving FC Barcelona
The bomb that was dropped on the fans last night was enough to cause an uproar on social media. The news was circulated that a new contract between Barcelona and Messi was to be signed but no one really expected that Messi won't return due to financial constraints.
It's more than 12 hours since the news was announced but Twitter is still trending with the hashtag 'Messi' and 'GOAT.'
Fans are sharing memories and their favorite moments,
Also Read: Lionel Messi fulfills social media promise to fan by signing Barcelona tattoo
FC Barcelona's official Twitter shared a video in Tweet, featuring his achievements for the club,
Sports Centre shares a rather gorgeous edit in a video,
Moreover a funny one,
Another tweet came in,
A massive amount of fans took to Twitter to share their anger, disappointment, and sadness,
No grand farewell for Messi!
The announcement stresses in an official capacity that both the club and the player need to keep up with their relationship. The statement was very short and direct. No enormous accolade for the player. No stats or details. Simply a symbolic piece of appreciation.
In the event that you didn't have a clue about this was Messi, you'd think they were discussing a squad player. Weird!
Also Read: Messi equals the scoring record of Pele with 643rd Barcelona goal!
The reasons for the departure of Messi
LaLiga struck a deal with a private equity firm, CVC Capital Partners, which would see LaLiga receive a cash infusion of around $3.2 billion in return for 10% of future revenues and a 10% stake in a newly formed commercial company. Barcelona, like Real Madrid are dead-set against the CVC agreement.
What was wrong about the deal? Isn't cash important?
Real Madrid also say LaLiga arranged the deal without their consent and that it hands the fate of the clubs over to private financial investors. They're conceivably discontent with how LaLiga and CVC may reallocate funds going ahead. The arrangement now should be supported by the clubs, and Real Madrid and Barcelona are probably going to lead the "no" front.
Messi's position into this mess
Basically, LaLiga, as a product, is less important without Messi. His departure could turn public opinions against La Liga.
Barcelona and Real Madrid produce the main part of Liga income and a sizable piece of that streams down to different clubs. Messi leaving wouldn't simply hurt Barcelona, it would hurt LaLiga also in business terms. That is one more of the hypotheses being quibbled about. Yet, another factor could be having had months to talk to Messi and his family, Barcelona simply could not arrange the money and suddenly realized they couldn't afford him.
Another strange thing is no teammate has made any official statement. The player is silent, too, as is the club president, Joan Laporta. Could this all be a bluff? or a power play? or is Laporta is pulling a mind game? Despite both the player and the club wanting him to stay, is the biggest star in world football really leaving the league?
Have something to add to the story? Comment down below!