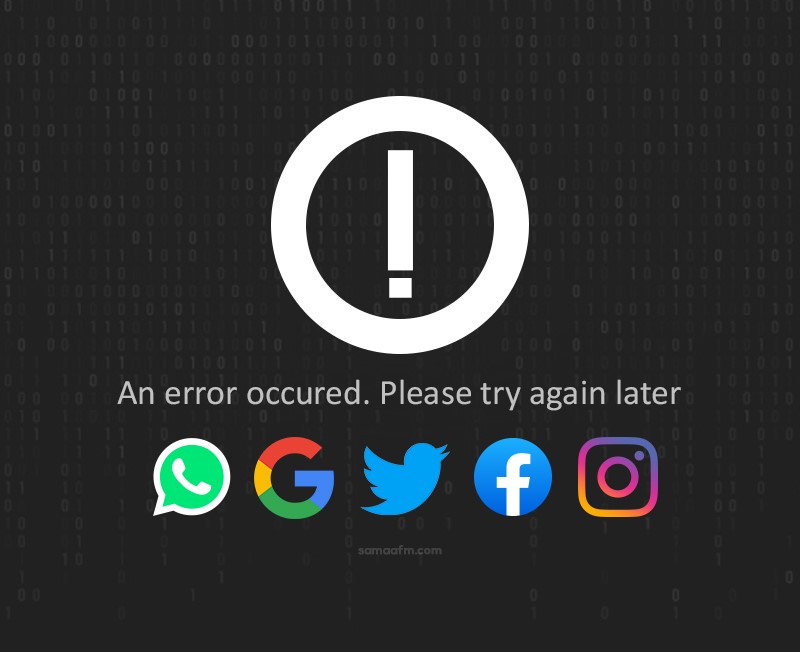 Major applications down including Facebook, Twitter, Instagram and WhatsApp
posted by:

Abdul Latif Dadabhouy

No Comments
Applications down
The users of YouTube, Facebook, Twitter, and WhatsApp are facing much frustration from 11 am with the mobile applications as well as the desktop versions currently down and not working. The the problem appeared to have started around 11 am in Pakistan. And now millions of users are now unable to use the services.
Pakistan bans Social Media applications!
A temporary ban has been imposed on Facebook, Google, Twitter, Telegram, Tiktok, WhatsApp, and YouTube. The decision was taken to maintain the law and order situation in the country. A letter from PTA states that, "complete access to social media platforms," and should be suspended from 11 am to 3 pm on Friday 16th April, under the order of the Interior Minister. The step comes a day after Pakistan imposed a ban on the Tehreek-e-Labbaik Pakistan. PEMRA also blocked all TV channels from providing any coverage to the banned organization.
Youtube down
Facebook down
The online platform that provides users with real-time information about the status of various websites Down Detector reported a huge amount of complaints by the users for the applications down
WhatsApp down
People using Facebook has also complained about this problem over Down Detector.
Twitter down
Almost 41 problems were reported over Down Detector for the same reason, calls are not being places and messages are being sent on one tick and taking forever to receive.
Many people can not even log in to Twitter, agitation, and frustration arise. 323 reports are currently being reported on Down Detector. 61% of the people are not able to log in to the website. 23% of people have complained about Twitter not working on their Android phones.
Instagram application down
Most of the complaints were reported because of Instagram, people were suddenly not able to see their stories and pictures. Some of them are even having problems while posting updates on their feed.
Most of the major complaints were filed around 11 am, but popular picture sharing application Instagram had the problem since Thursday night. Most of the problems occured in Newsfeed, website and stories.
Similarly in March, 2021 Facebook Inc's platforms including WhatsApp, Messenger and Instagram were down for thousands of users on Friday, according to outage tracking website Downdetector.com.
Facebook, however, did not immediately respond to a request for comment. Downdetector showed there were more than 1.2 million incidents of people reporting issues with Instagram, while over 23,000 users posted about issues with WhatsApp on the website.
Keep your hopes up people and stay patient, the problem will most likely solve by 4 pm according to news outlets.
Read More: