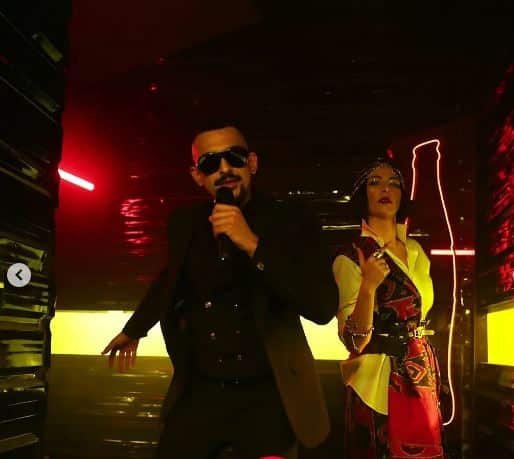 Muaziz Saarif is a spunky Faris and Meesha Shafi sibling collab at Coke Studio season 14
posted by:

Abdul Latif Dadabhouy

No Comments
Muaziz Saarif by Faris Shafi and Meesha Shafi
Coke Studio's ninth single from Season 14, 'Muaziz Saarif,' features siblings Meesha and Faris Shafi, and the lively tune has us wondering one simple question: can Coke Studio's season 14 do any wrong? One great song after another has been released, and the Shafi siblings' duet is no exception.
'Muaziz Saarif,' which features Meesha and Faris, was released on YouTube on February 27 and features their distinctive musical styles. Xulfi, the executive producer for Season 14 of Coke Studio, enlisted the services of associate music producers ActionZain and Abdullah Siddiqui to help create a provocative track. Meesha, Faris, and Xulfi composed the song, which was written by Meesha and Faris.
Also Read: Hasan Raheem makes his CS debut with 'Peechay Hutt,' a catchy Gen-Z dance single ft. Justin Bibis
Faris and Meesha also let loose in a dramatic and beautiful home set constructed by Harris Khatri for the song, which is all about them stating their own truths.
According to Coke Studio, "Muaziz Saarif" is a "gloves-off sucker punch to the detractors." It's "one of those tracks that everyone was bouncing to when we were jamming — it's just so loud and infectious, just amazing pop energy," Siddiqui says. "It has their je ne sais quoi," ActionZain said, "and it's beckoning the listener to hear something new."
Also Read: Ali Sethi and Shae Gill channels a bohemian vibe in Coke Studio's new song 'Pasoori'
Twitter is happy with Muaziz Saarif by Faris and Meesha Shafi
Netizens are enthralled by the siblings' contributions to the song and can't get enough of them.
A user tweeted,
Another user tweets,
Moreover, a user shares how beautiful Meesha's entrance was!
Have something to add to the story? Comment down below!