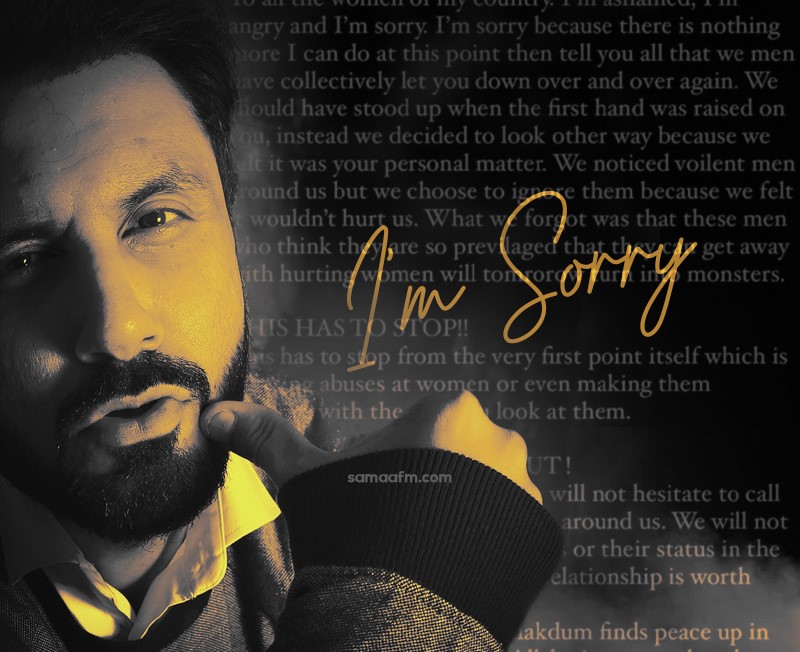 Mustafa Zahid pens down an apology to all the women
posted by:

Abdul Latif Dadabhouy

No Comments
Femicide in Pakistan
The recent 'femicide' happening in Pakistan is one of the most tragic incidents in Pakistani history. Pakistani women already have lost all their hopes after the rejection of the 'Domestic Violence Bill 2021.' And then back-to-back horrific incidents of Quratulain, Saima, and then Noor surfaced which shocked every woman to its core.
Mustafa Zahid writes a heartfelt apology
Artist Mustafa Zahid took to Instagram to share a note in light of the continuous femicide in Pakistan. The artist started off with a 'sorry' to women for the manner in which male-centric viciousness has consumed them. He shared, "To all the women of my country… I'm ashamed, I'm angry and I'm sorry. I'm sorry because there is nothing more I can do at this point than tell you all that we men have collectively let you down over and over again."
Furthermore, he wrote, "Let's promise ourselves that we will not hesitate to call such men out when we see them around us."
Zahid also asked people to speak up notwithstanding their relationship with the abuser. "No friendship or relationship is worth more than a human life," he shared. The singer concluded his note with a prayer for Noor Mukadam and her family. "I hope and pray that Noor Mukadam finds peace up in heavens and I pray that Allah gives strength to her parents to bear this pain."
Noor Mukadam's tragic murder
Noor Mukadam's case has turned into a high-profile homicide case as Zahir Jaffer not just shot her, but beheaded her too. His accomplice family – who assisted and hid facts – including his parents Asmat Adamjee and Zakir Jaffer, along with servants [Iftikhar and Jamil] are currently arrested. Meanwhile, Islamabad Deputy Commissioner reportedly ordered to seal the unregistered 'Therapy Works Rehabilitation Centre.' Zahir Jaffer spent some time at the facility as a therapist.
Read More: 'Hollywood Ripper' sentenced to death for murdering two women, including Ashton Kutcher's date
Zahir Jaffer's confession for murdering Noor Mukadam
As the story further unfolds, Zahir Jaffer confessed that he had brutally murdered Noor Mukadam. He tortured her for 3 hours before murdering her. Jaffer has a history of taking drugs, torturing, raping, and assaulting women in the past and apparently was deported from the UK for similar charges.
This case has sparked a country-wide outrage with thousands of people calling on authorities to take this case to its sane and logical end.
Have something to add to the story? Comment down below!