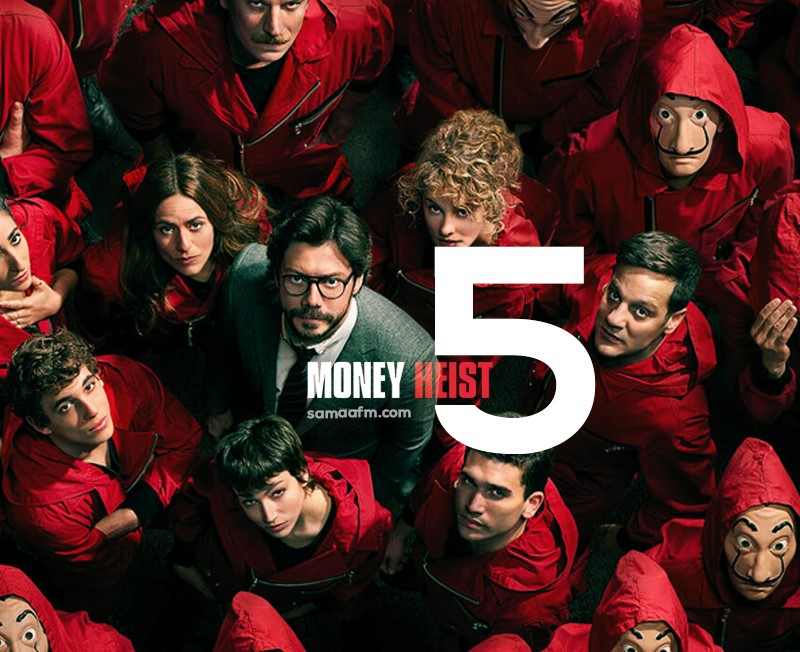 Netflix Unveils 'La Casa de Papel' Money Heist Season 5 Trailer
posted by:

Abdul Latif Dadabhouy

No Comments
Netflix released Money Heist season 5 trailer
Money Heist Season 5 trailer is here. As guaranteed, Netflix uncovers the 90-second first trailer for the first half of Money Heist season 5 on Monday. It gives us a brief look at what's to expect from the impending last finale of Álex Pina's hit Spanish thriller series — known as 'La casa de Papel' to a Spanish-talking audience.
What's in La Casa De Papel season 5?
In it, the Spanish police authority send in the military after the cop Alicia Sierra (Najwa Nimri) gains the high ground by capturing The Professor (Álvaro Morte). Money Heist Season 5 is split into two halves of five episodes each, which will air three months apart on Netflix.
In the trailer, Tokyo (Úrsula Corberó) depicts the 100 hours they have spent closed in the Bank of Spain as feeling like 100 years. Likewise, the Professor uncovers the stormwater tank has been found and Colonel Tamayo (Fernando Cayo) gathers a military to go into the Bank of Spain.
The Netflix checkmate!
As Tokyo's words quote, "Locked up for a hundred hours, trapped, about to be killed, and having lost a best friend, it feels like a hundred years have gone by," an unseen voice says, before Alicia confronts The Professor: "Checkmate." The police realize they have them where they want and decide to push their advantage with the military: "They'll come out victorious or come out dead."
So we can expect that there will be war and causalities will be there both ways.
Also Read: The Queen's Gambit becomes Netflix's most-watched series
La Casa De Papel Money Heist cast
The cast includes Alvaro Morte as the mastermind 'Professor.' The cast also includes Úrsula Corberó as Tokyo, Itziar Ituño as Lisbon, Miguel Herrán as Rio, Jaime Lorente as Denver.
Furthemore, it includes Esther Acebo as Stockholm, Hovik Keuchkerian as Bogota, Rodrigo de la Serna as Palermo, Najwa Nimri as Alicia Sierra.
In addition it features, Belén Cuesta as Manila, Enrique Arce as Arturo, Darko Peric as Helsinki, Luka Peros as Marseille, Fernando Cayo as Colonel Tamayo, and José Manuel Poga as Gandía.
Moreover, Miguel Ángel Silvestre and Patrick Criado are the two new major additions to the Money Heist season 5 cast.
Also Read: Is Lucifer Season 5 Part 2 Coming On Netflix?
Watch the trailer below:
Money Heist Season 5 starts from September 3 on Netflix with "Volume 1." The final batch of five episodes, "Volume 2," arrives on December 3. Gear up!
Have something to add to the story? Comment down below!