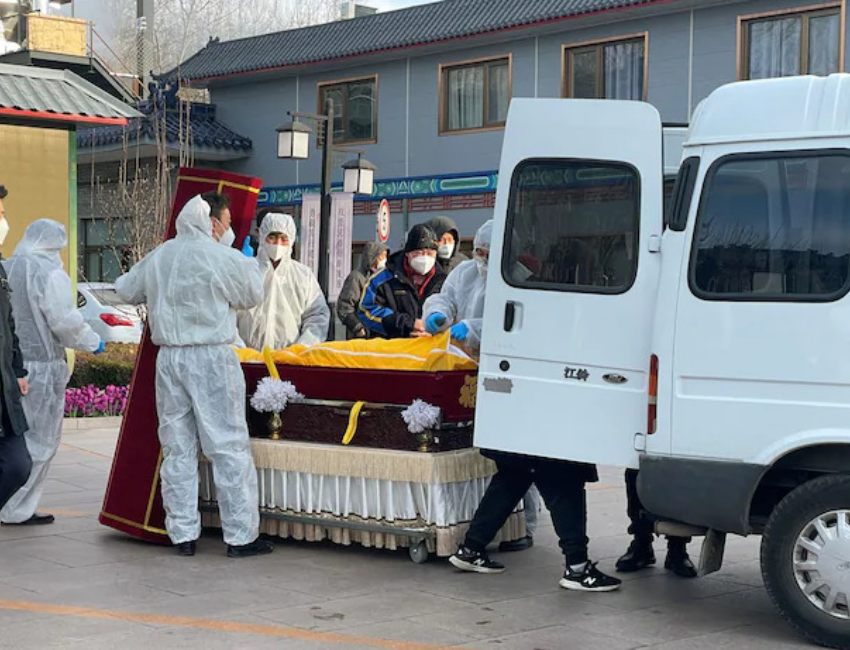 New models predict at least 1 million deaths in China amid covid surge
posted by:

Abdul Latif Dadabhouy

No Comments
Deaths in China amid Covid surge
According to several analyses, there will be a sharp increase in virus-related deaths in China, where the covid-19 outbreak is rapidly spreading. Up until now, the country has largely managed to contain the coronavirus.
Also Read: Covid-19 was a 'man-made' virus, claims Wuhan lab scientist
Zero Covid policy?
China's strict "zero covid" policies were dramatically relaxed earlier this month as a result of a wave of protests in towns and cities where residents had grown weary of years of strict lockdowns, mass testing, and centralised quarantines. The protests represented China's largest display of recent public discontent.
But due to limited exposure, low vaccination rates, and inadequate investment in emergency care, a large portion of China's 1.4 billion people are still at risk for contracting the virus. And now, according to Reuters, Beijing's capital's funeral homes and crematoriums are having trouble keeping up with demand.
The horrifying number of deaths predicted
The Institute for Health Metrics and Evaluation (IHME), a centre for global health research at the University of Washington in Seattle, predicted on Friday that by April, the number of deaths from the COVID-19 virus in China would rise to more than 322,000. According to a Reuters analysis of the report, China could experience more than 1 million coronavirus deaths in 2023, up from the current official death toll of just 5,235.
Also Read: Rare success for Alzheimer research unlocks hope for future therapies
That would bring China's death toll up to parity with the United States, where the covid-19 pandemic has claimed the lives of 1.1 million people. "However way we look at it, it's very likely that the next few months are going to be quite challenging for China," IHME director Christopher Murray said earlier this month. "The populations at greatest risk in the world are those that have avoided a lot of transmission and have gaps in vaccination. And that's exactly the case for China."
In December 2019, the Chinese city of Wuhan saw the first appearance of the virus, which then spread quickly throughout the world. However, following that initial outbreak, Chinese authorities adopted a strict strategy to stop the spread of the disease, sealing the nation's borders, isolating patients and their contacts, and in some cases, locking down entire cities.
Have something to add to the story? Comment down below!