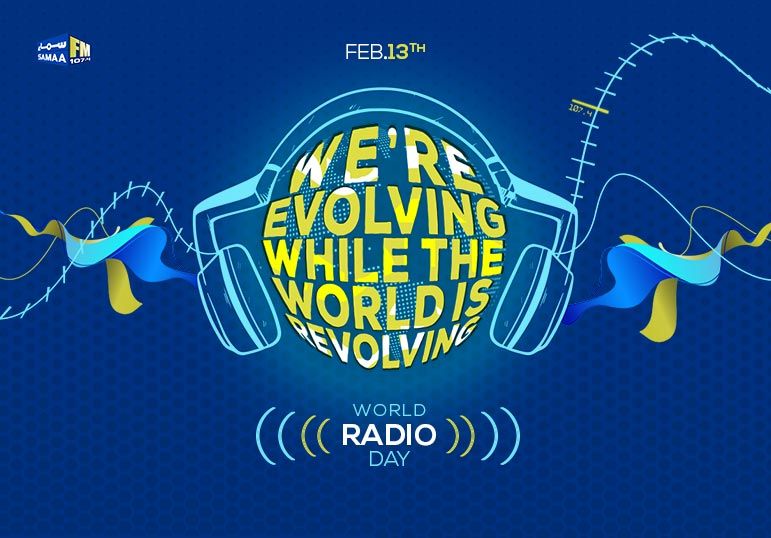 On World Radio Day it is all about evolution, innovation and connection
posted by:

Abdul Latif Dadabhouy

No Comments
Radio a Ground Breaking Medium
Radio is a ground-breaking medium for praising and celebrating humankind on the whole. Its variety comprises a stage for any kind of discussion. At the worldwide level, radio remains one of the most important and entertaining mediums. This novel capacity to connect the largest audience implies that radio can shape a general public's encounter of diversity and shapes it differently. Radio remains as a field for all voices to stand up, be addressed, and heard. Radio broadcasts serve assorted networks, offering a wide assortment of projects, perspectives, and content, and mirror the variety of crowds in their associations and tasks.
History of Radio
We should rewind back a little and talk about how Radio appeared. From its introduction in the twentieth century, broadcast radio astonished and enchanted the population by providing news and entertainment with a quickness that was not possible in older times. 110 years ago, radio waves were first identified and studied by German physicist Heinrich Hertz in 1886. The main radio transmitters and receivers were created around 1895–1896 by Italian Guglielmo Marconi, and radio started to be utilized monetarily around 1900. Radio, sound correspondence by radio waves, ordinarily through the transmission of music, news, and different kinds of projects from single transmission stations to huge numbers of individual audience members equipped with radio receivers.
From around 1920 to 1945, radio formed into the primary electronic mass medium, hoarding "the wireless transmissions" or "the airwaves," and characterizing alongside papers, magazines, and films, a whole age of mass culture. Around 1945 the presence of TV started to change radio's substance and job. Broadcast radio stayed the most generally accessible electronic mass medium in the world, however, its significance in current life didn't coordinate that of TV, and in the mid 21st century it confronted at this point a more serious pressing factor from advanced satellite-and Internet-based sound services.
Radio as a Unique Medium
Based on the human voice, radio is a uniquely personal medium, invoking a listener's imagination to fill in mental images around the broadcast sounds. In a more widespread fashion than any other medium, radio can soothe listeners with comforting dialogue or background music, or it can jar them back into reality with polemics and breaking news.
Radio also can employ a boundless plethora of sound and music effects to entertain and enthrall listeners. Since the birth of this medium, commercial broadcast companies, as well as government organs, have made conscious use of its unique attributes to create programs that attract and hold listeners' attention. The history of radio programming and broadcasting around the world is explored in this article.
The Evolution of SAMAA FM 107.4
Radio being a strong medium is not a thing that goes unnoticed, with its strength and magnificent qualities, it still dangled when the Covid-19 Pandemic hit. We have finally left the year 2020 behind but many faced a major dip in the industry, it taught the industry to innovate and reduce cost from everywhere. Since the year 2020 has given us tremendous lessons, the main thing it has taught that how to innovate, connect through the evolution of the Radio! Radio has now been re-imagined in the minds of people and becomes a source of entertainment. SAMAA FM 107.4 has also evolved strongly during 2020. This year, in 2021 the advancements of digitization enabled radio networks to build a holistic audio entertainment experience for listeners as well as for brands to leverage.
SAMAA FM has changed the world around your headphones, and that's not all for the year 2021, more exciting things have been introduced.
SAMAA FM 107.4 Website
The pandemic has hit the business of every advertiser and increased many risks for them as well, in 2021 and further advertisers might want to reduce risks associated with media buying and that will demand more effective solutions for their marketing. In order to adapt to innovative media marketing, SAMAA FM has evolved itself as a brand and has developed digital products that include YouTube's original online video content, segments for both the radio and website. The website of SAMAA FM has now transformed and revamped for good digital exposure [with Infotainment and Lifestyle news] along with 24/7 non-stop music and live transmissions with your favorite RJs! The new Digital team is working hard to make the website different and unique. The categories include Entertainment, Health, Science and Tech, Sports and Featured, so you won't be left behind with world news and happenings along with Radio!
The SAMAA FM Application
That's not all; SAMAA FM is soon to be launching its application for both iOS and Android so you will be able to reach the digital world of SAMAA FM while listening to your favorite RJ anytime, anywhere!
​​​​​​Watch the video to find out more interesting facts about Radio
"More than ever, we need this universal humanist medium, vector of freedom. Without radio, the right to information and freedom of expression and, with them, fundamental freedoms would be weakened, as would cultural diversity, since community radio stations are the voices of the voiceless."— Audrey Azoulay, Director-General of UNESCO, on the occasion of World Radio Day
SAMAA FM as a medium has constantly reinvented itself is in line with the evolving times and will continue to expand its wings and dominate the audio content space in the years to come.
---
READ MORE: CELEBRATING 8 YEARS OF INFINITE LOVE AND SUPPORT WITH SAMAA FM 107.4