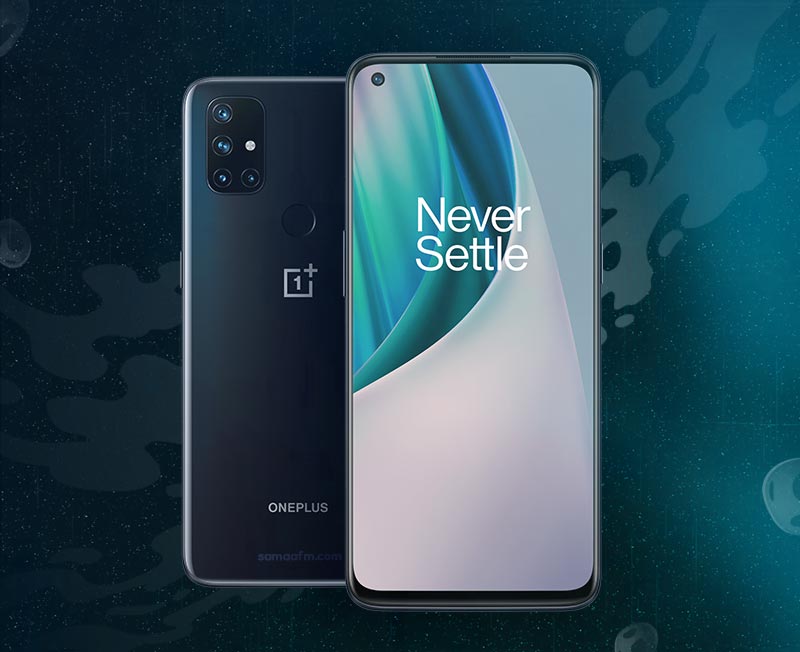 OnePlus Nord N10 5G review: The budget-friendly 5G phone
posted by:

Abdul Latif Dadabhouy

No Comments
As early as almost five years ago, OnePlus was barely a dot on the radar of tech consumers. But nowadays the brand is becoming well-known and gathering considerable attention from active users. Being the powerhouse in the midrange smartphone business. The OnePlus Nord N10 5G is a budget smartphone that generously offers you a lot for less cash.
OnePlus Nord N10 5G Specifications
Starting price: Rs. 58,999
Screen size: 6.49-inches (2400 x 1080; 90Hz refresh rate)
RAM: 6GB
Storage: 128GB
CPU: Snapdragon 690
Rear cameras: 64MP main (f/1.8); 8MP ultrawide (f/2.25); macro lens; depth lens
Front camera: 16MP (f/2.05)
Battery size: 4,300 mAh
Battery life: 99 hours standby time, around 11 hours of continuous use
Size: 6.4 x 2.9 x 0.35 inches
Weight: 6.7 ounces

Price
At Rs.58,999, the OnePlus Nord N10 balances between the modest budget and mid-range phones. It is a good smartphone that offers multiple features and a capable processor for this price range.

Processor
OnePlus Nord N10 features Snapdragon 690, which is the highest in the 6 series and offers efficient processing capabilities. This processor makes it a good gaming phone. The OnePlus Nord N10 5G has 6 GB RAM along with 128GB storage, and a microSD slot making it a spacious phone.
Sleek body and display
By the looks of it, the OnePlus Nord N10 is both sleek and functional. It has a 6.4 x 2.9 screen-to-body ratio with organic curves instantly giving it a premium feel for a big phone. A vivid 90Hz refresh rate along with 5G punches well with this weight. The phone is snappy and responsive and does not experience any shutters while scrolling.
The phone has a physical rear fingerprint sensor on the back along with a volume rocker and phone lock button on the side. The buttons provide a satisfying click and it is pretty easy to use. The 2400-by-1080-pixel LCD gives excellent color-accuracy and is sunlight friendly. Both front and back frames are made of blue-black glossy plastic which collects smudges. The display is corning Gorilla glass 3 and it is not water or splash-resistant.

Battery
The N10 G5 has a 4,300 mAh battery that delivers a decent day's worth of use. OnePlus Nord N10 includes a 30W fast charger in the box and it charges quickly, which represents a valuable addition for a mid-range phone and is faster than expected. The battery timing lasts up to 11 hours 48 minutes of continuous use and 99 hours on standby.
Bringing 5G into a budget phone
The OnePlus Nord N10 5G does it unique; it has brought 5G into a mid range phone. The test speeds averaged at 168Mbps down and 78.8Mbps up which is faster than many broadband connections.

The winning camera
If you are reasonably looking for an inexpensive phone with good camera quality then this should be your possible pick.
OnePlus Nord N10 gives you a quad-camera stack with a 64MP main camera with an 8MP ultrawide angle lens, a set of macro and monochrome lenses around the optics. The selfie camera does well with both the day and night lighting. The 16MP captures good lighting natural bokeh and image mapping is also quite surprising.
The 2MP macro camera and a depth sensor take clear images on the portrait mode and provide a high-resolution shot and in ideal lighting the clarity is pristine.
The primary and ultra-wide lenses perform well in direct sunlight and feature excellent depth and color accuracy. The video records at 4K at 30 frames per second, captures colors and provides video stability.
However, the lowlight performance for the primary camera is slightly disappointing even with the night mode enabled. But the end results prove Nord N10 to be a good mid-range phone with 64MP and 16 MP cameras.
Android 10 with Oxygen OS
OnePlus Nord N10 comes with OnePlus Oxygen OS. Oxygen OS is an update to Android's UI. With an improved Quick settings option and a reading mode that presents a monochromatic display to create an e-reader like experience. Some of the customized apps, such as Gallery and Messages are much more refined than the active stock Android. However, according to OnePlus the N10 will be instantly updated to Android 11 this year, further updates are unguaranteed with this.
Pros
-Bright 90Hz display and refresh rate
-Good performance
-Smooth 5G connectivity
Cons
-Camera disappoints in low-light
Final Verdict
OnePlus Nord N10 5G is a mid-range phone with an excellent camera, significant processor, and indeed greater battery life. And if you genuinely want an inexpensive phone that will not disappoint you with its unique features and have 5G, then Nord N10 it is. Most importantly, it comes with a 1 year warranty from Rockmobile.pk and is available at e-cart. Buying from ecart comes with a guarantee of original brand, credibility and up to the mark service.
Click here to buy ONE PLUS Nord N10 5G.
—————————– SPONSORED CONTENT—————————–