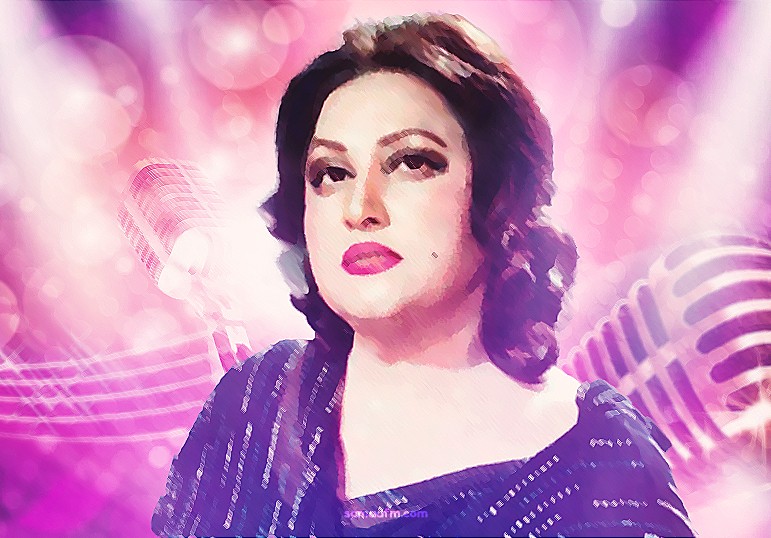 Remembering the queen of melody Noor Jehan on her 20th death anniversary
posted by:

Abdul Latif Dadabhouy

No Comments
Glittering diamonds, beautiful aura, silk saris, gorgeous melodic voice, dark bold eye make-up, and fancy hair updos. One can imagine who I am quoting; she is none other than "Mallika-e-Tarannum" Noor Jehan!
Noor Jehan
Noor Jehan was a Pakistani playback singer and an actress who started her career first in British India and then in Pakistan. The stylish icon and actor was a woman of substance. Born in the city of Sufi poet Bulleh Shah, Born in the city of Sufi poet Bulleh Shah, Kasur on September 21, 1926. Her real name was Allah Rakhi Wasai.
Noor began to sing at the age of five and showed a keen liking towards the different range of styles, including traditional folk and popular theatre. Realizing her potential for singing, her mother sent her to receive early training in classical singing. She got trained under Ustad Bade Ghulam Ali Khan. He instructed her in the traditions of the Patiala Gharana of Hindustani classical music and the classical forms of thumri, dhrupad, and khayal. At the age of nine, Jehan caught the attention of the Punjabi musician Ghulam Ahmed Chishti, who also later introduced her to the Lahore stage. Ghulam Sahab composed some ghazals, naats, and folk songs for her to perform, although she was more willing to consider the acting or playback singing side. She then finished her vocational training and started pursuing her singing career alongside her sister in Lahore. She took part in live singing and dance performances prior to screenings of films in cinemas. And having an innate passion for acting, she then pursued and showed her skills on stage dramas and later gained fame through singing and film acting.
Her career spanned more than six decades (1930s–1990s). Noor Jehan was known as one of the greatest and most influential singers of all time especially in South Asia and was given the honorific title of Malika-e-Tarannum in Pakistan. She had mastered the voice of various musical genres including Hindustani classical music.
The Nightingale of The East
Along with another famous Pakistani singer/vocalist Ahmed Rushdi, Noor Jehan holds the record for creating magic from her voice to the largest number of film songs in the history of Pakistani cinema. She is estimated to have made more than 40 films and sung around 20,000 numbers during a career that lasted more than half a century. She is thought to be one of the most luxuriant singers of all time. She is also considered to be the first female Pakistani film director.
Contribution For the 1965 War As an Artist
The gifted singer recorded hundreds of songs in her mesmerizing voice. Her national-patriotic tributes during the 1965 war are still treasured as national heritage. Her voice infused a new spirit of patriotism in the nation and motivated the armed forces of Pakistan during the 1965 war. The history of the 1965 war would remain incomplete without mentioning the matchless contribution of Noor Jehan whose motivational songs woke a new spirit of patriotism and national unity in the entire nation.
Her contribution to the Pakistan Army morale boost includes her songs such as, 'Aye Watan ke Sajelay Jawano, Aye Puttar Hattan Te Nahi Wikde, a Rah Haq Key Shaheeedo Wafa Ki Taswero, Rang Laye Ga Shaheedon ka Lahoo' and many more had touched the hearts of every Pakistani besides created a wave of nationalism throughout the nation in 1965 war.
Noor Jehan through her melodies has shown the enemy that our nation and armed forces were equipped with strong faith, unity, and confidence and cannot be demoralized by the evil and ill-willed designs of the enemy.

Noor Jehan also personally visited borders to encourage fighting soldiers of Pakistan against the enemy. As a national singer, the singer was highly praised by the Government of Pakistan. And on March 23, 1966, Field Marshal General Ayub Khan had awarded Tamgha-e-Imtiaz to credit her services for the nation.
Remembering Noor Jehan on her 20th Death Anniversary
Pakistan is observing the 20th death anniversary of legendary singer Noor Jehan, whose songs still rule the hearts of millions of people in not only Pakistan but the whole subcontinent. She ended her glorious career on high notes after singing the Punjabi song Ki Dam Da Bharosa Yaar in Sakhi Badshah (1996) she ruled the music industry in Pakistan. She passed away on December 23, 2000, suffering from heart disease at the age of 74, leaving the whole subcontinent mourning her demise.
The whole nation feels blessed to have a gem whose melodies have created and enchanted the whole nation for decades and fans and followers will still remember her contributions not just today, but every day.
---
Read More: BOHEMIA PRAISES POWERFUL PERFORMANCE BY MEESHA SHAFI!