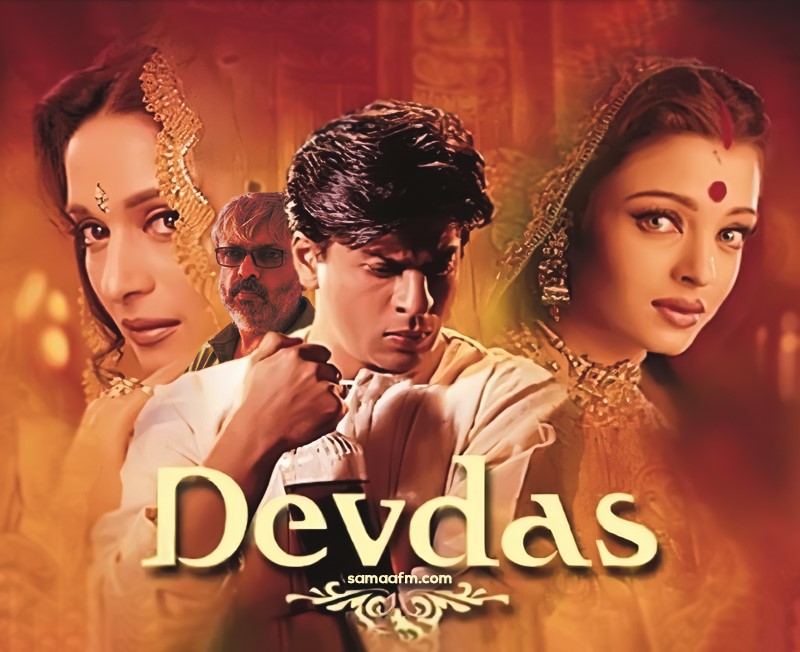 Revisiting Sanjay Leela Bhansali's Devdas on its 19th anniversary
posted by:

Abdul Latif Dadabhouy

No Comments
Devdas – grand and gorgeous!
Devdas, you think of the name and you think of the term grandeur! It was one of the most gorgeous romance musicals and a definite masterpiece of Sanjay Leela Bhansali's directing career. The movie collectively sets limelight on every cast member and made it the biggest movie of their career respectively. Be it Aishwariya Rai Bachchan, or Kirron Kher. Shahrukh Khan or Madhuri Dixit was grand for every one of them.
Devdas the most expensive movie of 2002
Devdas was a 2002 romantic drama by Sanjay Leela Bhansali and produced by Bharat Shah under Mega Bollywood. It was the most expensive Indian film at that time. With a budget of 500 million INR. The producer Bharat Shah was even arrested in 2001 under speculation of his film being funded by the 'underworld.' The movie's future became in jeopardy. However, the film was released in 2002. The movie made it to Cannes Film Festival became a commercial success. Devdas then emerged as the highest-grossing Indian film earning 998million INR, bagging several awards. The movie bagged five national awards and 11 Filmfare awards for Best Film, Best Director, Best Actor, Best Actress, and Best Supporting Actress.
The monumental sets of Devdas
The film's grandiose sets played a tremendous part in its all over expense. The production design of Devdas was led by Nitin Chandrakant Desai (Bhansali's collaborator in Hum Dil De Chuke Sanam) and it took him seven to nine months to make these sets. With somewhere in the range of sixty and one hundred associates, including Pune-based planner Dheeraj Alkokar, helped him in a few developments.
Furthermore, Bhansali needed the sets to be unique in relation to the novel's 1936 and 1955 Hindi changes and, to fulfill his request, Desai visited the National Film Archive of India to gather photos of the past remakes' renditions and "to be sure that there is no duplication."
Also Read: Bollywood 'Tragedy King' Dilip Kumar passes away in Mumbai
The most costly Indian film set
The most costly set was that of Chandramukhi's kotha which cost around INR 120 million. The arrangement of Paro's home was made utilizing stained glass. Moreover, this set utilized over 1.2 lakh bits of stained glass and cost around INR 30 million.
Not just this with two or three generators for power in those days Devdas, used 42 generators and 2500 lights operated by over 700 light men to aid the visually aesthetic visuals.
Exorbitant wardrobes of Madhuri Dixit and Aishwarya Rai
Each dress that Madhuri Dixit donned in the film cost around 1.5million INR. For the song Kahe Chhed Mohe, Madhuri wore a dress that was 30kgs, had to be replaced because dancing in it became the biggest challenge!
Meanwhile, Aishwarya designers, Neeta Lulla, and Bhansali bought around 600 sarees purely from Kolkata to create the look of Paro with 8-9 meters long saree with a gorgeous pallu. Different sarees were mixed and matched with a completely different draping style which took her 3 hours every day to get ready before shooting.
The cast reminisce their love for Devdas
Devdas aka Shahrukh Khan reminisces 19 years of Devdas with pictures from the sets. Khan writes, "All the late nights….the early mornings…. hard pace & problems. Worked out fine because of the gorgeous Madhuri Dixit – Nene. The stunning Aishwarya, ever cheerful Jackie Shroff dada, full of life Kirron Kher and the whole team slogging it under the masterful and patient #sanjayleelabhansali. The only issue….the dhoti kept falling off….!! Thx for the love everyone." #19YearsOfDevdas
Madhuri Dixit also took to Instagram and shares the memory of Devdas. She writes,
Have something to add to the story? Share it in the comments below.